New Delhi: Shri Anurag Singh Thakur, the Hon'ble Union Minister of Information and Broadcasting & Youth Affairs and Sports, inaugurated Vedanta's 2500th Nand Ghar in the village of Miharpur, Darla, Hamirpur District of Himachal Pradesh in the presence of Deputy Commissioner Hamirpur, and Superintendent of Police Hamirpur, dedicating these centres to the people of Hamirpur.
With this inaugural ceremony, Nand Ghar completed its 2500th centre across 12 States in India. Nand Ghar is the flagship CSR project working under the aegis of the Anil Agarwal Foundation, the philanthropic arm of leading natural resources company, Vedanta.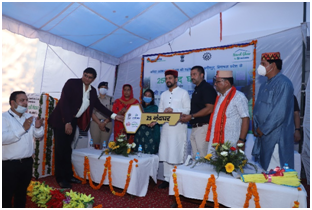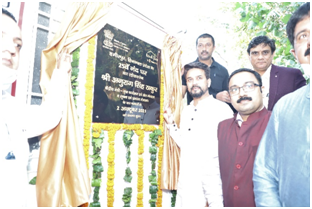 On the occasion of the inauguration, Shri Anurag Thakur said, "I congratulate Vedanta for completing 2500 Nand Ghars as a visionary and progressive project. It gives me great pleasure to see community and business leaders unite for promoting inclusive development and empowerment of women, children, and communities. Women and Children are the bedrock of our nation, and they require a nurturing environment to develop. This initiative is working towards creating a wonderful place for children to learn and thrive. Nand Ghar is supplementing the vision of the Hon'ble PM on a self-reliant nation."
A model project working towards strengthening the Aanganwadi ecosystem of the country, Nand Ghar is extensively working at the grassroots level in the communities aiming to bridge the urban-rural gap with best-in-class services.
Vedanta Chairman Anil Agarwal said: "It gives me immense pride to see Vedanta's flagship project, Nand Ghar, making a big difference at the grassroots level. This project is dedicated to Prime Minister Narendra Modi's vision of providing quality education to children and facilitating skill development for rural women. We are delighted that the 2500th Nand Ghar is being inaugurated by Union Minister Shri. Anurag Singh Thakur. These modern Nand Ghars will be the catalyst for change which will empower women and children and change the rural landscape and create self-reliant communities."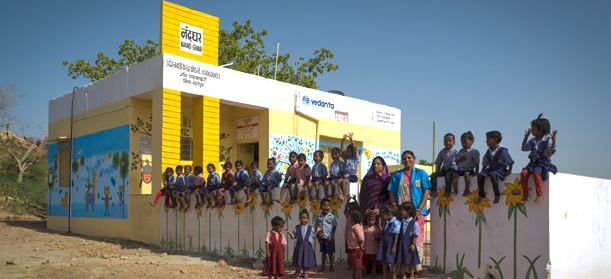 Nand Ghar is emerging as a focal point for the socio-economic development of the communities. The project offers a holistic set of services to its community members, including e-learning for children, primary healthcare, economic empowerment for women and state-of-the-art infrastructure.
Nand Ghar began its journey in the year 2015 with the vision to transform the lives of seven crore children and two crore women in the 13.7 lakh Anganwadis in India and are established in partnership with the Union Ministry of Women and Child Development.
The 2500 Nand Ghars are the enabler of change and sustainable development with a presence in 12 States across India. Nand Ghars are equipped with solar panels to ensure 24X7 electricity, water purifiers, clean toilets and smart television sets, and have become a model resource centre for the local communities. Pre-school education is provided to children in the age group of 3-6 years. Nutritious meals and take-home rations are being provided for children, pregnant and lactating women. Primary healthcare services are rendered through mobile health vans and telemedicine services, women are empowered through skilling, credit linkage and enterprise development.