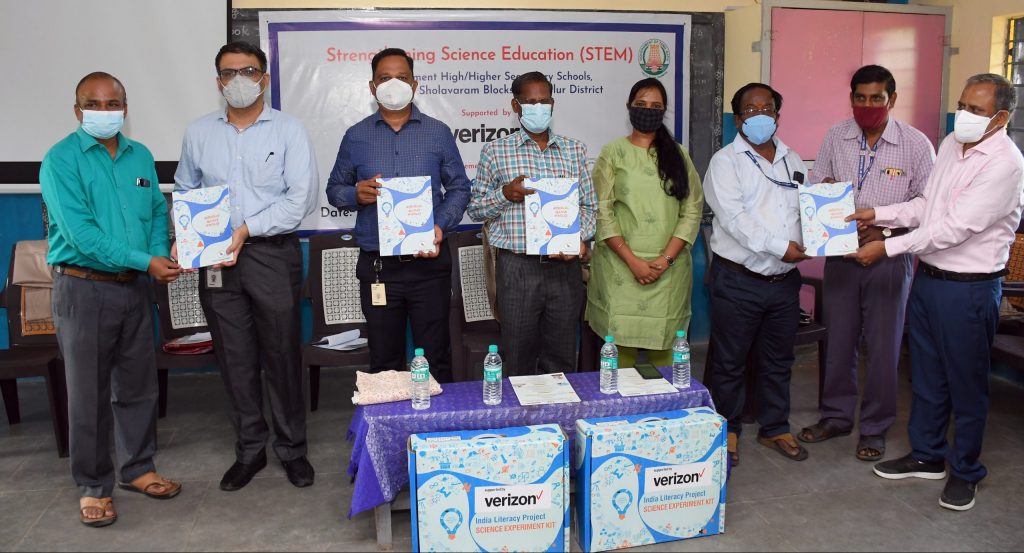 Chennai/Hyderabad: Furthering the cause of STEM education at the grassroots level, the India Literacy Project (ILP), a non-profit organisation with the mission to help children in government schools gain access to grade appropriate skills and create pathways to productive careers with the support of Verizon India, an Information technology-driven Global Capability Centre (GCC) facilitated the distribution of 'Science Lab in a Box' kits to 60 Government-run schools in Tamil Nadu and Telangana.
The distribution of these science kits was led by P.A. Arumugam, Chief Educational Officer, Tiruvallur District along with Gopinath Pullaihgari, Director and Head, Human Resources, Verizon India,  Aswin Lakshmanan, Director, Strategy and Planning, Verizon India and A. L. Rangarajan, Country Manager, ILP at Alamathy school, near Chennai and by Shaik Yasmeen Basha IAS, Collector, Wanaparthy District, R. Loknath Reddy, Zilla Parishad Chairman, A. Ravinder, District Education Officer (DEO) Wanaparthy District and Ravi Mani, Knowledge Hub Manager, ILP, at an event held in Wanaparthy District, Telangana. The Tamil and Telugu versions of the Science Kit Manual and Science Tamil and Telugu Digital online open-source content for use by the Government School teachers were also released during the event. The Head Masters from all the beneficiary schools were also present at the event at both locations.
More than 12,000 children from 30 Government Higher Secondary Schools in Tiruvallur district in Tamil Nadu and over 7000 students from 30 Govt. schools in Wanaparthy District, Telangana will benefit from these science kits. The India Literacy Project enables science learning to children through one of its flagship education programmes 'Multi-Dimensional Learning Space (MDLS)', keeping the learning framework in mind, transforming schools into centres of learning with digital infrastructure, content and experiential learning tools.  Supported by Verizon India, India Literacy Project will accelerate the programme further by assessing the learning level of students and prioritising improvement in science learning. The programme will also extend training to over 500 teachers in the 60 identified schools to leverage these science kits appropriately and facilitate effective experiential learning.
Gracing the occasion at Alamathy as the Chief Guest, Shri P. A. Arumugam, Chief Educational Officer, Tiruvallur District said, "The Tamil Nadu Government is committed to improving the performance of high school students through innovative ways and we are glad to have the support of India Literacy Project and Verizon India.  ILP's open-source digital content in Tamil and learning aids such as the science kits and career guidance planners provide the much-required learning experience and inculcates scientific vigour in the students."
Speaking on the impact of the initiative, the Chief Guest at the event held at Wanaparthy, Shaik Yasmeen Basha IAS, Collector, Wanaparthy District said, "Science is an integral part of the everyday life of a person. A multi-pronged approach to educating children through this program will help the rural students soar high and achieve greater heights in their career aspirations. It is important for teachers also to think differently and innovatively and add more experiments in their teaching aids with these Science kits provided by Verizon India. I would like to thank Verizon India, India Literacy Project and the Rural Development Society for their efforts in making a big difference in the future of students in rural India."
Highlighting the importance of the initiative, A.L. Rangarajan Country Manager, India Literacy Project, said, "Our aim at ILP is to improve the science learning levels of children in government schools and create an interest in science by relating it to real-world concepts with the use of innovative tools and processes that improve classroom engagement in science. We are thankful to Verizon India for extending the much-needed support to this initiative which will have a positive impact on the learning journey of nearly 20,000 children in Tamil Nadu and Telangana."
Speaking on the occasion Gopinath Pullaihgari, Director and Head, Human Resources, Verizon India said, "Taking responsibility for our shared future, we at Verizon are dedicated to economic, environmental and social advancement by promoting technology as a tool to improve communities and education and providing platforms for reskilling and upskilling those most vulnerable in the future economy. We are happy to partner with the India Literacy Project to make a difference in the lives of these children who do not have access to these learning tools which can help shape a better and brighter future for them."
Aswin Lakshmanan, Director – Strategy & Planning, Verizon India added, "STEM-focused education opens up an all-new way of learning for children. It paves the way for experiential learning, spurs creative thinking and fosters an innovative mindset in the formative stage of a student's life. With this collaborative initiative with ILP, we aim to reach out to these students at the grass-root level and facilitate building a strong foundation in science and technology through novel learning methodologies."