World Vision India, a child-focused humanitarian organisation with expertise in disaster management, undertook relief work in two severely flood affected districts of Palakkad and Malappuram, Kerala. The two districts are home to small and marginalised farmers, daily wage workers and tribal families whose houses and land have been washed away.
With more than half of Kerala reeling under severe floods, one of the worst floods to hit the State since 1924, several people have been displaced and left homeless. Financially too, the State has already suffered a huge loss. Kerala State Disaster Management Authority has estimated that 26,824 hectares of agricultural land has been affected. Roads, bridges, buildings and infrastructure have been severely impacted.
World Vision Response
Relief Phase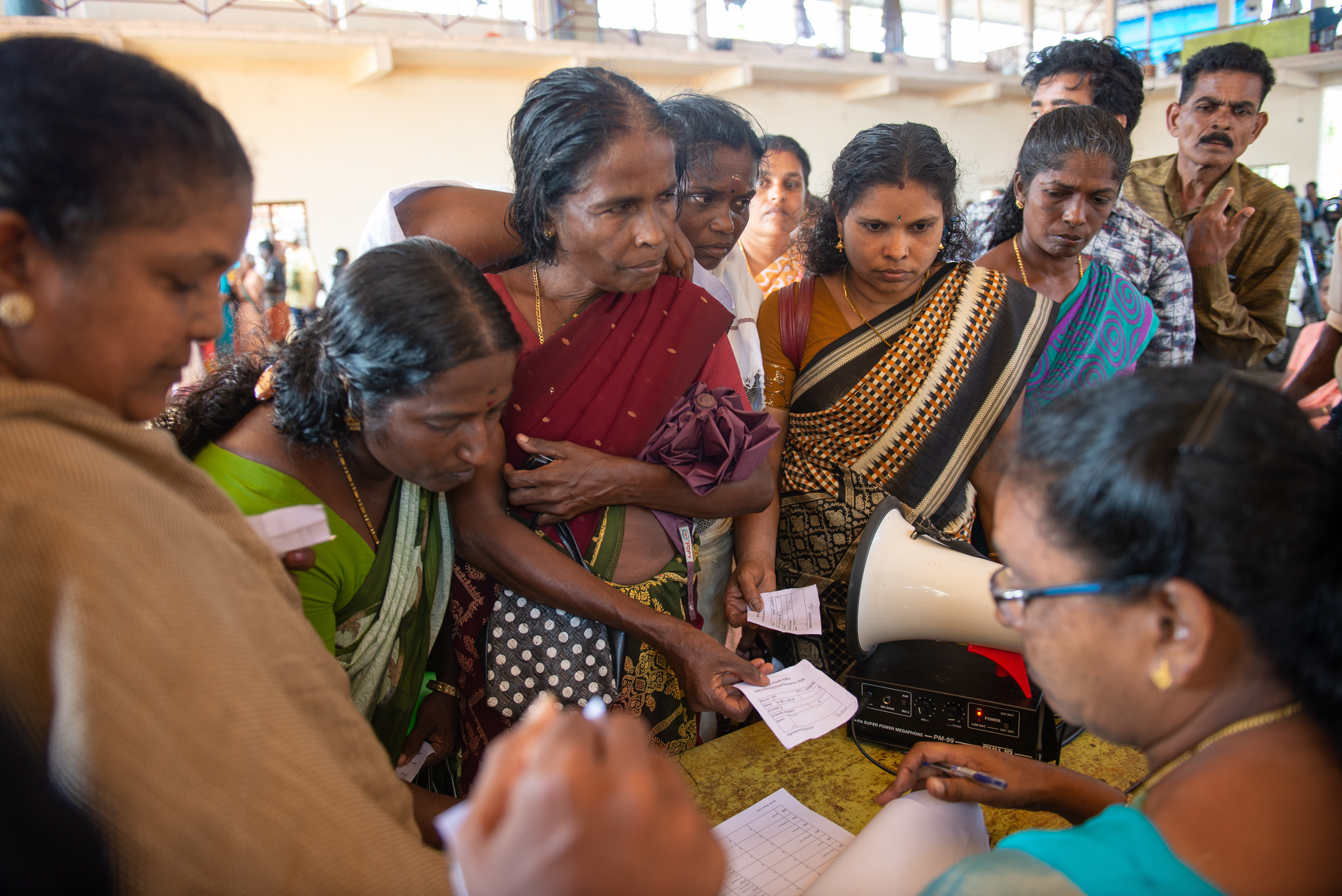 Over 26,000 families were covered in affected districts of Malapuram, Kottayam, Pathanamthitta, Palakkad, Wayanad, Idukki and Alappuzha districts. Initial support has been through provision of dry ration, non-food household supplies, hygiene packs and water purification sachets and demonstration on hand wash with soap.
| | |
| --- | --- |
| Districts | HHs |
| Alappuzha | 8,898 |
| Idukki | 3,200 |
| Kottayam | 4,872 |
| Malapuram | 3,110 |
| Palakkad | 828 |
| Pathanamthitta | 1,500 |
| Wayanad | 3,624 |
| Total | 26,032 |

Child-friendly Spaces:  Our staff and volunteers engaged with children through a child-friendly space with story-telling, song, dance, colouring, sport and other programmes. Around 1200 children in relief camps were part of the child-friendly spaces established by WV India.
World Vision India Recovery Interventions:

WASH: For drinking water, many villages have community-based Reverse Osmosis (RO) units for water filtration. The floods have damaged the existing RO units, making water unsafe for families to use. The District Collector requested WV India to assist in repair of ROs to be made reusable in the villages. WV India along with engineers from Tata Swachh has completed technical assessment of the water filters to be repaired at Alappuzha. 20 ROs will be repaired in Kuttanad taluka of Alappuzha district of Kerala.
Sanitation: While many houses suffered damages, the toilets and septic tanks have been clogged with flood water and contaminated faecal matter. WV India is providing a technologically-advanced and environment-friendly solution to clean up the septic tanks. Anaerobic bacteria in powder form would be used in 1:4 powder-to-water ratio to consume the muck in the septic tank. On use of the powder, the clogged faecal matter is dissolved and is converted into methane gas and water, making the septic tanks functional once again. Out of the target of 500 septic tanks in Kainagary and Vellinad Panchayat of Kuttanad taluka, the team has identified and assessed 410 septic tanks, of which the desludging of 106 is already completed.
Construction of Transition Shelters: The families who have lost their homes in the floods, either took temporary shelter in tents or stayed in their relatives' homes; living in crowded condition. Families reported that their houses were washed away and/or rendered as non-livable. All relief camps have been shut down forcing families to return to damaged houses. Few families have erected temporary sheds out of the salvaged materials while the rest continue to live in their relatives' homes or in rented houses. Temporary shelter assistance is very crucial for the affected families whose houses were washed away as Government support will take a minimum of one to two years. The Government has sanctioned around INR 400,000 to 500,000 for families that have lost their houses in the floods.
WV India has designed a low-cost temporary shelter model. The model is designed using materials such as high quality steel tubes, cement boards and PPGI sheets, and are in the process of fabrication. The house will help families have a safe shelter as they recover from the financial and material loss due to the floods The temporary shelter model will provide refuge until the families receive government support. Materials provided for the temporary shelter can be reused by the families as transitional material while they rebuild the homes once they gain better financial stability. The shelter is guaranteed to last for eight to ten years. The size of the house would be 230 sqft.
We have designed a transition shelter prototype in Ward 2 of Kainakary panchayat and Ward 10 of Vellinad in Kuttanad. We have identified another 100 families in both Kainakary and Vellinad who would be supported with transition shelter. 
Livelihood: WV India has carried out a detailed assessment of restoring traditional livelihoods of affected families. Our livelihood interventions will include:
Rebuilding the lives of over 150 families engaged in traditional livelihood such as agriculture, fishing, and cattle rearing/poultry by providing them with required tools and implements for sustaining their livelihood
Provision of livestock for families
Cash-for-work programmes for desilting farming land will not only provide short-term income for landless labourers post disaster, but will also help restore agricultural land devastated by the floods.
Restoring farm ponds with bunds will help farmers with agricultural land get back to traditional agriculture and improve food security.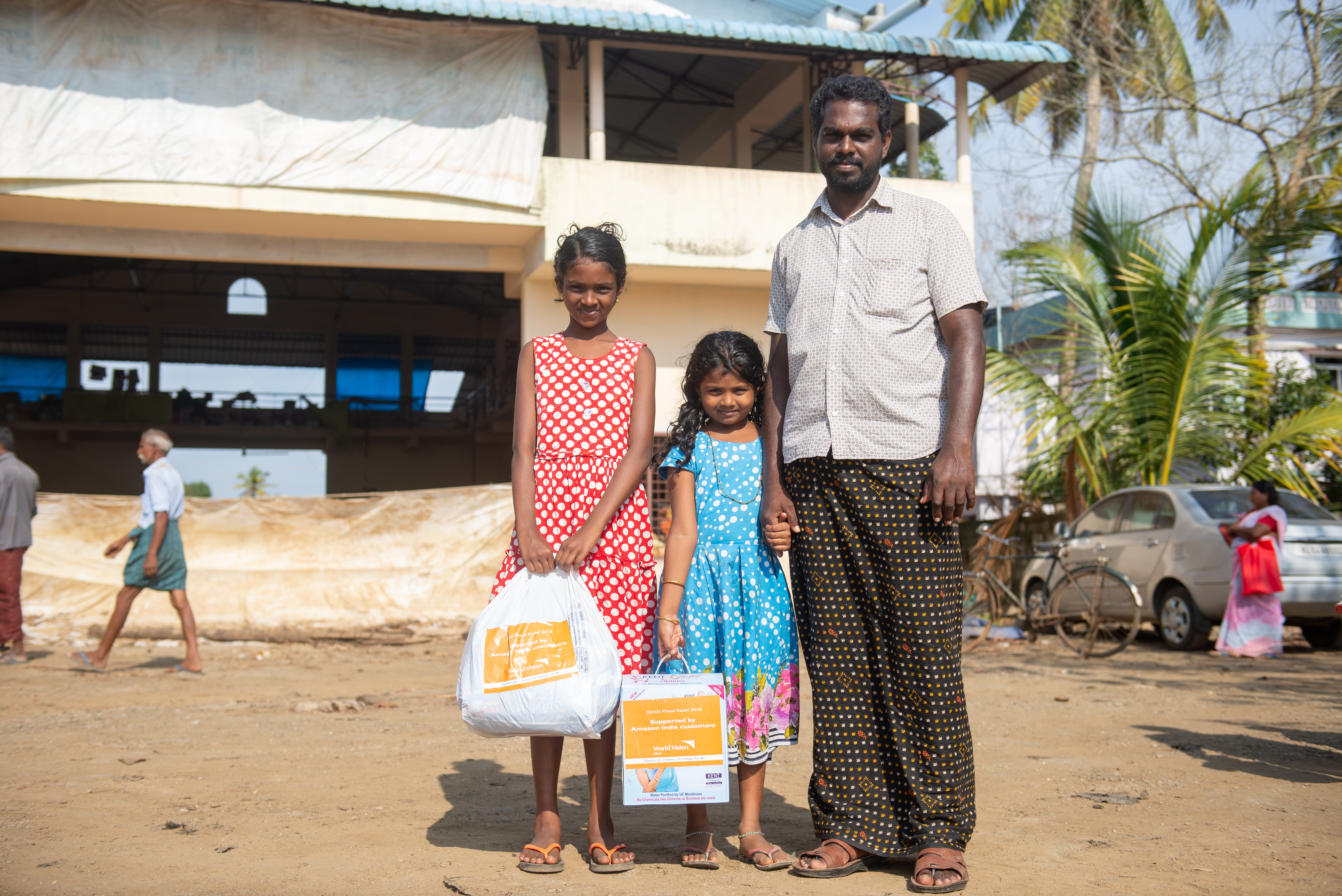 Education Initiatives and Psycho-social Support for Children:
Initially around 900 children attending Government schools and Government-aided schools will be provided with an education kit comprising of a school bag, notebooks, stationery, lunch box, water bottle, solar lantern and an umbrella, so as to help children return to school. Five schools which were damaged during recent floods will also be provided with infrastructure support.
WV India, in partnership with Christ University, has begun providing psychosocial care to the survivors of the disaster in two villages at the community settings, and also to the children in 22 schools. The interventions would facilitate the process of normalisation through basic techniques of psychosocial care such as ventilation, active listening, empathy, externalisation of interest and so on.
Inter-Agency Coordination:
WV India is engaged with the IAG Coordination at New Delhi and in Kerala with the SPHERE coalition, and the State and district IAGs. WV India teams are closely coordinating with the Government officials along with other NGOs for a co-ordinated response. WV India joined the SPHERE Joint Needs Assessments for Kerala and hosted the SPHERE Coalition.
WV India is closely coordinating with UN agencies, District government officials and Panchayat personnel to ensure maximum families are reached without duplication.
Duration of Response and Immediate Relief and Recovery Plans
Relief response is planned for three months. Recovery and rehabilitation phase is planned for 12 months, up to October 2019. Recovery interventions will be carried out in Alappuzha, Kottayam, Wayanad and Idukki Districts of Kerala
Immediate Planned Activities
1. Inauguration of transition shelter prototype in Kainakary panchayat by the District Collector
2. Distribution of relief materials to 9450 families in five districts (Kottayam 4000 families, Wayanad – 1400, Idukki for 350 families, Alappuzha for 200 and Palakkad for 3500 families)
3. Repair of 20 ROs in Kuttanad
4. Desludging of 500 septic tanks
5. Construction of transition shelters for 100 families
6. Distribution of 900 education kits for children
7. Repair /Retrofit houses for 40 families
8. Distribution of housing materials for 200 families (PPGI and CGI sheets)
9. Restoring livelihood for 200 families
10. Psycho-social support of children in 22 schools
11. Infrastructure support to five schools