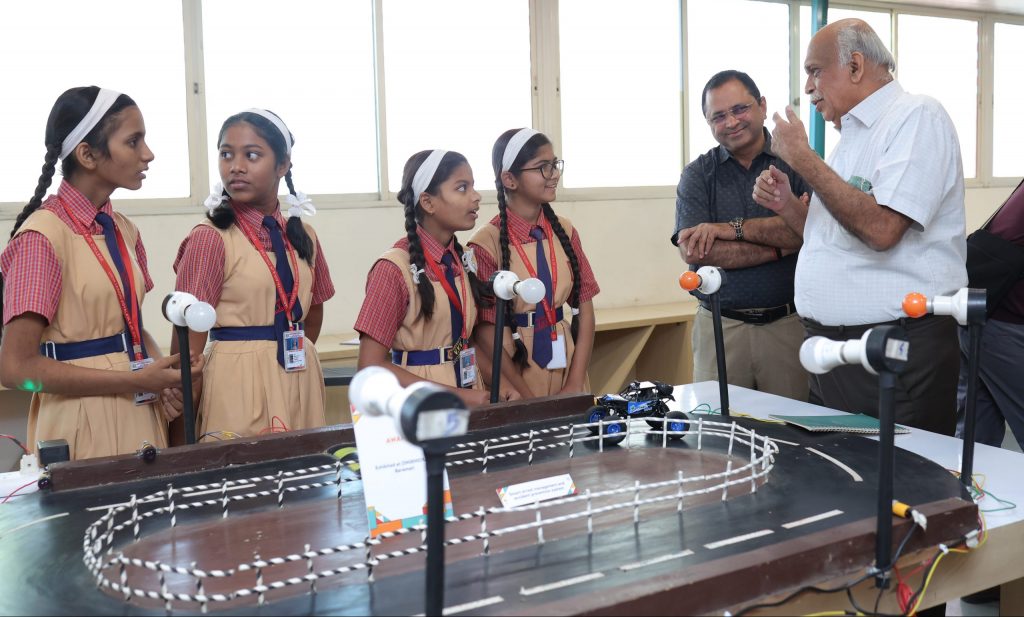 Mumbai: WPP Foundation, the CSR entity of WPP in India, organised Tinkerthon, an event to celebrate young innovators recently at the Community Makers Space (CMS), in Vidya Varidhi Vidyalaya and Junior College, a school supported by WPP Foundation in Nalasopara, Mumbai.
The event, inaugurated jointly by WPP Country Manager, CVL Srinivas and Dr Sanjay Gokarna, Associate Professor, Indian Institute of Geomagnetism, was organised in collaboration with Learning Links Foundation to showcase the creations and shine a light on what these bright minds are capable of achieving given the right mentorship and opportunities.
The day-long Tinkerthon event was a culmination of the efforts put in by the talented children of Vidya Varidhi Vidyalaya over the past few years, who despite coming from impoverished backgrounds and facing numerous challenges, have passionately managed to dedicate themselves to a unique learning experience.  A total of 16 projects were displayed at the event that represents some of the best work produced by the children.
Students also got an opportunity to participate in an interschool robotic competition where the chosen winners were awarded prizes by the chief guest. It was a day devoted to celebrating the students who have learned to code, trained in 3D design, and gained important skills along the way that will equip them to compete in an increasingly digital world. 
WPP Foundation launched the Community Tinkering Lab at Vidya Varidhi Vidyalaya and Junior College in collaboration with Atal Innovation Mission and NITI Aayog in 2019. Since then many children from marginalised communities with limited opportunities but determined spirits have had the chance to explore their innovative side and build on their problem-solving abilities thus setting themselves up for a successful future. Instead of being deterred when the world shut down in 2020, the children continued to work on their projects with virtual guidance from their mentors and building projects through educational kits that were sent to their homes.
Most of these children are first-generation learners, meaning they are the first in their families to get any kind of formal learning. Given the circumstances, such opportunities for growth and imaginative learning beyond a classroom are very hard to come by for this group of children.
With a mission to provide the same opportunities to these children as any other in this increasingly digitised world, WPP Foundation along with its partners has managed to build an ecosystem that opens up a world of opportunities for young individuals to put their creative minds to work. From a remote-controlled autonomous trash collector robot to help keep classrooms clean, to automated devices that detect gas leakages, the students of CMS have designed pioneering solutions in water management, road safety, smart automation solutions and environmental health and safety.
Speaking at the launch of Tinkerkthon 2023, CVL Srinivas, Country Manager, WPP India, said "At WPP, we believe innovation is a key driver for human progress and a catalyst for change. Our goal is to reach children from underserved segments of society and provide a holistic learning ecosystem that will spur 'out of the box' thinking and fuel their aspirations. We are grateful to Dr. Sanjay Gurunath Gokarn for joining us at the launch of the first edition of Tinkerthon 2023 to unveil the extraordinary works created by the children as part of this programme."
Commenting on the success of Tinkerkthon 2023, Rama Iyer, Director General, WPP India CSR Foundation, said, "We at WPP India Foundation believe every child could be an inventor or an innovator. To support this we build their critical thinking and creativity skills, making them 21st-century-ready.  Our children are remarkable and we're so excited to see this programme grow and impact more and more lives."
The Community Maker Space programme, also known as Community Tinkering Lab, has seen 1500+ students graduate in the Level 1 and Level 2 curricula. Five projects created by the young digital innovators were shortlisted for State-level Science and Innovation exhibition at Baramati and one of them was even recognised in the Top 15 projects. Two remarkable projects were also selected for Inspire awards organised by the Government of India and received a grant of Rs 10,000 to scale them for market readiness.