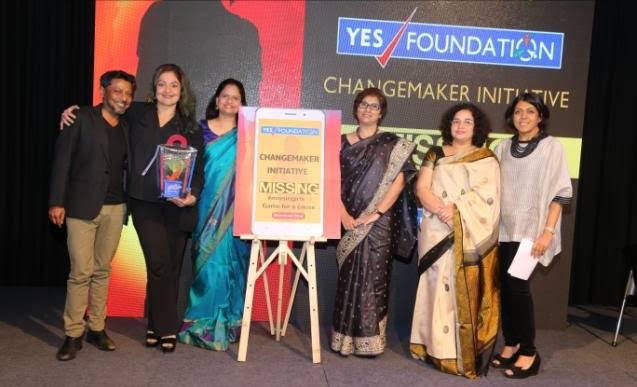 It is observed that every 8 minutes a child goes missing in India and 1 out of 2 kids is untraceable and lost forever.
YES FOUNDATION's CHANGEMAKER Initiative – MISSING was launched recently in Mumbai to raise awareness and drive public action towards prevention of human trafficking.
A MISSING Smartphone App, was unveiled a kind  augmented reality app which aims to sensitise 400 million smartphone users in India by providing them the opportunity to experience the human toll of trafficking. The focus is on creating mind-set transformation to cut the demand for trafficking. The MISSING App also features a list of current petitions, nearby NGOs and other links that support public action on the issue.
The MISSING app was unveiled by Dr. Ashvini Madhukar Joshi IAS, Collector, Mumbai, Mrs. Bindu Rana Kapoor, Member, Governing Council, YES FOUNDATION, Ms. Pooja Bhatt, Actor & Filmmaker, Mr. Onir, Filmmaker and Ms. Namita Vikas, Member, Governing Council, YES FOUNDATION & Group President & Managing Director, Climate Strategy & Responsible Banking, YES BANK along with Ms. Prerana Langa, CEO, YES FOUNDATION and Ms. Leena Kejriwal, Public Artist &YES!  I am the CHANGEMAKER Awardee 2015.
"We want to take the app across the country into Government schools in 13 regional languages. It will help us reach out to adolescents who are the future demand makers and a part of the supply chain of trafficking. The YES FOUNDATION CHANGEMAKER Initiative has been crucial in taking the MISSING initiative forward. YES FOUNDATION enabled me to take this cause to scale for greater social change" said Leena Kejriwal, YES! i am the CHANGEMAKER Awardee 2015 and Founder, MISSING – a public art initiative to end human trafficking.
The second edition of the CHANGEMAKER Award will honour past participants of YES! i am the CHANGE, World's Largest Social Film Movement, who have gone beyond filmmaking, developed innovative solutions and consistently contributed towards social causes.
"The genesis of YES! i am the CHANGEMAKER Award lies in the mind-set transformation triggered by the immersive experience of participation in YES! i am the CHANGE. Last year, we awarded two CHANGEMAKERS, Leena and Kuljeet. This year we will support five individuals actioning solutions which have a significant social impact. " shared Ms. Prerana Langa, CEO, YES FOUNDATION.