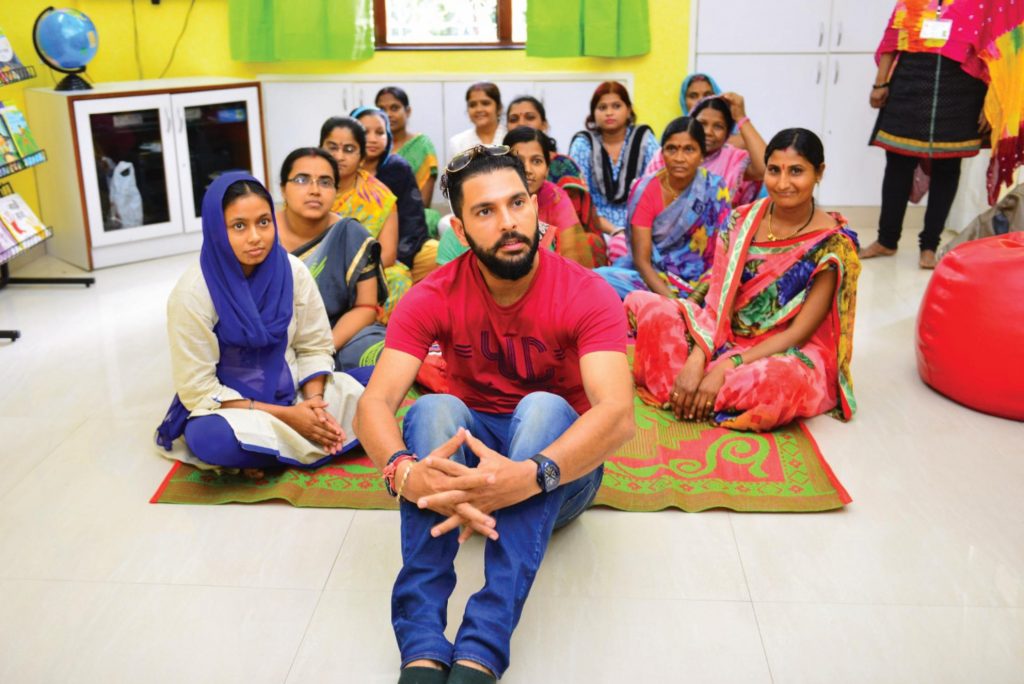 Panaji: Breast cancer screening of 10,000 women across Goa has been completed under the 'Swasth Mahila, Swasth Goa' initiative of cricketer Yuvraj Singh's YouWeCan Foundation, the SBI Foundation and the Government of Goa. Launched in October 2021, the project aims to screen one lakh women in Goa for breast cancer, thereby ensuring that 50 per cent of the age-eligible female population in the State is screened.
Regarding the progress of this project, Yuvraj Singh said, "Breast Cancer is the most common form of cancer in India but around 70 per cent of the breast cancer patients in our country get diagnosed in advanced stages due to lack of screening. Our endeavour through the 'Swasth Mahila, Swasth Goa' initiative is to provide a screening platform to the entire female population of Goa for early detection and timely treatment. I am happy that we have completed 10,000 screenings and that we have helped the women who have tested positive get the required treatment. I want to thank the SBI Foundation and the Indian Institute of Banking & Finance for their support of this initiative. Now that the project has picked up momentum, we aim to achieve our target of screening 1 lakh women across the State in the next 18 months."
He added, "Shortly, we plan to scale up our breast cancer screening initiative by taking it to other states. Our ultimate goal is to make it a pan-India initiative and help women across India have access to early detection mechanisms for breast cancer."
Under Swasth Mahila, Swasth Goa's initiative, free of cost breast cancer screening is being conducted at 35 Health Centres across Goa along with multiple outreach camps. To date, 142 outreach camps have been held in various parts of Goa. Of the 10,000 women who have been screened so far, seven women have been diagnosed positive for breast cancer and their treatment has already commenced. All the suspected cases have been referred to the Goa Medical College & Hospital and district hospitals for further investigations and complete treatment. It is to be noted that free treatment is being provided for all positive cases with the support of the Government of Goa.
Expressing her happiness on achieving this milestone, Dr Geeta Kakodkar, Director of Health Services, Government of Goa, said, "Congratulations to Yuvraj Singh Foundation for achieving this phenomenal milestone and collaborative efforts with our institution. Early detection is the key and screening eligible women is a big step forward toward this. I am sure our sustained efforts will reach all eligible women and benefit them."
As per Mr Lalit Mohan, President and COO, SBI Foundation, "SBI Foundation are proud to be funding this unique initiative, Swasth Mahila Swasth Goa, to create awareness on breast cancer, break the stigma and mobilise women folk to come forward and take charge of their health and thereby making Goa a model state for breast cancer screening. With the help of technology interventions through iBreast devices, many women suspected of breast cancer have been triaged and are undergoing follow up investigations. Through collaborative efforts of all stakeholders viz. implementation and technological partners, the Government of Goa, healthcare professionals etc., we have reached a milestone of 10,000 screenings – a significant step in reaching the target of screening 1 lakh women across the State."
Swasth Mahila, Swasth Goa project is funded by the SBI Foundation and the Indian Institute of Banking & Finance, and UE Life Sciences is the technology partner. The breast cancer screening under this project is being done using UE Life Sciences' breakthrough technology, the iBreastExam (iBE). It is a non-invasive, hand-held, fully wireless mHealth point-of-care solution for breast lesion detection. In clinical studies, this device has shown high sensitivity and specificity to detect non-palpable lesions at an early stage. 20 iBE have been deployed for the project.