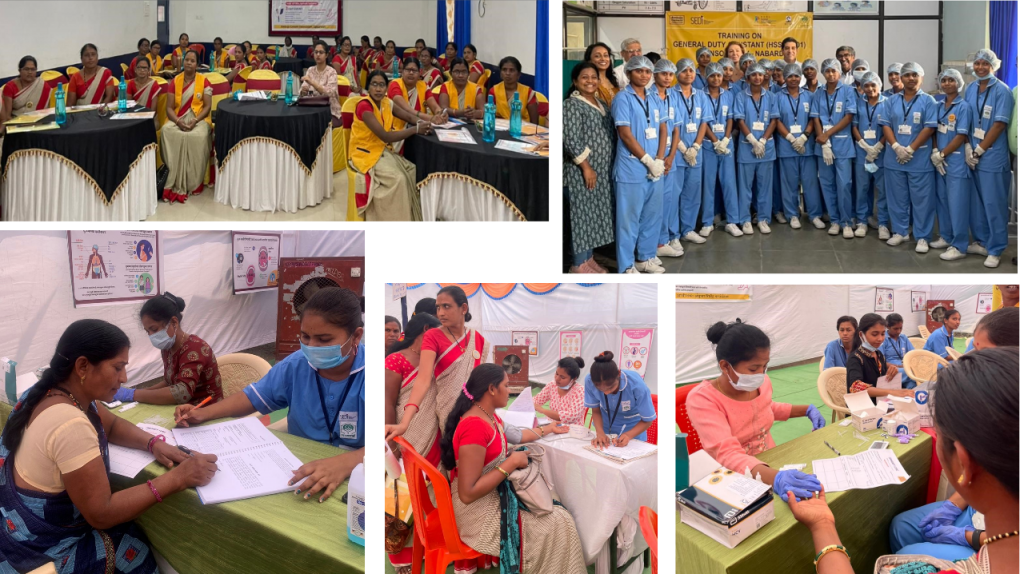 New Delhi: As part of a three-day inaugural event, Ambuja Cement Foundation (ACF) collaborated with the Association of Breast Surgery, UK (ABS) along with its counterpart Association of Breast Surgeons in India (ABSI) and Tata Cancer Care Programme, Chandrapur, came together to introduce Continuous Medical Education Specific Training on cancer awareness in rural communities of Chandrapur, Maharashtra.
Health experts from UK and India were part of this event, providing education and training on best practices and techniques to regional-level doctors practicing oncology, newly appointed Community Health Officers of Health and Wellness Centres, and Govt Health Officials. A special segment of this event provided capacity building of Frontline Health Workers, ASHA, ANMs and Sakhis on identifying high-risk signs and symptoms, self-breast examination techniques including practical training on lump identifications on breast prosthesis, early identification of cancer cases and recommending them for treatment.
The specialists were also present during the 1.5-day health Education and check-up camp at which over approx. 300 women beneficiaries attended for a check-up and frontline workers got a hands-on experience in identification and treatment methods to be used. While the specialists provided knowledge and screening for breast cancer, the team from Tata Cancer Care Programme also screened for cervical and oral cancer.
Cancer is a serious health issue being neglected in rural communities with Breast Cancer being the highest incidence worldwide, including India. Taking a strategic decision, ACF decided to introduce cancer interventions under its Non-Communicable Diseases (NCDs) umbrella. ACF has created a strong cadre of Sakhis in Chandrapur who have helped in improving health indicators in MCH and NCDs and played a major role during COVID-19. By training them on cancer interventions through health professionals, behaviour change communication will be initiated and there will be improved indicators of cancer in the communities.
"It is a privilege to work in close collaboration with oncologists, doctors and other health professionals of ABS, ABSI and Tata Trusts which will be such a huge opportunity for our regional healthcare workers and Sakhis to gain knowledge from them. We hope to expand this programme across our locations to improve the status of cancer thus creating healthy communities and we intend to replicate this event in other locations," said Pearl Tiwari, CEO, Ambuja Foundation
"Our team of health professionals have formed the International Forum to work with women across the globe and improve outcomes from Breast Cancer.  I delighted that ABS and ABSI have teamed up with ACF and are able to offer our expertise and knowledge to the crucial health workers of rural India. We will continue to work together with Ambuja Foundation and help improve health indicators of  breast cancer in other parts of rural India,'' said Dr. Leena Chagla, FRCS, Consultant surgeon and President–Elect, ABS, UK.
"It is heartening to see our organisations collaborating together to work on a common cause, especially for rural India. We need such alliances in India, but eventually, we need Indian solutions for Indian problems, and we are delighted to collaborate with NGOs like ACF to find these," said Dr. SVS Deo, President, ABSI and Head Department of Surgical Oncology, AIIMS, New Delhi.
ACF's health interventions have been highly appreciated by the district health and medical authorities due to its work for the past many years in bringing behavioural change in the communities. ACF will continue to work with the medical fraternity in Chandrapur and in close collaboration with the Tata Cancer Care Programme to provide referrals and treatment. As part of the initiative, ACF will work alongside local hospitals providing beneficiaries referrals for medical, surgical, and radiation oncology treatment along with ensuring medical insurance schemes are available.