New Delhi: Northern India was battered by heavy rains in July 2023, in more than 40 years according to officials and local media. Torrential rains across the region caused landslides and flash floods, and killed at least 41 people according to estimates – including three children who drowned in New Delhi – though the real figure could be more.
Authorities in the Himalayan States of Himachal Pradesh and Uttarakhand were advised not to leave their homes unless necessary, while schools in New Delhi were closed. In Himachal Pradesh, floods broke down a bridge and swept away numerous huts, while landslides have blocked roads in Uttarakhand. On July 9, streets across Punjab, Delhi and Uttarakhand were submerged in knee-deep water. This past weekend, record monsoon rains have led to waterlogging, road cave-ins, collapsed homes and gridlocked traffic in large parts of northern India.
In Delhi, the water level of Yamuna reached its highest on July 12, 2023, after days of incessant rain. Three water treatment plants – in Wazirabad, Chandrawal and Okhla – have been shut down due to flooding which may lead to a drinking water crisis in the national capital. The Delhi Government has also banned the entry of heavy goods vehicles, barring those carrying essentials. As per the government estimate, over 23,000 people have been evacuated from Delhi due to flooding from the Yamuna River. The low-lying areas near the Yamuna River in Madanpur Khadar have been significantly water-logged, causing distress to approximately 15000 people engaged in small-scale farming. Similarly, in Vishwakarma Colony, around 10,000 people have been adversely affected. The majority of those impacted in Vishwakarma Colony are informal workers who lack adequate support to sustain their livelihoods over an extended period. Many of these workers currently reside in cramped rented rooms, sharing space with six to seven other individuals, and rely on outside dhabas/hotels for their daily meals. Unfortunately, due to the severe flooding, all the dhabas/hotels have been forced to close, leaving these workers vulnerable and struggling to meet their food requirements.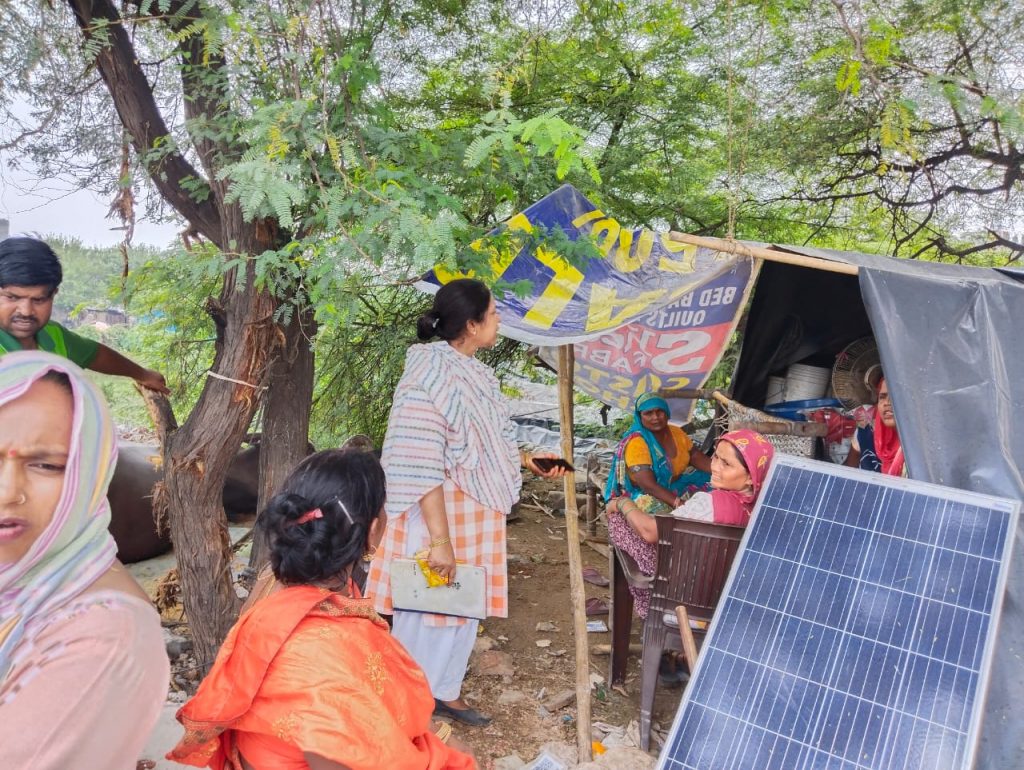 As part of the emergency response, ActionAid Association was on the ground conducting a needs assessment in Himachal, Punjab and Delhi. Results of the assessment showed the extent of the damage in each State and short-term and long-term requirements for those communities whose lives were affected by the floods. AAA provided relief supplies to those communities most affected by flash floods, such as in Derra Bassi, Punjab.
At Dera Bassi, refugee homes experienced continuous dripping of water from the roofs, which caused rations and firewood to become spoiled. The AAA team addressed this issue and came up with ideas to stop the dripping of water from the roof into homes, including relocation of refugees through consultation with the local government school's headmaster, sarpanch and local leaders. In collaboration with the United Nations High Commissioner for Refugees (UNHCR), AAA provided cooked meals and ration kits to affected communities, as well as water support.
In New Delhi, a dedicated team from ActionAid Association conducted a comprehensive field visit, engaging in interviews with the affected population, with a particular focus on women, and holding discussions with local authorities. They assessed the magnitude of the damage, understood the requirements of the affected communities, and proposed crucial interventions to be prioritised to effectively address the ongoing emergency.
Approximately 5,000 affected individuals were accommodated in schools, temples, and madrassas. Despite these arrangements, the affected individuals require additional assistance, including water buckets, tarpaulin for repairing shanties, utensils, sandals, mosquito nets, clothing, fans/coolers, medicines, diapers, dry food, baby formula, hygiene kits, and sanitary kits for women and girls. Urgent aid is also needed for pregnant women. Children and senior citizens experienced various difficulties. Some individuals were forced to reside in open spaces along the roadside due to the lack of available space, leading to challenges, especially for girls and women, in accessing toilet facilities.