New Delhi: Arthur D. Little (ADL), a leading strategic and management consulting firm, successfully organised its inaugural ADL Energy Conclave 2022 which saw the participation of luminaries and sector leaders, industrialists, and experts. Participants of the Conclave shared their views, deliberated, and discussed how India can achieve its aspirational energy targets.
The Conclave had a session on infrastructural reforms required in the country's energy sector. Also, a session was held on how leveraging technology, like smart meters and smart grids, will help maximise the potential of the sector's growth. The inaugural ADL Energy Conclave 2022 was held in New Delhi earlier this week.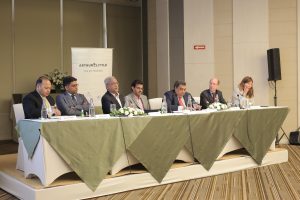 During the Conclave, ADL released its study titled 'Powering India's Energy Vision 2030.' India needs additional strategic investments of over $300 billion to achieve its clean energy capacity target of 500GW by 2030, according to this ADL study. With 165GW generation capacity already in place, India is on the right trajectory to meet its goal of having 50 per cent of energy needs through the renewable portfolio, says the report.
Brajesh Singh, Head of Arthur D. Little India's Energy and Utilities Practice, said, "The Indian power ecosystem is expected to undergo a tectonic shift throughout the decade. For this reason, we gathered eminent people from across the industry to discuss and exchange opinions, viewpoints, and visions. Our hope is that such conversations will help all of us throw light on the future and ensure continuous progress, by aligning on new opportunities including ones that may reimagine the current path of the sector."
The demand for power is growing and renewables have taken the centre stage. Smart meters have become the definite future and power exchanges are gaining importance by the day. All these changes are shaping the future of India's Power sector.
According to an ADL study, in order to accelerate India's power sector growth, private players and governments must synchronise with each other in implementing a holistic transformation.
Increased adoption of green energy—particularly green hydrogen with efficient storage solutions, leveraging technologies such as carbon capture, smart meters, smart grids with robust data management systems, and enabling efficient price discovery via power exchanges will shape the future of India's power sector.