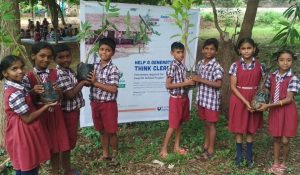 Bangalore, August 16, 2018: Aster DM Healthcare, a leading integrated healthcare services provider in Asia, announced today the conclusion of its My India Healthy India campaign that included activities ranging from cleanliness drive to promoting the social inclusion of differently-abled people. A sum of Rs. 300,000/- was donated to ALCAA Charitable Trust for the construction of a new floor in the school building by Aster Ramesh Hospital in Vijayawada.
Between Aster Aadhar, Aster Prime, Aster MIMS Kottakkal, DM WIMS Wayanand, Aster CMI, Aster Medcity and Aster MIMS Calicut, they partnered with many NGOs and volunteer organisations for simultaneous community outreach.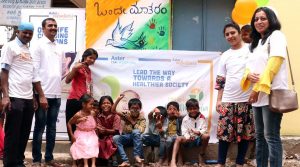 In its second year, the community outreach campaign, which was organised at Aster's eight hospitals that span across Kerala, Maharashtra, Karnataka, Andhra Pradesh and Telengana, saw participation of students representing many local government schools as part of the Swacch School Project. In addition, nearly 250 volunteers were mobilised under its global CSR platform – Aster Volunteer – who joined hands with school children to clean the school compound, paint murals on the walls and spread the message of health and hygiene. At some of the local schools where sanitation was an issue, volunteers took proactive measures to clean and build toilets, set up clean washing and disposing facilities.
Coinciding with India's 72nd Independence Day celebrations, My India Healthy India campaign also featured projects like Saluting Hygiene Heroes to acknowledge long-term contribution of maintenance staff responsible for maintaining hygiene and cleanliness standards at Aster facilities. Other activities included #AsterEqualityProject, a social inclusion initiative for differently-abled, launch of a bike ambulance, and health and hygiene awareness camps, among others.
Flagging off the campaign at Aster Medcity, Kochi, Dr. Azad Moopen, Founder and CMD, Aster DM Healthcare, said: "Our campaign, My India Healthy India, was launched on the belief that a clean and healthy India will pave the way for a prosperous and productive nation.  Around 65 per cent of India's population is below the age of 35 and there is a strong case for promoting this campaign through the young generation. Encouraged by the impact it has already created, the programme is integrated into Aster Volunteers global initiatives.  This, we hope, will help to make sustainable impact in the society, especially through its activation among students."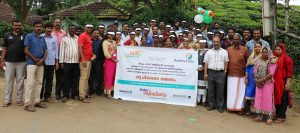 Launched in 2017 as part of Aster's 30th anniversary, Aster Volunteers aims at bridging the gap between people who would like to help, with those in need. Running successfully in nine countries including India, through various initiatives like blood donation drives, basic life support training, free surgeries and investigations, medical camps and recruitment of differently-abled people, the programme has been able to impact 738,610 lives across geographies.