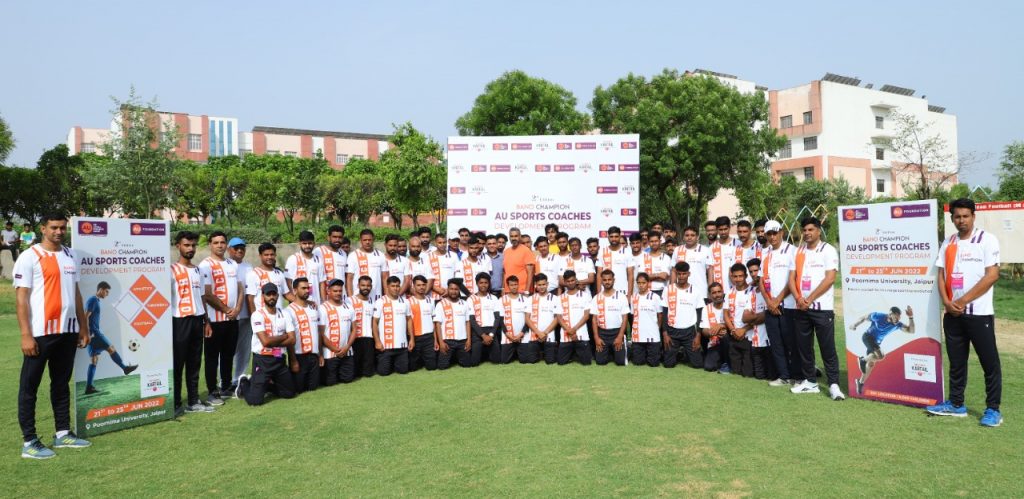 Jaipur: AU Small Finance Bank, under its CSR project 'Bano Champion,' organised a 5-day training programme at Jaipur for sports coaches from rural and semi-urban areas of Rajasthan. Incepted in 30 locations across Rajasthan in October 2021, the project has touched base upon 30 new locations with over 6000 students enrolled under 60 professionally trained coaches like Gopal Saini, Arjuna Award winner and President, Rajasthan Athletics Association, Aditi Mutatkar – Silver Medalist in the Commonwealth Games, and others.
The training programme for sports coaches started on June 21, 2022, and continued for five days. The training programme covered sports like football, throwball, and athletics. To promote the participation of women, the programme also included sessions on training girls and sharing insights on child protection modules.
Talking about the Bano Champion project and the sports training programme, Yogesh Jain, Chief of Staff said, "Sports is one of the prominent areas wherein AU Small Finance Bank work. There is a lack of guided sports training in rural and semi-urban areas in India. We aim towards bringing a systemic change in how sports are viewed and practised in these areas. Such programmes inculcate sports culture amongst the youth at large, and train and motivate them to excel. The Bano Champion project is operational in 16 districts of Rajasthan and aspires to train over 12,000 children across all locations."
Immense support and enthusiasm have been observed among the youth, community representatives, and government officials at the very nascent stage. This has helped the programme grow and expand extensively.
Gopal Saini, President of Rajasthan Athletics Association said, "India has the potential to excel in the field of sports. We can lead the medal tally at international sports events if the children are trained for the same right from the beginning. There is a need for professionally trained sports coaches. I am hopeful that there will be more projects like Bano Champion that will be implemented across India."
Reinvigorating sports at the grassroots and improving the skills of young children, AU Bank, in partnership with The Sports Kartail, is also enabling the youth to perform in sports competitions at District, State, and National levels.