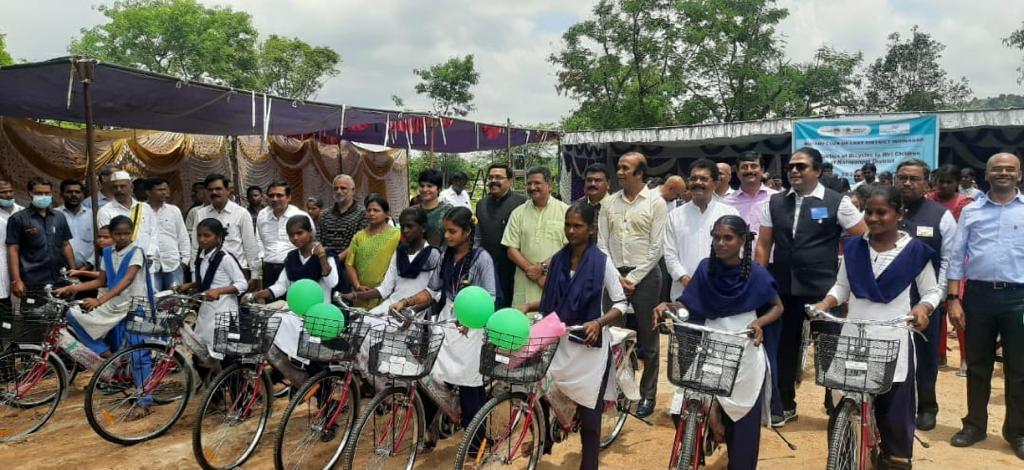 Telangana: Aurobindo Pharma Foundation, in partnership with Rotary Club of Lake District Moinabad (Rotary District 3150, India), Rotary Club of Ameerpet, Rotary Club of Armour, Rotary Club of Hyderabad Deccan and The Rotary Foundation, conducted a mega event at the Narayanpet District. APF donated 800 bicycles (worth Rs 39.2 Lakhs) to girl students from 76 Govt Schools in Naratanpet district, cancer screening for women and men, ENT screening for children and a blood donation drive. The event will benefit over 1200 citizens in Narayanpet in the first phase.
The Rotary Club of Lake District Moinabad is very active in its service activities and with the support of the Rotary Foundation and Rotary Clubs globally, the Club is keen to execute projects in the areas of safe water, literacy, education, health care, economic empowerment and environment for communities which are in far-flung areas and have difficulty in accessing basic development and growth opportunities.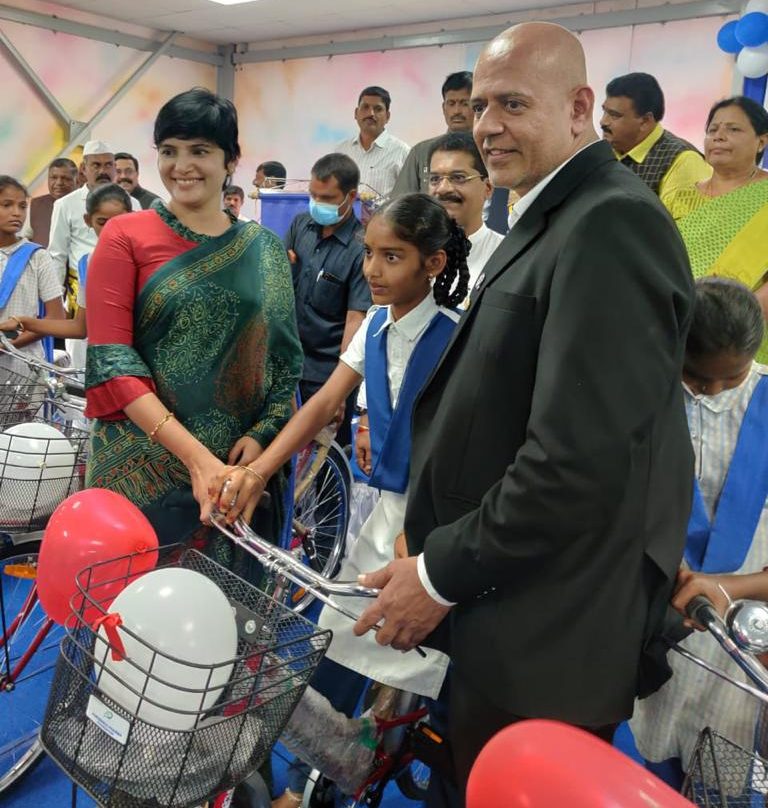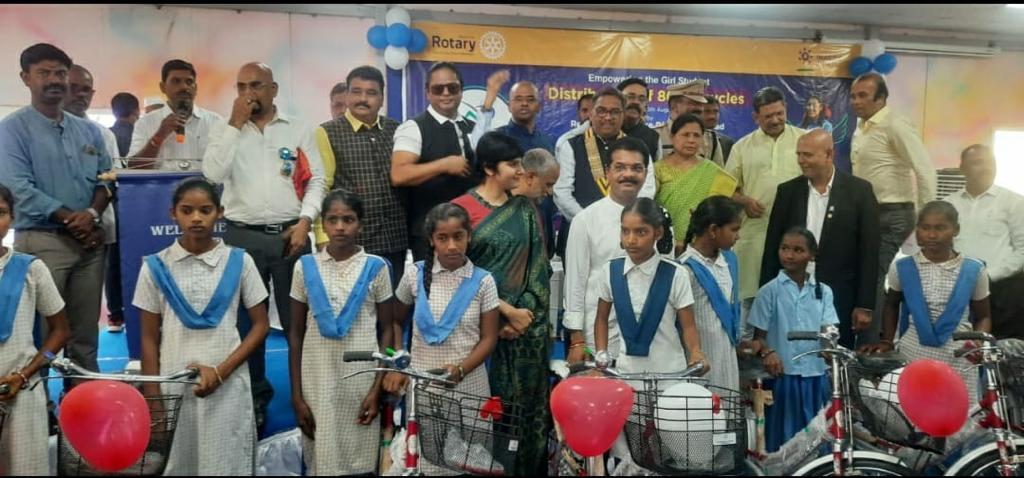 This particular project was initiated during the Presidency of Rotarian Ragunathan Kannan, Chairman, Aurobindo Pharma Limited with the active support of Rotarian Uday Pilani and the members of the Rotary Club Past President Rtn. Ragunathan Kannan, who was also the Chief Guest of the event.
Speaking on the occasion, Shri Ragunathan Kannan, Chairman, Aurobindo Pharma Limited said, "Education shapes the future of the country. We are glad that we can contribute to the cause. Aurobindo Pharma thrives to provide the best facilities to girl children, with the availability of 800 bicycles (worth Rs 39.2 Lakhs) to underprivileged girl students of 76 government schools in Narayanpet district, these girl students will be able to attend their school on time and improving their opportunities of accessing education. Aurobindo has always looked at CSR to provide an impetus to sustainable development and encourages ongoing social responsibility processes within the corporate sector. Aurobindo has been aiming to improve literacy and provide better medical care and infrastructure development. We are happy that our efforts have helped the local community to grow socially and economically which inspires us to perform every day."
"On behalf of the Aurobindo Pharma Foundation and the Rotary Club of Lake District Moinabad, He thanked all our partners that are helping us deliver this multi-dimensional service for children, women and men, of the families that need it most," Shri Kannan added.
With the vision of K. Nityananda Reddy, Managing Director and Vice Chairman Aurobindo Pharma Limited & Director Aurobindo Pharma Foundation and P. Sarath Chandra Reddy, Director, Aurobindo Pharma Foundation & Aurobindo Pharma Limited, to add value to its CSR effort by aiming for eradication of illiteracy, poverty alleviation, infrastructure development in the rural areas, Aurobindo Pharma Foundation (APF) has noticed a high dropout rate among school going children and a lack of access to the education due to economic and various other social factors. The prevalence of this difficult situation was more marked among the female student population, who had very few facilities to pursue higher education. To help these children realise their dream, Aurobindo is fully committed to providing all the requisite support to the underprivileged students and the government schools for various development works to be proposed by the authorities.
The District Collector, Hari ChandanaDasari, I.A.S, said, "We are happy that Rotary International, Lake district Club and Aurobindo pharma foundation have created better access to education and gender equity amongst students in rural areas by providing 800 bicycles to girl students of government schools. Their services in the diagnosis of serious, usually ignored health concerns like cancer and ENT amongst the rural populace, are praiseworthy. We look forward to working further for the betterment of rural areas along with the Rotary Club of Lake District, Moinabad and Rotary International."
The Rotary District Governor, Rotarian Rajasekhar Reddy Talla mentioned, "This is a project where the girl child is getting support from the Rotary and Aurobindo to continue her education to the higher level. Bicycles will give more pride to girl students to attend classes without going by walk. Medical Screening camp will give more facilities to the Narayanpet People to diagnose the diseases at the earliest. We can say very proudly these facilities providing by RC Lake District Moinabad to know the health conditions of the situation. Doctors will treat them and give them medicines to recover.