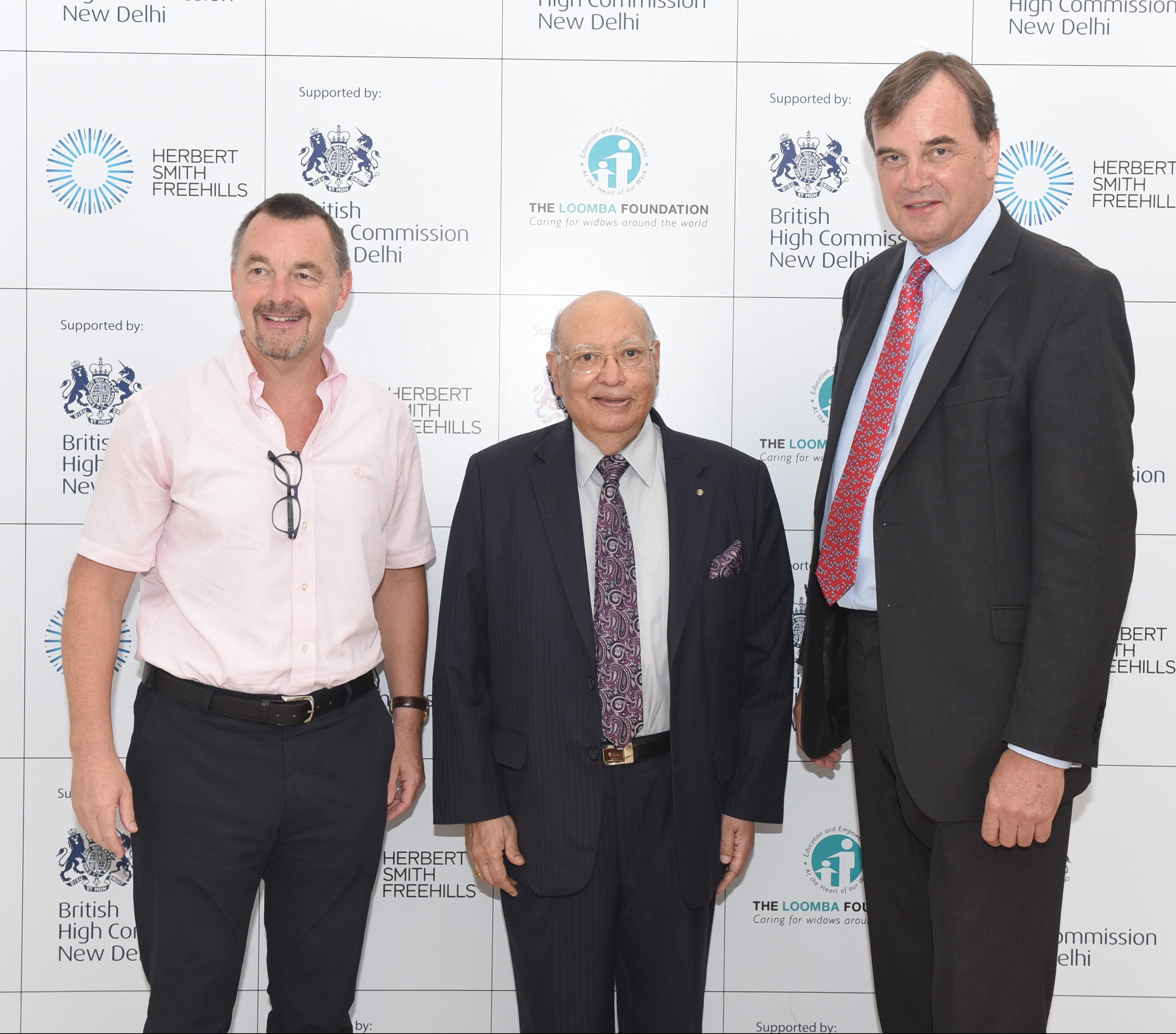 New Delhi, August 20, 2019: A new initiative of Chris Parsons – "Cycling For Widows" was launched at a lunch hosted by the British High Commissioner to India, Sir Dominic Asquith KCMG, at his residence. It was attended by Lord Raj Loomba CBE, Chris Parsons, and many high-profile business leaders.
Chris Parsons, a lawyer with international law firm – Herbert Smith Freehills, spends most of his time in India as Chairman of the firm's India practice. He is also a philanthropist and wants to support widows and their children in India. He will be cycling from Kanyakumari to Srinagar, 4,500 Kms in 45 days, and aims to raise US$ 450,000 to help widows in India.
It is not the first time that Chris is helping widows in India. In 2011, Chris raised $200,000 by cycling from London to Gibraltar. Not content with a fund-raising effort in Europe, Chris was keen to do something in India, so he came up with the idea of walking 30 marathons in 30 days to celebrate the completion of working for 30 years with his company. This took him, at the beginning of 2015, from Mumbai down the coast of Maharashtra and Goa to Mangalore in Karnataka before turning east to cross the Western Ghats into Bangalore – some 1260 kms. This time he was able to raise $300,000 for The Loomba Foundation. All of the money has been used to support 5,000 widows in Varanasi. The project was launched by the Hon'ble Prime Minister, Shri Narendra Modi, in his constituency.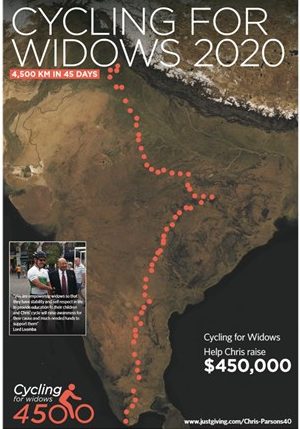 He is now focused on a new challenge for 2020 when he plans to cycle the length of India from Kanyakumari in the south to Srinagar in the north, a distance of some 4,500 km which he hopes to complete in about 45 days. He is keen to support widows in India through the Loomba Foundation again. He will start cycling on February 3,2020, from Kanyakumari.
Lord Loomba said, "I am absolutely delighted and thankful to the British High Commissioner, HE Dominic Asquith, for hosting the launch of the "Cycling for Widows" initiative by Chris Parsons at his residence in New Delhi. I have no adequate words to thank my friend, Chris, whose support for the Loomba Foundation has been immense. I am not too sure where he gets his energy to undertake such strenuous projects."
Chris Parsons said, "India has become a very special place for me, and it feels like my second home.  Over the last 15 years, I have visited the country over 150 times, spending time with clients, teaching at law schools and engaging in various social initiatives. He also said, "I have personally visited schools in Delhi where the children of widows have been educated. I have also met a number of poor widows who have been empowered in Varanasi. I am so pleased that The Loomba Foundation has used the funds appropriately."
We appeal to everyone to come forward and donate generously to support poor widows in India. Your generous donation will be used to provide skills training to widows and unmarried daughters of widows. The Loomba Foundation will bear all admin cost, so
100 percent of your funds will reach the deserving beneficiaries.
Chris has already achieved over 30 percent of his target of USD 450,000. Please help him to reach his target by clicking on https://cyclingforwidows2020.ketto.org/.