Delhi, September 26, 2017: Castrol Sarathi Mitra, part of an ongoing CSR initiative of Castrol India, was launched by the Special Commissioner of Traffic Police, Delhi, Mr. Ajay Kashyap on September 25, 2017 at Castrol Sarathi Mitra Training Centre, Sanjay Gandhi Transport Nagar.
The programme aims to positively impact more than 40,000 truck drivers through road safety training, financial literacy and vision check-up over the next two years. In Delhi, two training centres have been set up at Sanjay Gandhi Transport Nagar and Punjabi Bagh Transport Centre, where the trainings will be conducted. The programme aims to work in close coordination with transporters and their associations and also with the Delhi Traffic Police. Synergie, a not-for-profit organisation that works on collaborative CSR programmes, is the implementation partner and will run these centres.
Launching the programme, Mr. Ajay Kashyap lauded the initiative taken by Castrol and said: "The fact that over 1,500 precious human lives were lost in accidents on Delhi roads last year is a cause of immense pain and distress to the bereaved families as well as to every officer of Delhi Traffic Police. This is particularly tragic as I realise that, at some level, all are preventable. My officers are committed to work ceaselessly to achieve an accident free city. This requires tremendous efforts and resolve. It also needs equal and active participation and awareness about road safety among all road users. Our efforts to create this awareness will remain the focus of our outreach programmes. Corporate support under CSR is of immense value in helping our cause and makes available resources to take these efforts forward."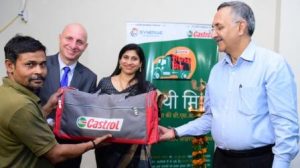 Mr. Omer Dormen, Managing Director and Member of Board, CSR Committee of Castrol India, said: "India accounts for the largest number of road fatalities in the world and Delhi is the most dangerous city in the country, accounting for the largest number of road accident deaths in 2016. The Castrol Sarathi Mitra programme is part of Castrol's effort towards promoting road safety in India. The focus of the Castrol Sarathi Mitra programme is on truck drivers, the unsung heroes of our society. Truck drivers spend significantly longer hours on the road and are exposed to higher risk than other drivers. The programme aims at supporting the truck drivers to remain safe on the roads and also providing them with basic education on financial literacy and planning so that they have a safe and sustainable livelihood."
Ms. Indrani Maitra, Founder Director, Synergie, remarked: "With 65 percent of the country's freight being transported through roads, truck drivers form the backbone of the Indian economy. Yet a trucker's life is one of the toughest. Synergie, as part of the CSR initiative of Castrol, strives to create a memorable experience for the truck drivers during the trainings at its centres, while they learn crucial aspects of road safety and banking. We hope through this initiative, we are able to provide visibility to the significant contribution these unsung heroes make towards the growth of the country."
Castrol has already been playing a pioneering role in promoting road safety in the country – for its own employees, its partners and society at large. Castrol's CSR programmes covers four broad areas: Ehtiyat – for road safety; Eklavya – for skill development, Ekjut – for community development and Ehsaas – for providing humanitarian aid.