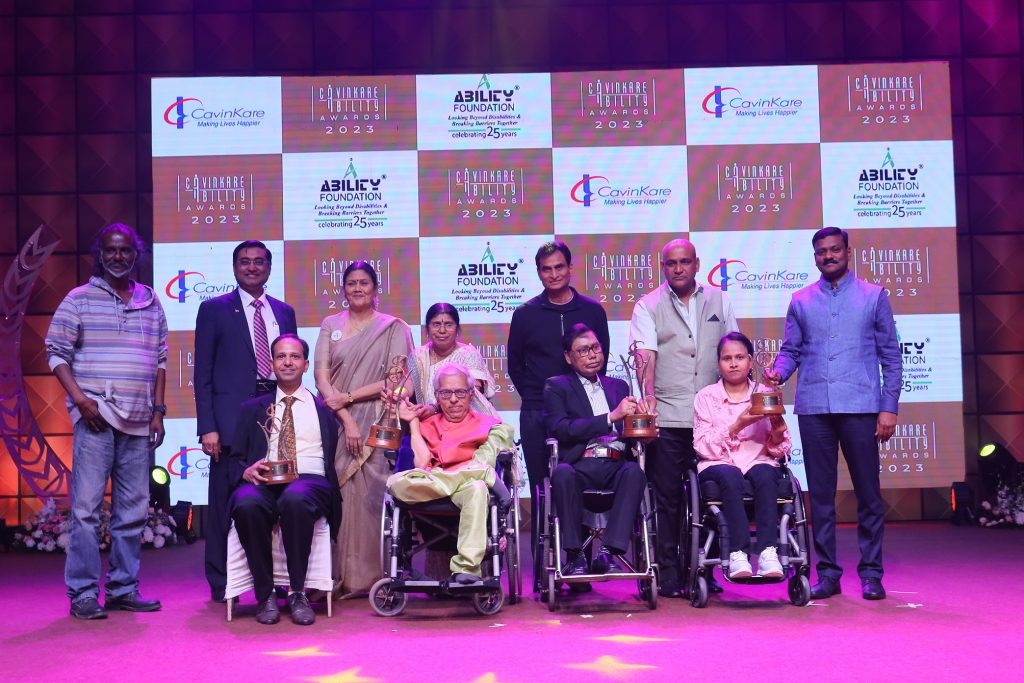 Chennai: Persistent in their endeavour to spotlight the exemplary array of achievers with disabilities from across the country, CavinKare and Ability Foundation presented their 21st CavinKare Ability Awards for achievers with disabilities. The prestigious awards were bestowed to five outstanding achievers who, with their grit and courage, overcame obstacles to embrace life to the fullest. In his message broadcast on the occasion, AR Rahman commended CavinKare and Ability Foundation and felicitated the recipients. The live art by renowned artist T Athiveerapandian and acclaimed mouth artist, Joyal K. Biju, to the melodies by pioneering musician Anil Srinivasan, was a testament to the fact that talent, beauty, and art transcend disability.
The awardees of this year's edition were hand-picked by an esteemed panel of jury from a wide range of disciplines, recognising their triumphs over all odds. Lt. Gen. A. Arun, the GOC for the Dakshin Bharat Area, Sudha Ragunathan – Musician, George Rajkumar – President, Sanmar Matrix Metals, Madhan Karky – Lyricist and Screenwriter and Suresh Sambandam – Founder and CEO, KissFlow served on the jury this year.
Commenting on the occasion, SCK Ranganathan, Chairman and Managing Director, CavinKare Pvt. Ltd. said, "The CavinKare Ability Awards are entering their 21st year after two prosperous decades and it has been a privilege for us to acknowledge and commemorate individuals with disabilities over these years. Watching these brave and gifted individuals display their brilliance in ways we could never even imagine is truly inspiring. We aspire to engage with many more individuals who have disabilities and extend our positive impact on them. We wish everyone who partook in the award ceremony a successful future and the best for their future endeavour."
Smt.  Jayshree Raveendran, Founder & Hon. Executive Director, Ability Foundation, said, "Today, as we celebrate the 21st year of the CavinKare Ability Awards for Achievers with Disabilities, I'm thrilled and humbled that we have been able to bring about some attitudinal change in the minds of people. I see people who enter the auditorium, leave with changed and different perceptions. This is what S Ranganathan and I set out to do, right from the first year of the awards. The intent has always been to spotlight the capabilities and inherent talents amidst disabled persons in an upbeat, pleasant evening programme, such that people genuinely have a great time and in the bargain, the stereotypical inabilities that they have mostly been exposed to, disappear and they are determined to reform their attitudes. By shifting the focus from problems to potentials, these Awards have a significant impact on the viewers and this in turn, on society. As I've always said, there are more role models amongst people with disabilities than anywhere else. But having said that, this not about highlighting role models, this is about life and living.  People with disabilities are first and foremost people and need the same acceptance and opportunities as anyone else. We have come a long way, of course… but we still have miles to go. And I for one, am confident that the day will come in the foreseeable future."
This national award comprises two categories: the CavinKare Ability Award for Eminence and the CavinKare Ability Mastery Awards. Taking into account the level of difficulty, triumph over adversity, and uniqueness of the mission done, the 191 nominations received from across the country were shortlisted.
Over and above these awards, there is also "CavinKare Ability Special Recognition Award", which is given to a person with disability who is an acknowledged leader in the disability sector with exceptional achievements – either on the personal or the organisational front – inspiring admiration and meriting a special mention at the Awards.
Recipients of the CavinKare Ability Awards 2023
CavinKare Ability Special Recognition Award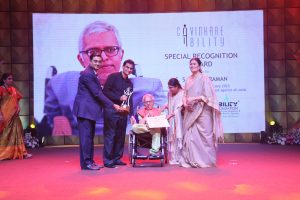 Sankara Raman
Ayikudy, Tamil Nadu
A leader, a visionary and a changemaker – these are just a few words that people use to describe Sankara Raman. A Chartered accountant by profession, Sankara Raman has been associated with the Amar Seva Sangam for many years during which he has introduced many pathbreaking interventions. Being a person with disability himself, he had seen the disparities between people with disabilities who had access to education and those who didn't. He is a strong believer in the power of education and has made it his mission to ensure rural children with disabilities get the same exposure he did as a young boy. Under his leadership, Amar Seva Sangam has introduced a screening mechanism to ensure the most deserving lot got access to the services, launched various vocational skilling endeavours, transformed the Sangam's school to an inclusive education space and is on the path to making early intervention a reality at a large scale. Sankara Raman along with the Amar Seva Sangam, is committed to the cause of building a world that is more inclusive and supportive of children with disabilities.
CavinKare Ability Award for Eminence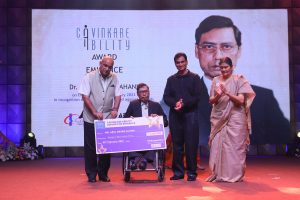 Dr. MD. Abul Hasan Sahani
Kolkata, West Bengal
Dr. M. A. Hasan Sahani is the Founder Director of the Institute for the Handicapped and Backward People (IHBP). IHBP is a non-profitable, non-religious philanthropic organisation, that works for children with disabilities, vulnerable people and people from the socio-economically backward classes. They run a Pre-school, early intervention, primary, secondary and higher secondary schools for children who are hearing impaired, intellectually disabled or have cerebral palsy. Today, a total of 750 students are enrolled in the institute and are provided with holistic education by a competent team of trained professionals through specialised curriculum, Dr. Hasan comes from a family where both he and his siblings all inherited muscular dystrophy from their mother, so from an early age he knew the difficulties faced by people with disabilities. This understanding gave him the determination to make it his mission to work for the welfare of people with disabilities and find effective ways to bring them to the mainstream.
CavinKare Ability Mastery Awards
Dr. Sushree Sarangi
Bhubaneswar, Odisha
Dr. Sushree Sarangi works as a Junior Resident in the Department of Endocrinology at IMS & SUM Hospital, Bhubaneswar. She was a second year MBBS student at this same hospital, when she met with a road accident which left her quadriplegic. Continuing her education seemed impossible with her limited movements post the accident, but with the support of family and friends and sheer determination she was able to gain confidence to realise her dream of being a doctor despite her limited mobility. The four-year journey to becoming a doctor was not an easy one, from not being able to sit continuously for classes to clearing her practical exams, she had to overcome multiple challenges. Even though being a doctor is a strenuous job, it doesn't stop Dr. Sushree from dreaming to get ahead in her field. She is now aiming to pursue a Post-graduation in Medicine, or an allied non-clinical field and is also considering teaching as a career option for the future.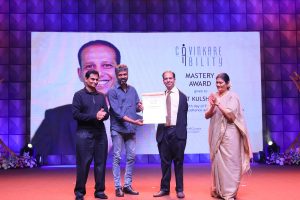 Rachit Kulshrestha
Pune, Maharashtra
Rachit Kulshrestha is an ardent adventure enthusiast and a highly skilled cyclist. A two-time cancer survivor and single amputee, Rachit has always been keen to try new things and believes in not letting his disability stop him from aiming high. He is passionate about cycling and has gone on various expeditions including a 10-day cycling expedition from Manali to Khardung La. He also takes other people with disabilities on cycling expeditions and nature walks, to make them experience nature as he does. His love for adventure even took him to the Siachen Base camp. He is also a strong advocate for inclusion and uses various platforms to share his story to inspire people and to give them courage to embrace their individuality. Rachit's life has continuously dealt him blows, but he worked hard to climb up from the lowest point of his life to somehow find ways to continue living his life to the fullest.
Vidya Kumari
Samastipur, Bihar
Vidya Kumari works as a delivery partner with Swiggy, an online food delivery platform. She is a role model and an inspiration for girls with disabilities who believe that after undergoing a trauma or accident, their lives are meant to be confined to the bed or be dependent on others. Going out for food deliveries on her motorised wheelchair, she proves that disability is not a barrier. Aside from her gig with Swiggy, Vidya is also a National level table tennis player and aspires to win a gold medal for the country in Paralympics. Vidya's journey after her accident was one laden with multiple challenges due to poverty, disability and gender. She however did not let these challenges defeat her spirit and also never let go of her courage to dream. Her achievements and journey are an inspiration to all. Her innate simplicity is something that everyone at the Chandigarh Spinal Rehab, where she currently lives, appreciates.