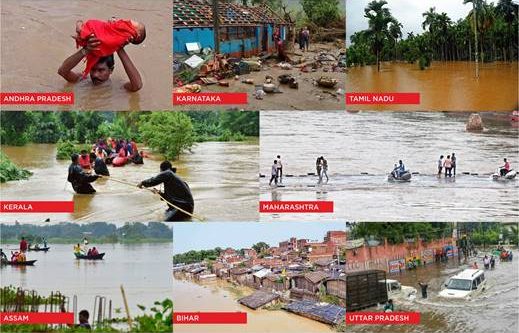 New Delhi, August 14, 2019: Severe floods in the Indian States of Kerala, Karnataka, Tamil Nadu, Andhra Pradesh, Maharashtra, Assam, Bihar and Uttar Pradesh have left communities, settlements, livestock and wildlife in an utter state of despair. While, efforts to provide relief and rehabilitation to the victims are in full swing, the floods have so far claimed several lives. Government agencies are deployed in flood-hit areas of the country to carry out the relief and rehabilitation activities and a 24X7 control room has been set-up in Delhi to closely monitor the regions.
The monsoon rains, so far has claimed more than 450 lives, and the death toll continues to rise. More than 75 Lakh people are severely affected and have taken shelter in relief camps. Further, healthcare facilities remain non-functional making the ailing and elderly vulnerable. Health support for women and adolescent girls is inadequate. Charities Aid Foundation (CAF) India is working to raise resources for the immediate relief and rehabilitation of the worst affected flood victims across the country. We appeal to you to come forward and support us whole-heartedly in our efforts to support the affected regions return to normalcy.
Join CAF India's efforts to extend urgent support to those in severe need by providing:
1) Relief kits.
2) Community rehabilitation with a focus on livelihoods and rebuilding infrastructure.
3) Creating community resilience to deal with disasters.
How can you support our efforts?
1) Corporate Social Responsibility (CSR): As a company, you can support with your CSR ambit where CAF India will ensure that the funds go towards creating relevant and sustainable impact along with conducting regular monitoring and reporting of the projects.
2) Employee Payroll Giving: You can help your employees contribute meaningfully to the affected communities through employee giving program. We can create a dedicated microsite for your employees to contribute.
3) One-time support for individuals: If you would like to make a one-time, online donation, please visit our DONATION LINK.