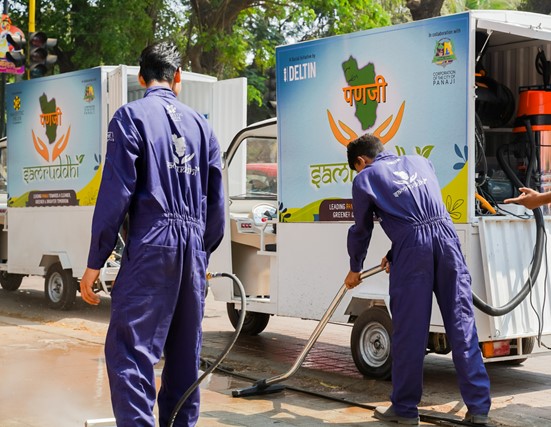 Panaji: In a joint effort, India's leading luxury gaming brands Deltin and Majestic Pride have collaborated and announced their commitment towards keeping the city of Panaji clean, green and well-balanced through their 'Samruddhi' initiative. As a part of the initiative, Deltin and Majestic Pride have tied up with Biofuel India, and have engaged two Samruddhi E Tanks, that will be deployed across the municipal areas of Panaji for cleaning and sanitation.
Each Samruddhi E Tank is a specially designed, 3-wheeled electric vehicle equipped with a single unit of pressure washer, vacuum suction machine, water tank and a sewage collection tank. Each vehicle will have the innovative capability of power washing, vacuuming and litter-picking. Developed and made in India, these vehicles are eco-friendly and battery-powered, designed for easy operation and efficient cleaning of roads, pavements, dividers, and gardens.
Appreciating the initiative, Rohit Monseratte, Mayor of Panaji, remarked, "I appreciate this endeavour by Deltin and Majestic Pride. Panaji is a picturesque and one of India's most user-friendly cities. I hope many such corporations would come forward to help us keep this historic city and its long promenades green, clean, and tidy."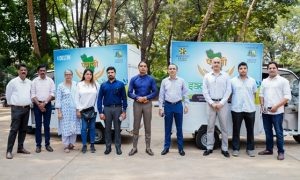 Panaji has its unique set of cleaning and sanitation challenges in comparison with the rest of the world's cities. It was observed that the current, state-of-the-art cleaning solutions available worldwide were not able to effectively meet the unique challenges present here. Hence, it was essential to tackle the existing problem through indigenous, innovative and sustainable solutions like the Samruddhi vehicles.
Speaking on the initiative, Anil Malani – CEO-Deltin, said, "Our dedication to creating a positive impact on society is unwavering. We anticipate that our contribution of 'Samruddhi E Tank' will assist Panaji city in sustaining a hygienic and wholesome environment. Furthermore, we believe that this initiative will aid the Corporation of the City of Panaji in becoming a technology pioneer in the field of smart cleaning services across the country."
Shrinivas Nayak- Director of Majestic Group Hotels and Casinos, said, "it has always been our motto to give back to society and we are immensely honoured to be associated with the proposed cleanliness initiative to be undertaken in the beautiful city of Panaji. This is a great step in the right direction, towards a clean environment in a sustainable manner, which is the need of the hour. We are grateful to collaborate with the Corporation of the City of Panaji, to make a positive difference and set a precedent for others, towards a clean, green and sustainable environment. If the initiative proves to be successful in making a difference, we will consider adding more vehicles to cover more areas."