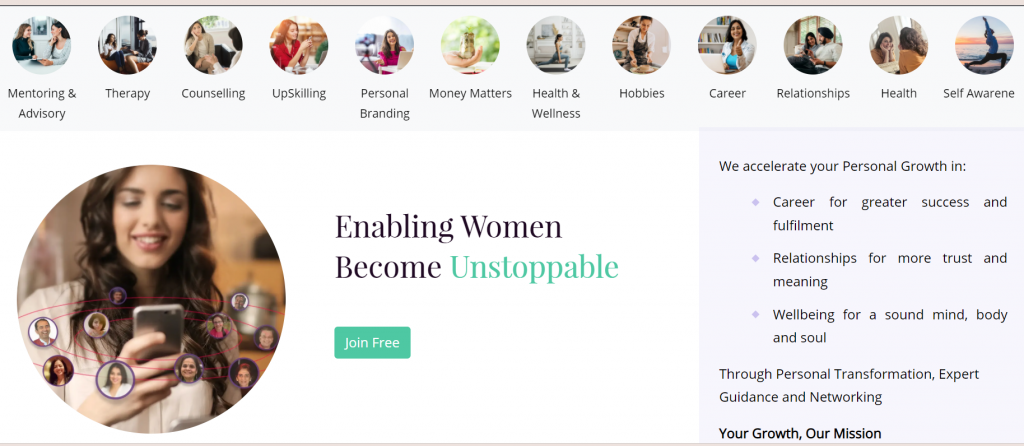 January 18, 2022: Emerging femtech platform, SayCheese (https://www.saycheese.life/) announced the launch of its hi-tech, personalised app for aspiring women offering holistic and action-oriented interventions for their personal growth. The audio-visual app, launched on Jan 1, 2022, is available on Android and iOS. The technology will leverage AI (Artificial Intelligence) to continuously improve the user experience, for faster connection with mentors, discovery of other members with similar priorities and preferences. Over time, Say Cheese will also introduce Blockchain to provide impeccable trust that comes with this cutting-edge technology.
The app provides an unmatched opportunity for women users to grow their influence by growing their network in a safe, quick and easy manner. Founded by a woman – Rajpreet Kaur, Say Cheese understands the importance of trust and data privacy. Women are assured of the confidentiality of their conversations as the same are not recorded on the platform.
SayCheese is the first of its kind platform for aspiring women, where technology and principles of Psychology and Behavioural Science come together to unlock the true potential of aspiring women. The learning modules provide interactive content wherein the solutions are engagement-driven and can be personalized for each user unlike the standard one-size-fits-all content available on other learning platforms.
Say Cheese also announced the launch of its new, revamped website – www.saycheese.life with new personalised user journeys. Women users can start their journey by selecting their focus areas and goals across four categories – career, relationships, health and self-awareness, which then opens up the solutions space for them to choose from.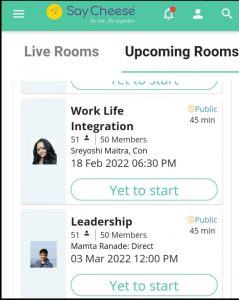 Say Cheese is also the first of its kind platform that is democratising world class and proven services like Coaching, Therapy, Counselling, Fitness etc from top class Givers (Experts) by making them accessible to aspiring women.4500+ women have taken the proprietary Happiness Assessment (HER – Happiness Evaluation Report) and highly appreciated the engaging design of the assessment as well as the deep insights they received, to help identify the focus areas for them.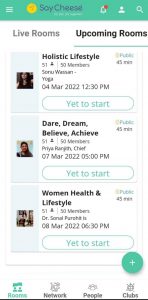 The femtech platform also announced a 60-day mega launch event from January 10, 2022 to March 10, 2022, to celebrate the app and website launch including the first ever pan-India "Live Speed Networking Event" for women wherein users can log in and interact with an expert/member of the Community every 3 minutes; and speaker sessions by women achievers from various walks of life. The launch period of the app will run up to the International Women's Day in March wherein these 60 days will witness a wide variety of speakers like Deepali Naair (IBM), Ruchira Jaitly (Diageo), Konika Chadha (Korn Ferry), Radhika Agarwal (Blume Ventures), Anushka Manchanda (Artist), Shreya Krishnan (former Mrs India World), Sonu Wassan (Yoga Therapist), Priti Srivastava (RIL), Aarti Gupta (FICCI Flo) sharing their inspirational stories, experiences and learnings with the Say Cheese Community members.
The platform will also recognise and felicitate women achievers under the 'Unstoppable Woman' Awards to be held on March 10, 2022. 
Say Cheese aspires to make an impact in the life of millions of women by making its services accessible directly to aspiring women (B2C) as well as through Corporates (B2B).
Say Cheese also works with organizations to enable sustainable growth through improved Diversity, Inclusion and Belonging, transformed employee and team performance, and cultural transformation. It offers exclusive and custom Cohort-based learning programs as well as 1:1 services for employees to help achieve specific personal and organizational goals. Say Cheese conducts high impact programs on Personal Transformation, Leadership, Positive Intelligence and several other topics based on the Phenomenological approach. More details can be found on the corporate services website (http://www.corporate.saycheese.life).
Rajpreet Kaur, Founder and CEO, Say Cheese, said, "Technology has the power to transform women's lives and we are leveraging it to make a better world and community for women to connect with each other to grow. The Say Cheese app is a unique, completely Made-in-India platform which aims to make the concepts of coaching, therapy and counselling more broad-based, more affordable and accessible for women. Our broader idea is to co-partner with other women communities and forums who can leverage our platform capabilities to increase the impact for their members, and create a large global safe space for women to engage in."
Download the app: https://bit.ly/3yU8f71
YouTube Link:  http://bit.ly/yt-saycheese