Bengaluru, July 12, 2019: Siddapura gets its first environment-friendly, all expense payed pre-school for the children of plantation workers, tribal communities and the underprivileged: Morning Glory. Managed by the Bangalore-based educational foundation – Building Blocks, the entire project and its running is funded by the Orange County Resorts & Hotels Ltd.
This initiative's intent is to give these young children access to an educational environment that helps them build towards a better future and give them a fair chance to compete with the outside world. As an English medium school, they provide books, bags, and all school requirements in an eco-friendly manner. The children are provided with two meals every day and their parents are educated on the importance of nutrition.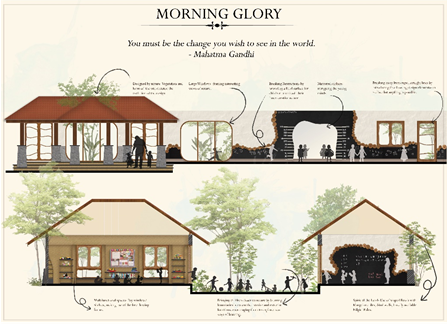 Morning Glory is a specially-designed school, created with the desire to maintain and preserve the natural habitat of the surroundings. The interiors are made for students to express themselves openly, and the unique layout is set with the thought of making them feel one with the outside world. The school's structure is designed in a thought-provoking way which accommodates the vegetation and ground variations and uniquely drafts it into the school's design. The walls are inlaid with blackboards across the school so that no child's creativity is stifled and windows and doors are shaped uniquely to question standardised linear norms.
This initiative has stemmed from Evolve Back's desire to provide education and employment to the local communities around their property as a way of giving back the support the resort receives.
"Morning Glory is an initiative to create a clean, healthy and environment friendly atmosphere for small underprivileged children to learn in. We want children to grow with an understanding of environmental sustainability and the need to preserve mother nature. This all-inclusive free school is our way of giving back to the community that has been a backbone to our growth and success," adds Executive Director, Jose Ramapuram.