India is now fighting the second wave of COVID-19, having one of the highest numbers of daily new cases in the world. India currently has over 2 million 60 thousand confirmed cases, over 30 lakh ongoing cases, and almost 3 lakh deaths. Hospitals and healthcare providers in India are running out of supplies, particularly oxygen, in the fight against the deadly infection. This is the time when we see how companies, NGOs, Foundations, and civil society are coming together to lend a helping hand when India needs them the most. We highlight some of them here. 
Thank you for what you are doing. You inspire all of us.
"Non nobis solum nati sumus (Not for ourselves alone are we born)."
– Marcus Tullius Cicero
JSW Group Opens 1000-Bedded Oxygenated COVID Care District Field Hospital in Toranagallu, Karnataka
JSW Group has launched a 1,000-Bedded Oxygenated COVID Care District Field Hospital in Toranagallu, Ballari, Karnataka. This is one of India's biggest COVID-Care facilities with a dedicated 4.8 km oxygen pipeline originating from its steel factory and supplying medical oxygen directly to the hospital for treatment of ailing patients. This mega healthcare facility was constructed in a record period of 15 days. JSW Group has created this mega-hospital in collaboration with the District Administration of Ballari and is dedicated to the nation and the people of Karnataka.
Shri Sajjan Jindal, Chairman, JSW Group acknowledged the support and of the Chief Minister, senior ministers of Karnataka, members of the State and District Administration and paid his gratitude to doctors, nurses, and COVID warriors. He said, "JSW believes in the mantra of people and nation first. At this alarming and decisive juncture of human survival, JSW would like to do everything in its humble capacity for the service of mankind. We have created this field hospital to ensure direct oxygen supply from plant to patient."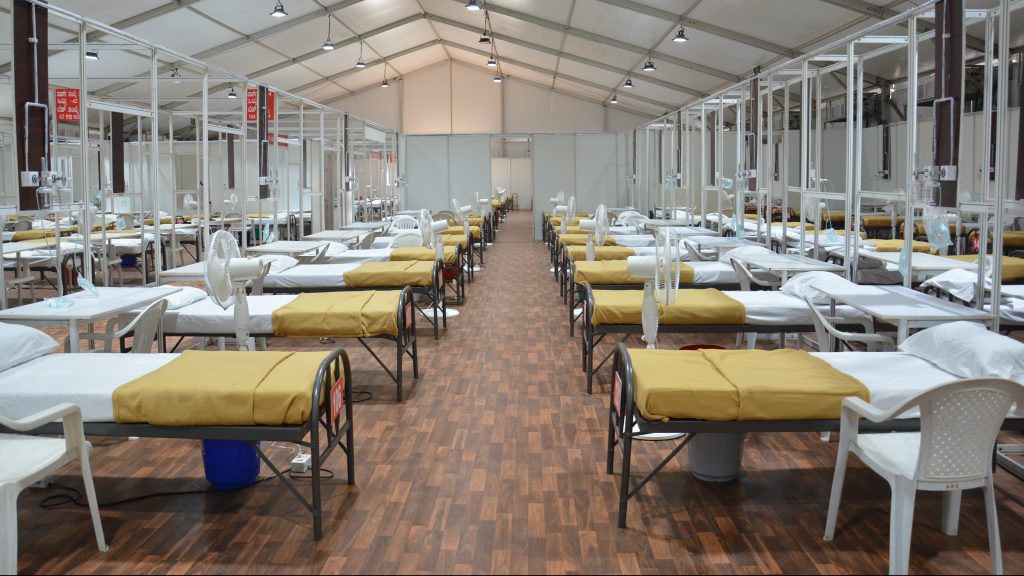 Commenting on the newly opened medical facility, Sangita Jindal, Chairperson of JSW Foundation said, "The impact of second COVID-19 wave has a crushing impact on the nation's health as the number of patients as well as fatalities keep rising at an alarming pace. Given the chronic need for medical facilities, bed requirements, and oxygen supply, we quickly swung into action and decided to establish this jumbo 1000-bedded oxygenated COVID-Care Field Hospital next to our steel factory at Ballari in Karnataka. JSW remains committed to support the Government's efforts in flattening the COVID infection curve while helping patients recover by providing them the best healthcare facilities at this hospital."
According to Dr. Vinod Nowal, Deputy Managing Director of JSW Steel Ltd, "The unique notion of providing direct oxygen supply to the patients stems from our Group Chairman Mr Sajjan Jindal's inclusive vision that if oxygen in such huge quantities cannot be taken to the patients, then we must work to find ways and means and bring the patients closer to the oxygen source. This facility is equipped with all necessary medical facilities for treating patients from North Karnataka and the neighbouring districts of Andhra Pradesh."
The Mega COVID-Care Hospital created by JSW is equipped with medical equipment for critical care, pharmacy as well as supported by kitchen and laundry services. The Ballari District Administration will be managing the hospital in multiple shifts with the help of 700 personnel across three shifts, comprising doctors/specialists, nurses, paramedics, supervisors, and non-medical staff.
In order to ensure uninterrupted oxygen supply, JSW Steel Vijayanagar Works will supply 1200 Nm3/hr of oxygen to this mega-hospital. The hospital premises will be kept cool through 850 tons of air-conditioners installed across the premises with an electrical substation. It also has an exhaust and air purifier system installed to maintain the appropriate temperature range and air quality inside the premises. It will also have all the necessary power and water supply to ensure smooth running and uninterrupted care to the patients.
Hyundai Motor India Foundation Pledges Support to Tamil Nadu Government
Hyundai Motor India Foundation (HMIF), the CSR arm of Hyundai Motor India Ltd. (HMIL) has donated Rs 5 Crores to the "Chief Minister Public Relief Fund" under Hyundai Cares 3.0 COVID-19 relief initiative, to strengthen the state's war against the second wave of the pandemic. The donation was handed over to the Honourable Chief Minister of Tamilnadu, Thiru M K Stalin. Additionally, a donation of Rs 5 Crores worth of Medicare Equipment has been announced, comprising of medical equipment such as high flow nasal oxygen machines, BiPAP machines, oxygen concentrators, and 2 Oxygen Plants to be set up at government hospitals in Tondiaorpet and Tambaram. On the anvil are some other medical consumables for frontline workers of various hospitals.
Commenting on the contribution, SS Kim, MD & CEO, Hyundai Motor India Ltd., said, "Hyundai has always stood by the government of Tamil Nadu in its most trying times. Today, when the State is fighting strongly against the second wave of the COVID-19 pandemic, we have once again put together a package to help the state overcome the crisis. This contribution is an expression of our solidarity with the people of the state that has been the Home of Hyundai in India for over two decades. In line with our global vision – 'Progress for Humanity', Hyundai is committed to undertake every effort to help India overcome this unprecedented calamity."
In 2020, during the initial phase of the pandemic, Hyundai Motor India Foundation had extended similar support of Rs 10 crores to the state towards multiple pandemic relief activities.
Prestige Group's COVID-19 Relief Measures 
As India continues to face the ongoing impact of the pandemic, more and more corporates are pledging their support through their contributions towards the nation's battle with it. Prestige Foundation, the CSR Division of Prestige Group, that ensures to undertake every opportunity towards the upliftment of the society, came forward with their re-engineered efforts towards COVID relief measures. Since April 2021 till date, the foundation has donated over Rs 2 Crore funds to benefit those in immediate need.
The Foundation has further equipped an additional wing of Vimalalaya Hospital in Electronic City, an establishment run by the congregation of FIH sisters (Franciscan Sisters of Immaculate Heart of Mary) and offers affordable healthcare, with 24 general ward beds, medical equipment such as ventilators, oxygen tanks, bed monitors, a 450-litre liquid oxygen cylinder, bypass machines and injection pumps. Furthermore, contributed to setting up a 24 bed ICU facility at the HBS hospital through Rotary Bangalore Midtown and ventilators and oxygen concentrators for Kodagu Institute of Medical Science's patients.
In addition, Prestige Foundation is not only advocating/promoting the urgent need to get vaccinated, but also aiding and facilitating its property residents across Bangalore, Chennai and Hyderabad by hosting vaccination drives and inoculating its members. So far, the Group has successfully vaccinated over 1000 employees and frontline workers with the help of the BBMP, Lions Club, and private hospitals.
They will continue to vaccinate as and when supplies are restocked and made available. The vaccinations drive extends to cover daily wage construction workers across all the sites as well.
Since the onset of the lockdown in April this year, the Foundation has distributed over 20,000 ration kits( each kit providing monthly sustenance for a family of 4) in the innermost areas of Bangalore such as Bytranapura, Hebbal, Kempapura, Nagawara, Pulakeshinagar, Govindpura, Shampur, Shivajinagar, Ulsoor, Bharathinagar, Siddapura, Lakksandra, Byrasandra, Gurupanpalya, Jayanagar, Chamarajpet, City Market, Whitefield, Varthur & Hoskote.
Commenting on the situation, Irfan Razack, CMD, Prestige Group said, "We are immensely grateful and deeply appreciate the unrelenting & compassionate efforts by the frontline workers, medical staff in the current challenging scenario. In an attempt to equip and ensure the welfare of the community amidst the prolonged pandemic, we have undertaken adequate measures which fulfill our responsibility towards our extended family. It is the opportune time to leverage one's resources optimally and provide support to all those in need for a healthy future."
Central Park Launches a 15-Bed COVID Care Facility With Oxygen Support in Gurugram 
Central Park, a reputed luxury real estate developer, has launched a 15-bed COVID Care Facility at Central Park Flower Valley project, located on Sohna Road in Gurugram, to safeguard their 250 residents from COVID-19. Along with beds supported by adequate oxygen cylinders and concentrators, the Group has also tied up with Medanta Hospital to set up an e-Clinic at their project Central Park Resorts to help the residents who require any medical assistance. The COVID Care Centre at Flower Valley is equipped with trained medical staff, oxygen cylinders for support, and doctors on call for the COVID infected patients showing mild patients.
The 24×7 facility, maintained by the trained staff present here, assures quality checks of hygiene and cleanliness. The team at Central Park Resorts has also been proactive in arranging beds for other medical facilities of Central Parkers. In case of an emergency, a Quarantine center for Central Park staff is also maintained.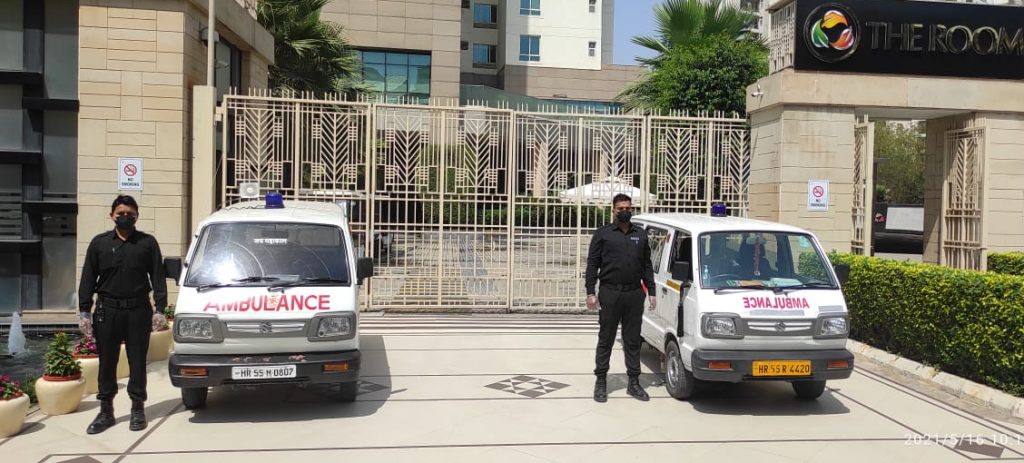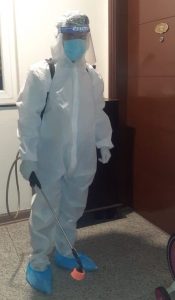 The Group is also providing its staff members and frontline workers engaged at the COVID Care Centre all the required immunity building vitamins and mineral supplements, along with all the protection gears like masks, face shields, and gloves. This distribution is being done at their project Central Park Resorts, at intervals of every few days. Central Park Resorts also has in-house availability of ambulance services around the clock with oxygen support and an arrangement for Oxygen cylinders and concentrators. The Group has also arranged for in-house vaccination Camps for residents and RT-PCR camps to detect COVID-19 and timely treatment.
To ensure that COVID-19 infection does not spread to other residents, the trash of COVID-19 affected apartments is being disposed of in a separate biodegradable bag. Special care is also being taken to sanitise the apartments of positive patients and provide home delivery of medicines and food to the patients and their families.
In these testing times, some of the residents have come forward and given 15 new Oxygen Concentrators of different capacities. Elaborating more on this initiative of the Group, Amarjit Bakshi, CMD, Central Park, said, "During these tough times, we hope for a speedy recovery of the entire nation. We are trying to do our bit by safeguarding our residential communities. We are all together, and we believe that we all will rise above this challenge to experience a better future. The residents are like our family, and we will not leave any stone unturned to assure their complete safety and security."
Petonic Infotech Mobilises Rs 2 Crore for COVID Relief 
Petonic Infotech, one of the fast-growing mid-sized Indian management consultancy firms, has mobilised Rs 2 Crore for COVID relief through its multinational partners, clients, and associates. Petonic Infotech has partnered with NGOs like Open Innovation Lotus Foundation, Project India Foundation, and many more for outreach to widespread rural India during the second wave of COVID crisis that India is going through currently.
Yuvraj Bhardwaj, Chief Executive Officer, Petonic Infotech said, "Petonic Infotech is partnering with different NGOs from the United States and India for COVID relief in India. In this initiative, Petonic Infotech has mobilised approximately Rs 2 Crore for COVID relief for the society as of now and also pushing for more. The major intent of this initiative is to procure Oxygen Concentrators and other goods required to fulfill the oxygen requirements in rural parts of India."
"Different societies and multinationals are also supposed to join the initiative to make this a grand success, and help our country to successfully come out of this pandemic with the least fatality. Other than this, Petonic Infotech is also engaged in running different 'Free of Cost' helplines for people to consult Doctors telephonically and get themselves treated," Bhardwaj added.
Yuvraj Bhardwaj is ably supported by his twin brother Yashraj Bhardwaj to take strategic decisions and initiatives in playing a meaningful role amidst the ongoing COVID crisis that India is going through.
Delhi Capitals and OctaFX Partners Hemkunt Foundation for Setting Up an Oxygen Centre
The renewed pandemic crisis mobilised many efforts to counteract the further spread of the virus and the societal damages expected from it. One of the league's participating teams, the Delhi Capitals, and their partner, global broker – OctaFX, rose to the task by teaming up with the Hemkunt Foundation to procure around 22 units of 10L oxygen concentrators for medical treatment.
As soon as they allocate the funds, the Hemkunt Foundation will ship the equipment to four locations: Delhi, Gurgaon, Mumbai, and Bangalore.
The regional OctaFX representative Anna Raes highlighted, "We knew we would be highly effective if we found the right partners for this last-minute charity initiative, combating this resurfaced health crisis. On the one hand, we have the Delhi Capitals on our side who were always concerned not only with quality sports entertainment but with the well-being of their fellow man. On the other hand, unbelievable and indispensable help came from the Hemkunt Foundation, which has the energy and experience to administer aid and remedy in these emergency times."
The interim CEO of the Delhi Capitals, Vinod Bisht, concluded, "Our team is deeply grateful to OctaFX, our official partner, for coming forward and contributing to India's fight against the pandemic. Every bit goes a long way in helping our communities get the attention and care they need on time. Together, with everyone's contribution, we hope our city heals quicker."
The Hemkunt Foundation's Community Development Director Harteerath Singh added, "We always pursue partners and like-minded people to have the most effective, swift, and genuine impact overall. After all, human lives and human fates are at stake here. Seeing the sheer effort from OctaFX and the Delhi Capitals gives us hope that we come out of this pandemic a stronger, more prepared people."
Bada Business' #IamOxygenMan Fundraiser Campaign Raises a Commitment of Over Rs 7.5 Crore for COVID Relief
Indian-born Ed-tech start-up Bada Business, known to provide the most affordable entrepreneurship trainings in the world, launched a fundraiser campaign #IamOxygenMan, in association with Vivek Oberoi, the Kailash Kher Foundation, and ISKCON Foundation. Within the first day of the launch, the campaign was able to raise a commitment of over Rs 7.5 Crores, which will be used to fulfill healthcare requirements for COVID patients nationally.
Dr. Vivek Bindra, Founder & CEO, Bada Business said, "COVID-19 has wreaked havoc across the country, once again, with the second phase. Our heart goes out to the people suffering and hence we came up with the idea of a fundraiser campaign #IamOxygenMan. The first day of the launch has witnessed a commitment of over 7.5 crores and we would like to thank each and every contributor. But to run our COVID-Care facilities smoothly for the next few months, we would need more funds, hence, the campaign is still ongoing. We are hopeful that people will continue supporting us and will help spread the word. As even sharing a thought-provoking message to raise awareness or encourage others also qualifies someone as an OxygenMan."
The co-host of the live event, actor Vivek Anand Oberoi commented, "#IamOxygenMan is a truly exceptional initiative and I personally believe that the philosophy behind this campaign resonates with me. The campaign reiterates that people have become each other's strongest pillars of strength and support, today; and this is the only way in which we can survive this pandemic together. From offering a meal to sharing an essential number, we can all do our bits to see a better tomorrow. Hence, I am delighted to be able to lend my support to this noble campaign by Dr. Bindra and Bada Business and I would urge more people to be a part of this, in the coming days."
Extending support to the initiative, Singer Kailash Kher, also the Founder of Kailash Kher Foundation said, "Our Foundation has always believed in helping people. Hence, it was a pleasure to partner with Dr. Bindra and Bada Business in this one-of-a-kind initiative. We would hope for more individuals and organisations to take inspiration and come forward to help each other, in whichever way possible."
With this campaign, Bada Business aims to increase the bed capacity from 200 to 2000 beds. Recently, Bada Business, in association with ISKCON, had launched a 200-beds makeshift hospital for COVID-19 patients in Dwarka, Delhi. From providing a dedicated team of doctors and nurses to catering to the nutritional needs, everything is being served to the patients entirely free of cost.
WIMWIsure Launches AI-enabled Bot to Help with Vaccination Slots
Making it easier for citizens to get notifications on the availability of vaccination slots, Insurtech WIMWIsure has launched a messaging bot on the popular messaging platform WhatsApp. Citizens can simply drop a text on the number along with their pin code and age and be notified as soon as a slot is available at a nearby centre following which the user can book the slot on COWIN website.
Considering that citizens are experiencing several challenges in finding slots at inoculation centres, the start-up, which provides on demand video inspection for insurable assets, has integrated its conversational AI technology with available Open APIs, to trigger notifications through Whatsapp. The team is also working on other areas of coordination for COVID-19 resources by mitigating the demand-supply gap for real-time availability.
The AI-enabled chatbot is making the process fast and efficient by taking away the need to keep an incessant watch on the official website or mobile application. This is particularly challenging for less tech-savvy, elderly, and the poor, who are often not comfortable operating the portal or application but are fluent with WhatsApp as a messaging platform. Currently, users from more than 800 PIN codes are using the platform with over one lakh interactions.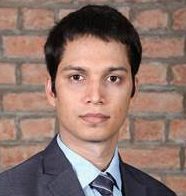 WIMWIsure Founder & CEO Ravinder Kumar said, "The second wave of the pandemic has majorly impacted our country and overwhelmed our healthcare system. Finding vaccination slots is extremely crucial in the fight against COVID-19 and increasingly difficult as well. This user-friendly service will simplify searching for availability for vaccines at the click of a finger."
Visit http://COVID.wimwisure.com/ or send a message to +91-78386 34968.
ZS and Rotary Club Pune Provides Healthcare Relief to Punekars
ZS, a professional services firm, partnered with the Rotary Club of Pune and Raigad on the firm's annual ZS Cares Day which is dedicated to volunteerism and giving back to the community. Through this initiative, ZS provided a range of healthcare services to local clinics and conducted awareness programs for the citizens of Pune. Every year, the firm runs its global ZS Cares programme, which engages ZSers in various initiatives to drive positive change in communities around the world.
During the initial months of the pandemic, India encountered a dire shortage of PPE supplies in hospitals and for frontline essential workers. Together, ZS and the Rotary Club, donated 3,000 PPE kits to the local police department to provide its officers with basic safety equipment. This partnership also led to the donation of a cardiac care ambulance to the Fabiani and Budhrani Heart Institute. In addition to offering no-charge transportation and critical ambulatory care for indigent patients experiencing a cardiac emergency, this mobile unit will host six to eight cardiac clinics annually, educating and examining Punekars about identifying early signs of cardiac issues.
With the recent resurgence of nationwide COVID cases, the ambulances are being utilised to their full capacity with dedicated hospitals.
Deepak Mahajan, Past President Rotary Club, Sinhgadh, said, "It is our immense pleasure to get associated with ZS for a cause that is close to our hearts. Our association refurbished two schools and offered better conditions for learning, access to clean water, hygiene and e-learning kits, life support ambulances, and advance cancer treatment devices to charitable hospitals in Pune and Bengaluru. We are happy to see the far-reaching implications of our effort and look forward to more such synergies in the future for community-centric projects."
Sanjay Joshi, Regional Managing Principal and Head of Asia, ZS, said, "We at ZS, have always been driven by three guiding principles—get it right, treat people right, and do the right thing. Humanity and unity are our most urgent needs today, as more and more people are isolated and facing financial and healthcare crises. On our journey to embed a culture of giving back to our communities, ZSers continue to innovate and find creative ways of conducting this programme while following social distancing norms."
Tarun Pandey, Office Managing Principal, ZS Pune, said, "ZSers identified nonprofit organisations in their communities that could benefit from our help. They devised how to make a concerted effort in doing our bit to keep everyone safe in these uniquely challenging times. We figured that the Rotary Club of Pune serves a vast area, with more than 130 individual clubs and 5,500 members, and has the same vision as ZS—i.e., to contribute toward the well-being of our society and serve others. These factors made the Rotary Club an ideal partner for our initiatives and we are grateful to team up with them and do impactful work for Pune."
Buffalo Soldiers Joins #OxygenForIndia Mission 
Buffalo Soldiers, a full-service creative agency that specialises in smart digital storytelling, has joined hands with OxygenForIndia, a volunteer-run campaign put together by Center for Disease Dynamics, Economics & Policy (CDDEP), to amplify oxygen availability in the country and ensure that medical oxygen reaches those who need it the most, as quickly as possible.
India is crippled by a human catastrophe, unprecedented in our generation. The second wave of COVID-19 has literally taken the life out of our healthcare systems.  The numbers are stark: 95K ICU beds vs close to 400K new COVID patients daily. As part of this partnership, Buffalo Soldiers will use its marketing and design expertise to create awareness for OxygenForIndia campaign and maximize the impact. It will also be a part of the joint efforts to raise funds towards the noble initiative. OxygenForIndia started with a goal to raise $400,000 but it has already raised more than $11 million.
"We are using a triage system that involves specific local hospitals operating in low-income communities across India to identify patients at greatest clinical and economic need. Eligible patients are identified immediately and can pick up oxygen cylinders and concentrators at zero cost," says  Ramanan Laxminarayan, Founder and Director of the Center for Disease Dynamics, Economics & Policy (CDDEP), who started the initiative OxygenForIndia.
"At Buffalo Soldiers, we are putting our collective energies behind showcasing, marketing and amplifying the mission of #OxygenForIndia. Because every voice counts. We are all in this together," says Sumon K Chakrabarti, Co-Founder & CEO of Buffalo Soldiers.
"The challenge is now to ensure a system of tracing and tracking the oxygen cylinders so that it can be accounted for when people need it the most. We are using design to create awareness. Because design is not about how it looks, but how it works," Chakrabarti added.
The #OxygenForIndia campaign works as a coalition of volunteers and partner organizations and is aimed at ensuring last-mile delivery of oxygen cylinders & concentrators to critical patients, especially the poor who have little chance of being admitted to a hospital.
To support this initiative, each one of us can make a difference by making a donation for the cause or even by posting on your social media with the hashtag #OxygenForIndia to spread awareness.
Ameyo COVIDline: A Helpline to Procure Active and Verified COVID-19 Healthcare Resources with a Simple Phone Call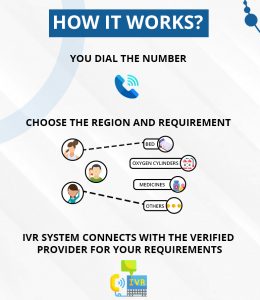 In its quest to provide a seamless network of communication for COVID-19 related queries, regarding oxygen cylinders, plasma donations, concentrators, medicines, etc., Ameyo, a leading provider of omnichannel contact center technology has formulated its Ameyo COVIDline @0124-689-5888/0803-506-4444 wherein anyone in need of COVID-19 resources, can call and get complete updates and help from verified providers.
Under the Ameyo COVIDline initiative, the brand has consolidated the data from different channels and verified the large pool of contact numbers, availability, and other details, thereby directing people to an instant solution gateway in real-time. People who are seeking resources related to COVID-19 do not need to waste time in contacting 100 numbers out of which many might have now been closed. The data available with Ameyo is continuously updated both through tech as well as manual verification, thereby providing the most up-to-date data.
The brand which has been offering call center solutions to an array of clients across the globe has extended its full-fledged support by dedicating large manpower towards helping the people of its country in these very testing times.
Speaking on this, Sachin Bhatia, Co-founder, and Global Sales and Marketing Head, Ameyo said, "Every day, thousands of people resort to social media in search of credible information regarding hospital beds, oxygen, plasma donors, and much more. So, we thought of helping them by collecting the data and providing them the correct and most updated information with the help of our IVR helpline. The objective is to help people by connecting with verified contacts to save their precious time who are looking to find resources as quickly as possible in these tough times."
BASF Supports India in Fight Against COVID-19
BASF Group has extended its full support to the people of India and the Indian Government to help overcome the second wave of the coronavirus pandemic through several relief initiatives. "We stand at the side of our colleagues in India and their families. We are doing our utmost to help them and the local communities to cope with this difficult situation," said Carola Richter, President South & East Asia, ASEAN, and Australia & New Zealand.
"The need of the hour is to support the demands for medical infrastructure," added Narayan Krishnamohan, Managing Director of BASF India Limited. "BASF has therefore leveraged its global and local network to supply chemistry that enables additional oxygen generation as well as much-needed medical equipment. Proactive and timely support from the government of India enabled the quick shipment of our product to address the critical medical oxygen need in the country."

BASF is supplying molecular sieves from its Catalysts Division to several companies in India, which are ramping up their oxygen supply by converting their nitrogen generation units to oxygen units or setting up new oxygen units. Molecular sieves are integral to these units as they help enrich atmospheric oxygen from 21% to medical-grade oxygen, ranging from 90% to 95%.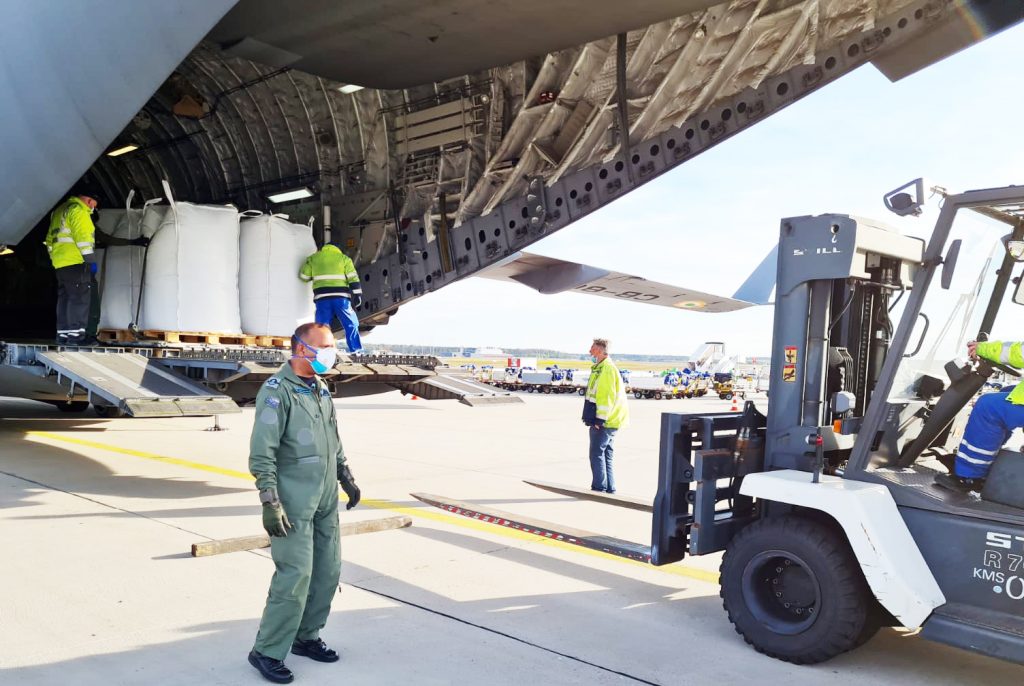 The Government of India is supporting BASF in airlifting the products so that the molecular sieves can be quickly shipped to the country to augment the oxygen generation capacity. The first shipment of sieves carried by the Indian Air Force arrived from Frankfurt in Mumbai on May 8. As a reciprocal gesture, BASF is donating the next batch of 70 tons of molecular sieves. In alignment with the Indian Government and industry bodies, BASF is importing medical oxygen-related equipment to India, including cylinders and concentrators.
Additionally, BASF donated life-saving equipment to support the medical infrastructure around its sites, including ventilators and a High-Resolution Computer Tomography (HRCT) scanner, enabling chest scans for patients. In partnership with industry players, BASF installed three state-of-the-art mobile acute care units in one of the largest COVID-19 care centres in Mumbai. Each unit with five Intensive Care Unit (ICU) beds is supporting several patients each day.
BASF will continue to monitor the situation and explore additional ways to support the government's and local organisations' relief efforts in India.
Celebfie Initiates COVID Relief Support Campaign in India
Amidst the ongoing corona wave, several entrepreneurs have stepped forward to join hands in India's biggest fight against the deadly virus. Igniting a ray of hope, these entrepreneurs and start-ups have been doing their bit to provide help to the people in need.
Barely a year-old start-up 'Celebfie' is also in the same league. The new-age celebrity engagement platform has partnered with several NGOs including Feeding India, Hemkunt Foundation India, and Khalsa Aid to help people in these tough times.
Any celebrities who are on the Celebfie platform have joined the cause. This COVID-relief initiative has emerged as a helping hand for the people in need of help and support in these turbulent times. Commencing from May 13, 2021, the subscription-based platform that enables celebrities to have their own microchannel for exclusive content has slashed their prices to a flat Rs5000 per booking for a celebrity shout out for business for the next 30 days, and 100% of the collected money will directly go to partnering NGOs for charity which will be used for buying medical equipment's, oxygen concentrators, medicines, food, etc., for the people in need.
"These are very challenging times for us Indians as the impact of COVID-19's second wave has hit us hard and the effect will be felt for long. I see on social media and a lot of people around me desperately requesting help. It is great that a lot of people from all over coming forward to help our people amidst these tough times and so, Celebfie in whatever small way has taken this initiative in collaboration with our humble celebrity partners to do this together for our people. I had read somewhere that "Be a blessing to someone else in need" and today that is exactly the need of the hour," said Raminder Singh, Founder & CEO – Celebfie.
Celebfie has roped in a lot of celebrities out of their 300+ onboarded celebs in the likes of Jayati Bhatia, Vaishnavi Macdonald, Apara Mehta, Shibani Kashyap, Ambika Ranjankar, Mansi Srivastava, Unmukt Chand, Salman Ali, Nirmal Soni and Ankit Bathla for this cause.
Meanwhile, many other entrepreneurs across the country are trying to put their best foot forward to help citizens in need. There's no denying, these entrepreneurs and start-ups have emerged as a rare beam of hope in these hard times.
Sharing the space with civil society crusaders, these start-ups are going way beyond their boundaries, carving a niche for themselves in the industry. The grit and determination shown by the organisations at a personal level is paramount. Though we are yet to see the 'end of the pandemic', these small initiatives will surely lead us to the goal.
EaseMyTrip Imports Oxygen Concentrators to Help Fight the Second Wave 
Easy Trip Planners Limited (EaseMyTrip), one of India's leading travel agency, has extended its support to the country in its battle against the second wave of the pandemic by importing over 550 oxygen concentrators into the country. The concentrators which have been imported from China and Dubai are majorly of 5 and 10 litres with a purity of 93% at all levels.
The imported concentrators have been donated to hospitals such as Yashoda Hospital and Le Crest Hospital, and foundations and NGOs across the country such as Khalsa Aid, Vishwa Foundation, Gautam Gambhir Foundation, Virender Sehwag Foundation, and Gracia Raina Foundation, among others. The concentrators were also donated to COVIDresources.in – a national COVID resource repository initiative run by volunteers across the country. Apart from this, the company is also supporting UnitedByBlood, a Foundation that helps patients connect with plasma donors on a real-time basis.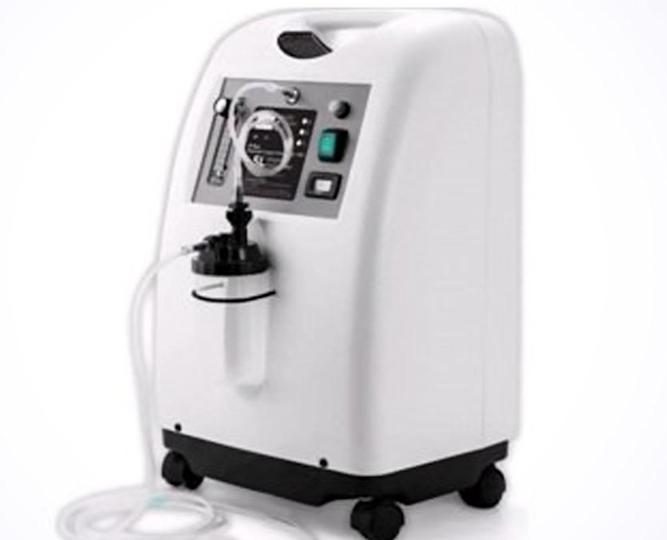 The concentrators have also been shared with the Ministry of Tourism, Ministry of Civil Aviation, Central Reserve Police Office (CRPO), National Student Union of India (NSUI), and the UP Government, among others.
Commenting on the initiative, Rikant Pitti, Co-Founder and Executive Director, EaseMyTrip said, "EaseMyTrip has been committed in its efforts to address the increased demand of medical equipment during this time of need and is currently in the process of sourcing and importing more oxygen concentrators into the country from suppliers abroad. The company is also supporting the families of their COVID victim employees by providing financial support of Rs. 5 lakh to the family and funding of Rs 2 Lakh per child per year till their graduation, for the education of the children of the deceased."
LANXESS India Continues to Support Fight Against COVID-19 
LANXESS India has committed over Rs 2.1 Crore as part of its CSR spends to support the medical infrastructure in the country in its fight against the pandemic. The spike in COVID-19 cases in the second wave has been severe and there has been a huge demand for critical medical equipment for treating patients. To help medical institutions tackle the situation better, LANXESS India has donated twenty units of advanced German Ventilators worth approximately Rs 1.9 Crore to hospitals in Thane and Mumbai (Maharashtra), Ujjain (Madhya Pradesh), and Ankleshwar and Bharuch (Gujarat).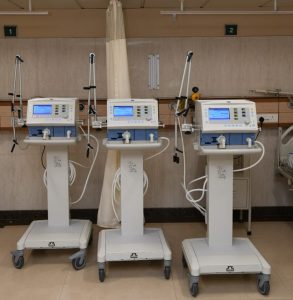 The company donated these ventilators to nine hospitals in the states of Maharashtra, Madhya Pradesh, and Gujarat where the company has its sites and offices. These include Kaushalya Medical Foundation Trust Hospital and Bethany Hospital in Thane, Shushrusha Hospital in Mumbai, Jayaben Modi Hospital in Ankleshwar, Sevashram Hospital and Civil Hospital in Bharuch, and Patidar Hospital, J K Hospital, and SS Hospital & Research Centre in Ujjain. The hospitals will use these ventilators for the treatment of COVID-19 patients. In addition, to combat the rising medical oxygen requirement in the country, LANXESS India supported the District Hospital, Ujjain with ten units of Oxygen Concentrators.  The company has also supported the Employee State Insurance Corporation Hospital (ESIC) in Nagda with Rs 10 Lakhs to help in upgrading their existing infrastructure and provide better medical assistance to the patients.
Neelanjan Banerjee, Vice Chairman and Managing Director, LANXESS India commented, "The current second wave of the Coronavirus pandemic in India has overwhelmed the medical infrastructure of our country and has led to a severe shortage of critical medical equipment. As part of CSR efforts, we at LANXESS have yet again tried to support augmenting the infrastructure of some of the hospitals around our headquarters in Thane and our manufacturing sites in Nagda and Jhagadia. We will continue to aid the community in fighting the devastating second wave of COVID-19."
In 2020-21, LANXESS India had contributed over Rs 3.6 Crore as part of its CSR spends for COVID-19 relief. It included a contribution of Rs 2 Crore to the PM CARES Fund, 6 units of advanced German Ventilators to hospitals in Thane, donation of 1 tonne of its surface disinfectant, Rely+On™ Virkon™ and face masks among other relief materials.
Toyota Kirloskar Motor Employees Volunteer to Support National Doctor Helpline
Continuing its relief measures in the fight against COVID-19, Toyota Kirloskar Motor (TKM) announced that some of its employees would begin to contribute and support the National Doctor Helpline. About 60 TKM employees have been identified on a work-from-home model initially for a period of one month extendable as per need to support the helpline that provides teleconsultation to COVID-19 patients.
The volunteering TKM employees will onboard doctors and assist COVID-19 patients to connect with the registered doctors. Their role will also include preparing doctor shifts besides helping ensure all those patients who call the helpline number can reach the doctors through proper scheduling and follow-ups. The first batch of volunteers is receiving the necessary online training from appointed agencies following which they will soon be deployed. The volunteers are part of TKM's 'COVID Warriors Club', which was formed to support the local communities and Government departments in dealing with the rising demand for medical care due to the COVID-19 infections.
Talking about the new initiative, G. Shankara, Vice President, HR and Services, Toyota Kirloskar Motor, said, "We had formed the COVID Warriors Club to support the local community and our Government agencies, in the overwhelming surge in the second COVID wave. This voluntary initiative will help provide much-needed support to the frontline workers managing the helpline. Besides, the activity will provide a channel for our employees who are passionate about contributing to the relief measures while ensuring they stay at home and maintain social distancing. More employee volunteers are willing to step up and strengthen the Government's efforts if the need arises."
Besides the above initiative, TKM is working towards providing essential medical equipment like oxygen concentrators, Ambu bags, bedside monitors among others to the local health departments.
HCL Extends COVID-19 Mitigation Outreach
HCL has extended its COVID-19 mitigation efforts across the country to include Uttar Pradesh, Tamil Nadu, Karnataka, and other States. These efforts include a 100-bedded COVID treatment facility (including 50 oxygen beds) at the Government Institute of Medical Sciences (GIMS), Greater Noida. In Lucknow, HCL has provided six ICU ventilators, 20 oxygen beds, and a mini oxygen generator plant (capacity of 45 LPM) to the Fatima Hospital. In addition to these, HCL is supporting essential equipment and consumables at an L-1 COVID Care Facility, as well as the District Hospital in Hardoi. A 24×7 Integrated Control Centre set up and supported by HCL at Gautam Buddha Nagar during the first wave, continues to respond to citizen queries in the wake of the second wave of the pandemic.
In Karnataka and Tamil Nadu, HCL has provided 30 ICU beds at St John's Hospital in Bengaluru, safety gear and PPE for frontline workers in Madurai and Chennai, as well as essential medical and non-medical equipment for COVID treating institutions in Chennai.
HCL has also collaborated with local Municipal bodies to spearhead vaccination centres in cities and towns including Chennai, Mumbai, Bengaluru, Vijayawada, Madurai, Lucknow, and J&K.
As the number of infections continues to rise across the country, this support is aimed at complementing state and local efforts to help those most affected by the virus. HCL aims to provide tangible assistance to meet real needs on the ground.
InCred Partners with IAHV and Hemkunt Foundation for Supporting Supply of Oxygen, Medicine and Medical Equipment
InCred, one of India's leading fintech firms, has launched a donation campaign 'Breathe India Initiative' for supporting the supply of medical equipment and oxygen as the second wave of coronavirus grips the country. InCred has collaborated with IAHV – The Art of Living, and Hemkunt Foundation for the initiative.
Talking about the donation campaign Breathe India initiative, Kamlesh Dangi  – Group Head, Human Resources said, "We are contributing funds to NGOs that are actively supplying medicines and equipment to fight the second COVID-19 wave. We intend to divert our corporate-social responsibility funds to this life-saving cause. We have even launched comprehensive social media campaigns to encourage more people to donate for the cause," Kamlesh Dangi added.
The fintech platform encouraged employees, customers, and partners through a social media campaign to contribute to the donation program. The maximum contribution is given by employees for the cause NGOs such as The Art of Living and Hemkunt Foundation have been at the forefront of supplying oxygen cylinders and other medical equipment to the COVID-19 positive patients amid the ongoing shortage. The load of the second wave of coronavirus cases has brought together many organizations to help people sail through the crisis.