New Delhi/Kanidighi (Murshidabad), July 14, 2017: Bharti Foundation, the philanthropic arm of Bharti Enterprises today announced the inauguration of the Satya Bharti School at Kanidighi in Murshidabad District (West Bengal). Hon'ble President of India, Shri Pranab Mukherjee inaugurated the School in the presence of Shri Abhijit Mukherjee, Member of Parliament, Jangipur, Shri Subrata Saha, MLA, Sagardighi, Rakesh Bharti Mittal,
Co-Chairman, Bharti Foundation, and Vijay Chadda, CEO, Bharti Foundation. The School at Kanidighi becomes the 10th school under the Satya Bharti School Programme in West Bengal.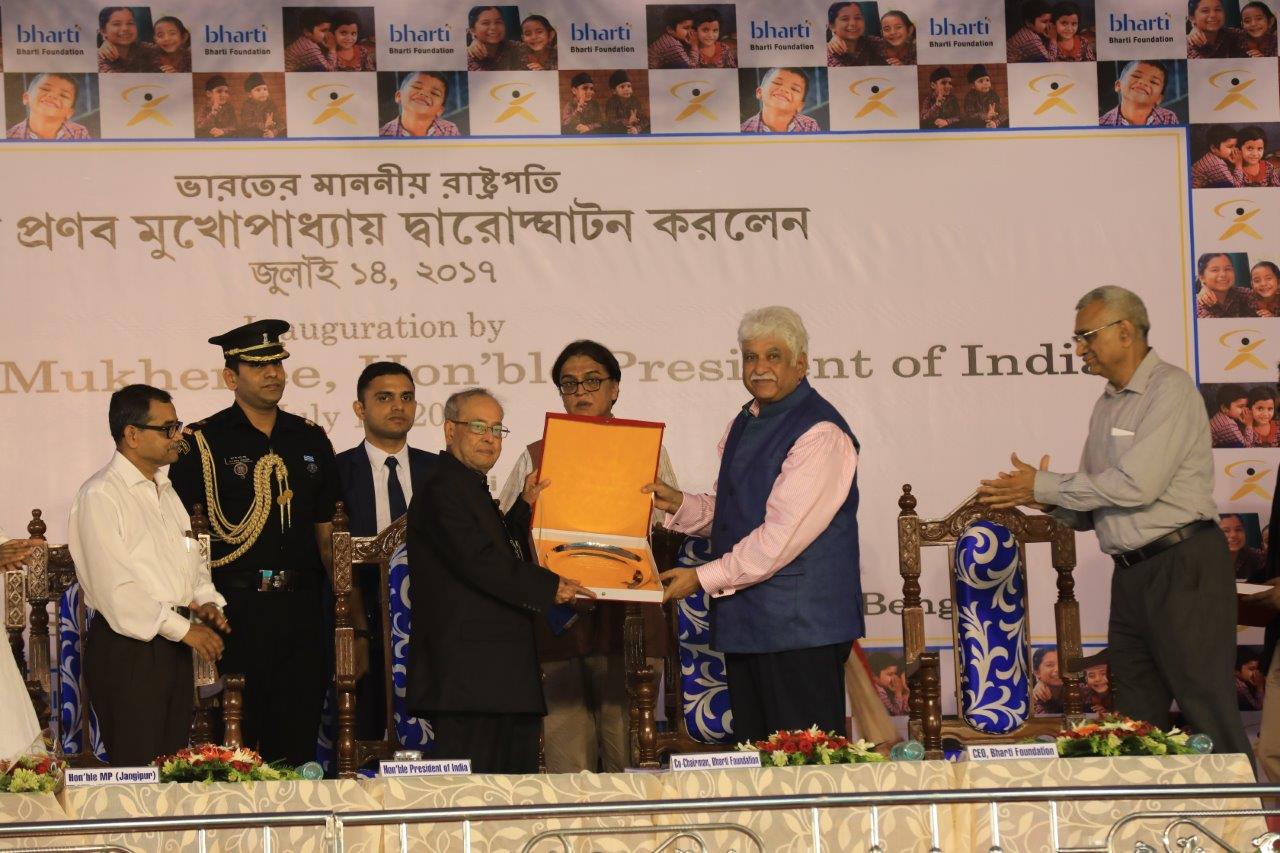 The Satya Bharti School Programme, the flagship initiative of Bharti Foundation, was started in 2009 in nine villages of Murshidabad District. Over the past eight years, the schools have been providing quality education to more than 1900 students in the State, 57 percent of them being girls.
Speaking on the occasion, Rakesh Bharti Mittal, Co-Chairman, Bharti Foundation said, "It is an honour and a privilege to once again welcome Hon'ble President Shri Pranab Mukherjee to one of our schools. With this new school at Kanidighi, we aim to continue delivering on our promise of quality education to every underprivileged child in the school's vicinity. The new school marks the beginning of a new chapter for us and further strengthen our resolve to continue our journey in the State."
The Kanidighi School is proposed to be an elementary school with classes from Pre-Primary up to Class VIII. Currently, the school has classes up to Class II, with one class to be added every subsequent year. In addition to local students, this school will also cater to students from neighbouring Satya Bharti schools.
During the event, a special compendium was launched by the Hon'ble President that captures the dreams and aspirations of an ideal schooling experience as expressed by students under various education programmes being run by Bharti Foundation across the country. The compendium showcases the varied forms of art work by students to express their hopes and expectations from their education journey.
Mr. Vijay Chadda, CEO, Bharti Foundation said, "The Satya Bharti schools not only provide quality education to students but also follow the holistic development approach towards fulfilling our mission of helping underprivileged children and young people of our country realise their potential."
The Satya Bharti School programme currently operates 249 primary/elementary schools and five senior secondary schools across six States (Punjab, Rajasthan, Haryana, Uttar Pradesh, Tamil Nadu and West Bengal) reaching out to 43,664 children and employing 1,667 teachers. With a focus on the girl child [49 percent girl students] and the weaker sections of society [75 percent of children from SC/ST/OBC communities], the programme is one of the largest end-to-end education initiatives by a corporate in the country. It also enhances the schooling experience in government schools under its Satya Bharti Quality Support Programme and Satya Bharti Learning Centre Programme. Overall, Bharti Foundation's education initiatives are reaching out to close to 2,00,000 underprivileged children in 13 States.