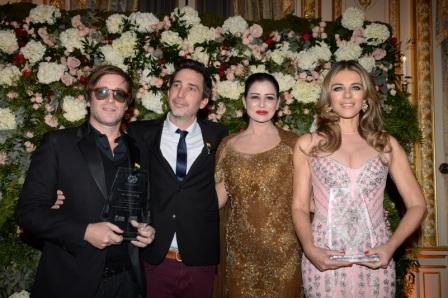 Paris/Hyderabad, December 2017: With a commitment and vision to continually pledge out of her personal wealth, Hyderabad – based industrialist, Sudha Reddy, handed over a grant to two diverse charities at a small intimate gathering in Paris.
With a generous and empathetic heart for philanthropy, Sudha has successfully carved a strong niche in being a voice for the underprivileged through her charitable contributions over the years. After months of interactions with industry stalwarts to understand the immediate and urgent requirements to confront challenges in different sectors, two NGOs were identified as recipients – Áction Against Hunger and Breast Cancer Research Foundation.
Headquartered in Paris, Action Against Hunger is a 38 year old organisation that is present in over 50 countries today and have effectively led the global fight against hunger. With close to 6500 staff, AAH is credited with assisting over 14 million people across the globe. In India, Action Against Hunger operated through its branch – Fight Hunger Foundation (FHF) which is its sixth headquarters.
Speaking at the gathering to hand over the endowment, Sudha Reddy commented, "I'm extremely pleased to be able to partner with not just one but two foundations that are going the extra mile when it comes to making a difference. I was grieved to be presented with statistics that prove the huge number of children who are dying because of hunger. Malnutrition is killing 20 million children in the world today and it's a shame that children are dying because of hunger across the world in the 21st century. My country, India, is one where malnutrition is a huge crisis and emergency and we carry 40 percent of the global load of malnutrition. In our joint vision towards a hunger-free world, I feel blessed that I am able to help build a better life for children everywhere and support the exemplary work of Action Against Hunger and Fight Hunger Foundation. May we all continue to join hands as we uplift each other in fighting the perils of social evil."
Mr. Thomas Ribemont, Chairman of Action Against Hunger, France said, "I would like to convey my huge gratitude to Mrs Sudha Reddy for her very generous donation to Fight Hunger Foundation. Her support will help us immensely in our effort to eradicate malnutrition in children in India. Mrs Reddy has strengthened our hands in our fight against hunger and we are convinced that with her backing, we will soon realise our vision of a world where no child dies of hunger. I am grateful to her for choosing to support Action Against Hunger and assure her of our commitment and motivation towards a cause of creating a hunger free world."
Breast Cancer Research Foundation (BCRF) 
Identified as the most common cancer among women, breast cancer prevalence is slated to be the same in the developed and developing world.
Sudha Reddy observed, "Recognising the power of research and its potential to change lives of millions is the first step in the right direction. A new approach to tackle this disease is critical, and that is where Breast Cancer Research Foundation is making noteworthy contributions. They are working towards bringing us closer to a cure and today, I pledge my wholehearted support. To show solidarity and joining in the global fight against this deadly disease, I am pleased to partner with the Breast Cancer Research Foundation represented by its global ambassador, Elizabeth Hurley. BCRF's mission is to fight until the number of deaths from breast cancer is zero and I resonate with this goal because I believe that each individual, in his or her own capacity, can help find a solution."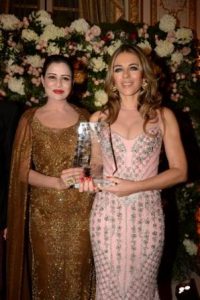 Receiving the contribution on behalf of Breast Cancer Research Foundation, Elizabeth Hurley said, "I am fully committed to the fight against breast cancer. I am honoured to accept this very kind donation from Sudha Reddy on behalf of the Breast Cancer Research Foundation. This will pay for valuable research, that will one day mean we live in a world where women no longer lose their lives to this horrific disease."
Present on the occasion were: Krishna Reddy & family; Honorary Ambassador of India to France Vinay Mohan Kwatra; Thomas Ribemont, Chairman, Action Against Hunger; Elizabeth Hurley; Thomas Dutronc; Ugo Ciarlatani Counsel General of Italy in Mumbai and his wife Vanessa; Aarti Surendranath,and Khushi Singh