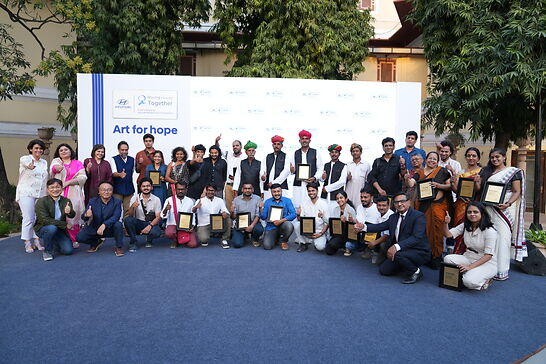 New Delhi: Hyundai Motor India Foundation (HMIF), the philanthropic arm of Hyundai Motor India Ltd., felicitated 25 grantees of 'Art for Hope' at Bikaner House, New Delhi. An eminent jury shortlisted 25 artists from the length and breadth of India whose magnificent art renditions were commissioned with the theme centred around Hope, Solidarity and Gratitude.  The Art for Hope programme aspires to unearth, and nurture hidden talents in diverse fields of art, craft and culture along with providing a unique platform for these artists to showcase their work, which in turn will benefit them by generating employment and making their art popular among a wider audience base.   
Speaking at the event, Puneet Anand, Asst. Vice President, Corporate Affairs, Hyundai Motor India Ltd., said, "Art is a reflection of a society's values, its culture and the people who are a part of it. It helps us understand our innermost emotions. With that thought, we announce the culmination of 'Art for Hope', a unique initiative that enabled the post-pandemic revival of India's arts and culture community.  HMIF took the bold step of taking up the cause of artists under their commitment towards 'Progress for Humanity'.  We congratulate all the winners and hope that the grant will help them in strengthening and popularizing their art form and making it accessible to more people."
The three-day exhibition from March 12-14, 2022 will display the art works and performances of the grantees. The aim of this exhibition is to promote regional and indigenous arts, shedding light on the country's rich, united, and diverse heritage. This project will illuminate the efforts of 25 artists that highlight India's rich cultural history. Rendering unwavering support to art and cultural communities, 'Art for Hope' is India's foremost dedicated CSR programme set to promote and incentivise artists across a manifold of verticals such as Digital Art, Crafts, Multi-Disciplinary Art, Performance Arts and Visual Arts. As a part of the programme, the winners were awarded a grant amount of Rs 1 Lakh which were used for their projects.
The jury members comprised of Dr Rathi Jafer, Director of Inko Centre (Chennai), Riyas Komu, a critically acclaimed Multimedia Artist along with Curator, Priya Pall, a popular museum and arts consultant, former Curatorial Director of Bikaner House, Delhi, and a consultant to various popular museums across the country. Senior HMI members Punnaivanam Sankaramoorthy, National Service Head and Mukundan MS, National Production Service Head were also present at the event to encourage the artists.
List of Winners for the 2021 Hyundai Art for Hope Programme
Sr No.

Category

Name

State

Projects

1

Crafts

Anith Reddy

Karnataka

Siddi Patchwork

2

Karmaben Meru Goradia

Gujarat

Banni Embroidery Technique

3

Sumit Goswami

Uttar Pradesh

Braj Sanjhi Art

4

Digital Arts

Manoj Kumar Biswas

Jharkhand

Historic Photography Process

5

Saran Raj V

Tamil Nadu

Creating Photographic Archive

6

Multi-Disciplinary Arts

Ashish Kumar Maurya

Uttar Pradesh

Documenting Housing in Rural & Urban Areas

7

Asif Imran

West Bengal

Human Behaviour & Relationship by the City

8

Performance Arts

Aswathy KN

Kerala

Thullal

9

Chanan Khan Manganiyar

Rajasthan

Manganiyar Folk Music

10

Kalamandalam Krishnendu

Kerala

Nangiarkuthu

11

Raja Anand

Uttar Pradesh

Dance-Drama Performance on Major Dhyan Chand

12

Visual Arts

Akanksha Sharma

Delhi

Project Heal – Slum Murals

13

Anupama Alias

Kerala

Cape of Good Hope – Women Poverty Eradication

14

Arjun Das

West Bengal

Documenting Labour Lives in Hatibangan

15

David Varghese & Koumudi Malladi

Karnataka

Exploring Bengaluru's Heritage with slum children

16

Digvijay Singh Jadeja

Gujarat

Painting and Print-Making

17

Hardik Chavda

Gujarat

Ceramic Sculptures inspired by Philosophies

18

Hemavathy Guha

Delhi

Painting and Print-Making

19

Helna Merrin Joseph

Kerala

Relief Artwork on Plywood

20

Kuldeep Karegaonkar

Maharashtra

Painting Series on Farmer Conditions in Prabani

21

Miriam Koshy

Goa

Documentation of Mangrove Conservation in Goa

22

Pratik Raut

Maharashtra

Documenting Kangra Culture – Miniature Paintings

23

Priya Thuvassery

Delhi

Art Installation on Environmental Degradation

24

Saurabh Pal

Madhya Pradesh

Sculpture on Kalachuries of Dahalamandala

25

Vasudev M Nair & Meet Vervada

Karnataka /Gujarat

Documenting 1857 Revolt in Bulandshahr