Mumbai, December 11, 2019: On the occasion of Human Rights Day on December 10, 2019, notable personalities and entertainers of India came together to put up a mega comedy show 'Comics For Change' to encourage Indian youth to embrace the 17 UN Sustainable Development Goals, and instil a sense of shared responsibility for a better and sustainable future. Nobel Peace Laureate Shri Kailash Satyarthi was the Guest of Honour for the show.
'Comics For Change' is curated by Cyrus Broacha and Kunal Vijayakar, and is conceptualised by Business of Ideas and Vineet J.Mehra – Founder DOT (Green Mobility Solutions Provider), UN Speaker and Founding Member of the Global Sustainability Network (GSN). Supporting the initiative are the Kailash Satyarthi Children's Foundation, UN Women, the Global Sustainability Network, SVKM's NMIMS B-School, Only Much Louder (OML) talent management agency, and Right Choice and Travels.
Three generations of comics came together on one platform to raise awareness about the UN Sustainable Development Goals. The comics will also help start relevant social conversations amongst the youth and ignite the flame of sustainable responsibility that they will carry with them wherever they go.
Entertaining performances by Johnny Lever, Boman Irani, Kunal Vijayakar, Salim Merchant, Urvashi Rautela, Saumya Tandon, RJ Pritam, Supriya Pilgaonkar, JD Majethia, Tanmay Bhat, Abish Mathew, Saurabh Pant, Sumukhi Suresh, Prashasti Singh, among others addressed close to 600 MBA students and over a 100 VIPs including the Bollywood Fraternity, Global Ambassadors, in a language everyone understand the best – Comedy.
Special thanks to the Raza Jafar, Bishop Alliatar and Bishop Sanchez, the founders of the Global Sustainability Network, to amplify SDG – Goal 8 through collaborative efforts and their platform. Amongst dignitaries attending the show were Patrick Brannelly – Divisional Vice President-Customer Experience at Emirates Airline, KBN Raju – CEO of Big Basket Innovations Group, Team DOT, TeamMedlife, Ajay Nair and Saurabh Abbi of OML,  Nishit Pandey – Senior Director Alliance and Corporate Affairs, Hardcastle Restaurants.
The aim of this event is to create awareness and sensitise the future generation so that they embrace 'Sustainability' as a core of their social, political and business decisions. The language of 'Humour' is universal and has been identified as a powerful tool that helps percolate the most complex issue facing our society into a powerful long-lasting message impression.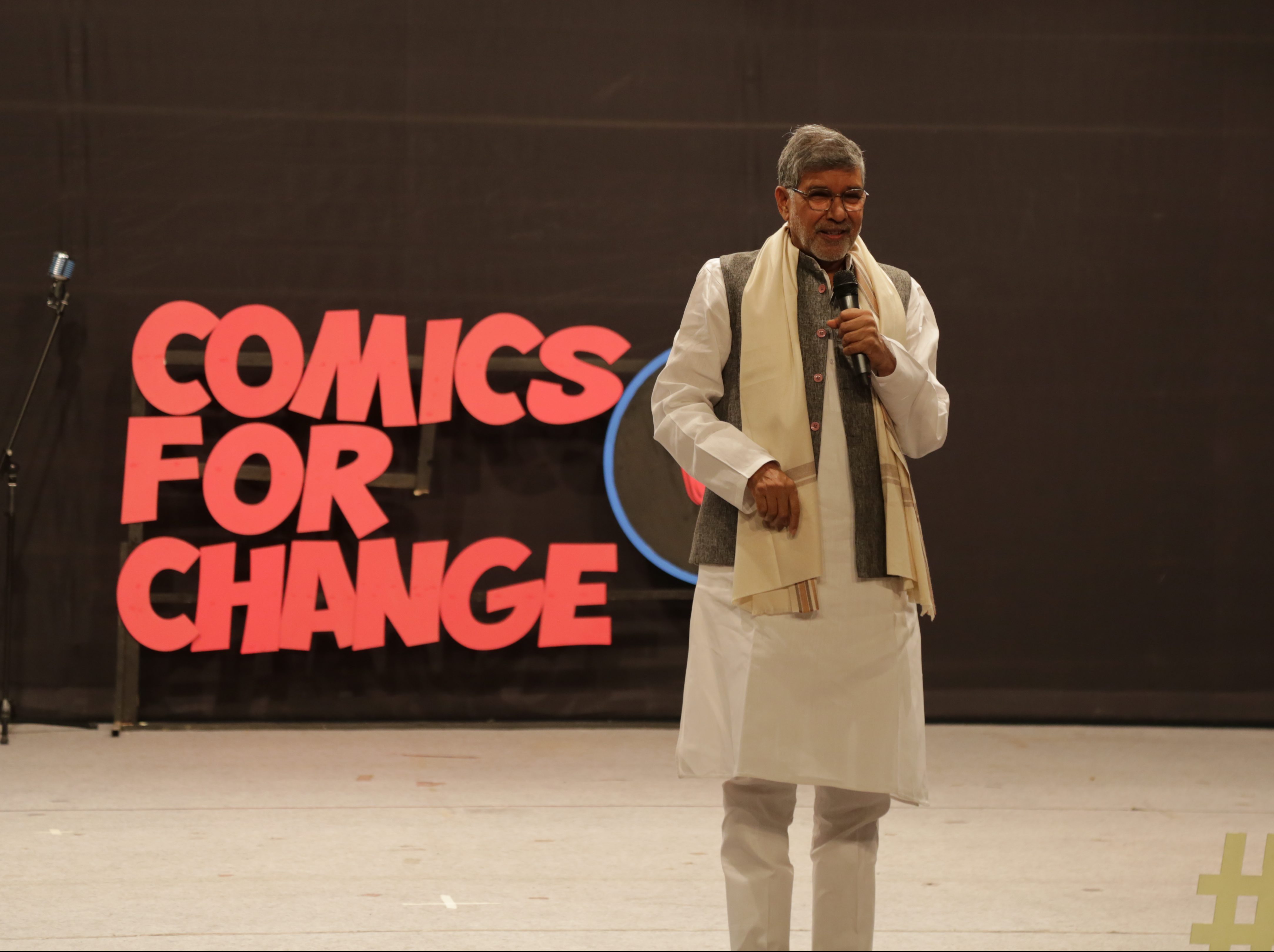 Addressing the student during the show, Nobel Peace Laureate Shri Kailash Satyarthi advised, "Respect the 4 Ps to achieve sustainability – People, Planet, shared Prosperity for all, and Peace."
The day also marked the fifth year celebration of the Nobel Peace Prize for children that was conferred on the first naturally-born Indian – Shri Kailash Satyarthi. The Nobel Peace Prize overnight shone the global spotlight on millions of children who are languishing in slavery, exploitation and violence in the so-called modern world. Nobel Peace Laureate Shri Kailash Satyarthi has been fighting for their rights and dignity, since 1980.Living up to the strong resolve the Satyarthi Movement, under the aegis of Shri Satyarthi, spearheaded several interventions both at national and international levels, which resulted in various achievements in the last five years.
During the event, UN Women released the #KaunsiBadiBaatHai anthem to voice the urgent need to stop violence against women and girls. Speaking about the anthem launch at the 'Comics For Change', Nishtha Satyam – Deputy Representative, UN Women India MCO, said, "We are thrilled to have been part of the Comics for Change event, in conclusion to the 16 Days of Activism to end gender-based violence and to use this platform for the launch of the #KaunsiBadiBaatHai anthem. The song explores the normalisation of gender norms and violence, and how it affects women and girls, leaving long-term, devastating, visible and invisible impacts. Through words, actions and inactions and through jokes and attitudes, we often allow a culture of violence to thrive, but the Comics for Change platform uses humour to engage and to mobilise support from all quarters to stop violence against women and girls, which we feel can have a positive impact."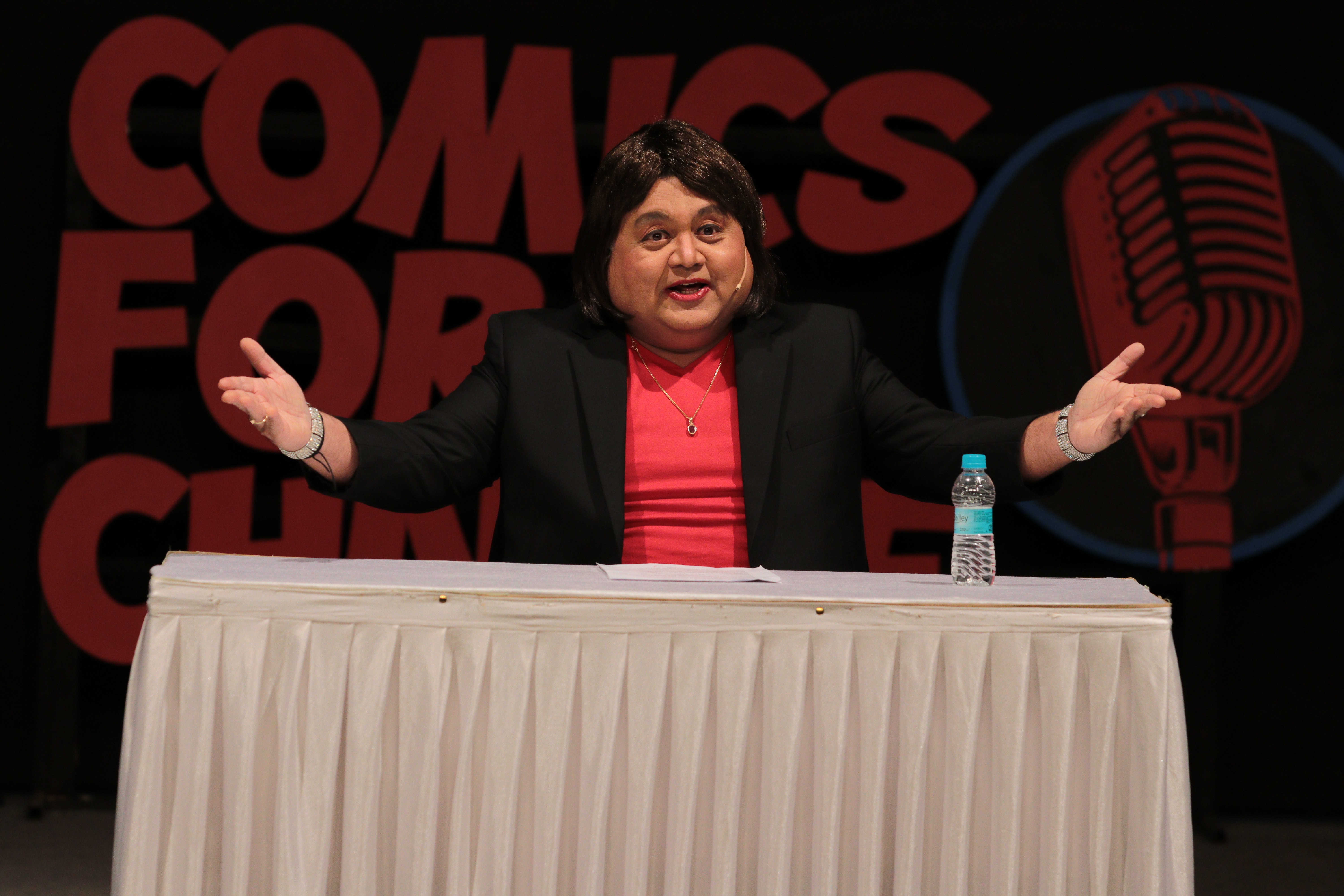 The enthralling show had the audiences split into laughter and at the same time raised some serious sustainability concerns. The show opened with the performance of Raageshwari Loomba singing the famous 'We Are the World, We are the Children' along with children from Kailash Satyarthi Children's Foundation.
The comic acts included humorous performances from Johnny Lever addressing the goal for 'responsible consumption', Boman Irani on Poverty, Urvashi Rautela and Supriya Pilgaonkaron Fitness and Wellbeing, RJ Pritam on 'Zero Hunger', Sorabh Pant and JD Majethia on Climate Change, Abish Mathew on Innovation and Infrastructure, Tanmay Bhat on Quality Education, Saumya Tandon Life on Land, among others. As the closing act Boman Irani got the audience to sing along with him the famous song, 'Give Me Some Sunshine' from the film 3 Idiots.
Speaking about engaging youth through comedy, Boman Irani said, "The idea is to engage the youth with topics they should be thinking of. Nothing changes overnight but at least there will be awareness. That's a start. When you have people like Shri Kailash Satyarthi in the audience, a Nobel Peace Prize winner, who speaks from the heart and appeals to make a difference, I hope that many youngsters attending the show will go back home and think 'maybe there is a little more I can do in life".
Vineet J.Mehra – Founder, DOT (Green Mobility Solutions Provider), UN Speaker & Founding Member of the Global Sustainability Network (GSN), said, "Today, as the climate emergency threatens our planet and youth demand justice and a future, we race in pursuit of a more sustainable and just world by achieving the United Nations Sustainable Development Goals. Hope and humour are key to sustain us!  Comedy has the power to entertain, educate, open dialogue and unite us in the universal language and shared the human experience of laughter. Comedic relief can help shine a light through challenging times. Our hope is that comedians will catalyse all of us to urgent action and pressure those in power- and instil a sense of shared responsibility for our future."
The current climate change scenario is likely to displace between 24 million and 700 million people by 2030 due to water scarcity alone. The fact that Globally only 9% of plastic ever produced has been recycled, whilst 79% can now be found in landfills, dumps or the environment and 12% has been incinerated taking up acres of habitable space. The need of the hour is 'Sustainability' and it is high time to act upon it. From individuals to global corporations, all will have to do their bit to make this planet a habitable place for future generations to come.
There also exists an urgent need to create a business environment that emphasises on sustainability as a key driver of innovation. Upskilling of an ever informed workforce is not a necessity but a compulsion.  As a growing democracy with a complex and diverse society, we must be focused on creating a cohort that becomes a vibrant, constructive force that can address social issues and create a more just, equitable and peaceful world.