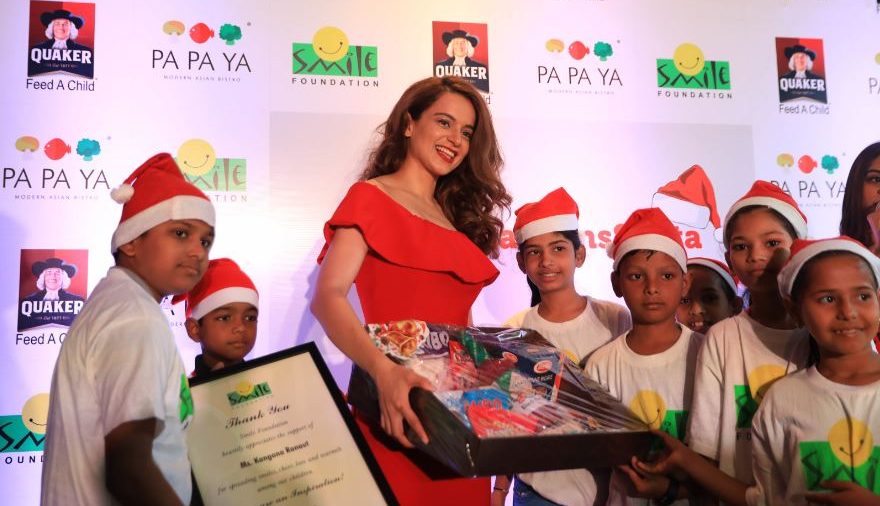 Mumbai, December 25, 2017: Celebrated actor Kangana Ranaut donned the Christmas hat and surprised kids over a breakfast session at Pa Pa Ya at Bandra Kurla Complex, Mumbai. Amidst all the fun and frolic, she extended her support to the campaign #QuakerFeedAChild which is committed to create two lakh meals in the coming year for the kids of Smile Foundation.
Speaking on this occasion, Kangana Ranaut said, "To be amongst the Smile Foundation kids is the best way to unwind, and what better way to celebrate Christmas than be a Santa for all those who need it the most. I am glad that I met these little angles, and this has been a fulfilling Christmas for me as I get to spend time with them. #QuakerFeedAChild is a brilliant initiative. Ensuring year-long nutrition to these little ones will help make this festival more meaningful."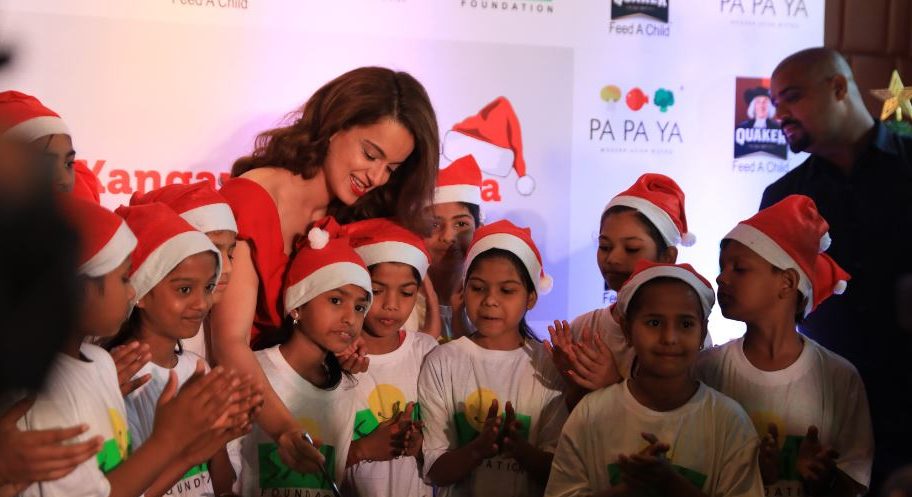 Kangana pulled time from her busy schedule to spend quality time with more than 100 kids of the Smile Foundation for whom she organised a Christmas brunch and loads of gifts.The brunch was curated by Pa Pa Ya BKC which has opened its door a few days itself. The menu had everything the kids loved – from Asian Margarita Pizzette, Chilli Tofu Wraps, Grilled Chicken Tacos, Chicken Shawarma, cakes and ice creams.
Kangana revisted her childhood by meeting these kids and encouraged them to work hard in achieving their dreams. She encouraged them to invest time and effort in keeping themselves healthy by eating nutritious food.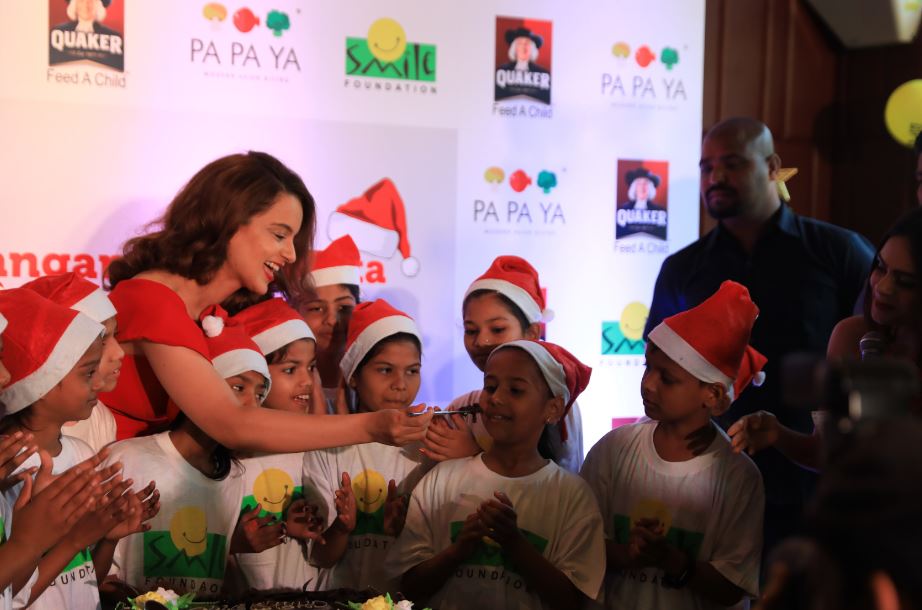 More than anything else, the kids were thrilled to meet Kangana up close and personal, and to each child, she was nothing short of an epitome of hard work and determination. As an expression of their gratitude, children presented hand-crafted gifts along with a thank you note.
"Celebrities are ambassadors of their society to the rest of the world. They have the power to influence millions. People across ages and segments consider them as role models. I would like to thank Ms. Kangana Ranaut for her support by adding more strength to the cause of Smile Foundation and creating a memorable experience for the kids by being the most loved Santa," said Mr. Santanu Mishra, Executive Director and Trustee, Smile Foundation.