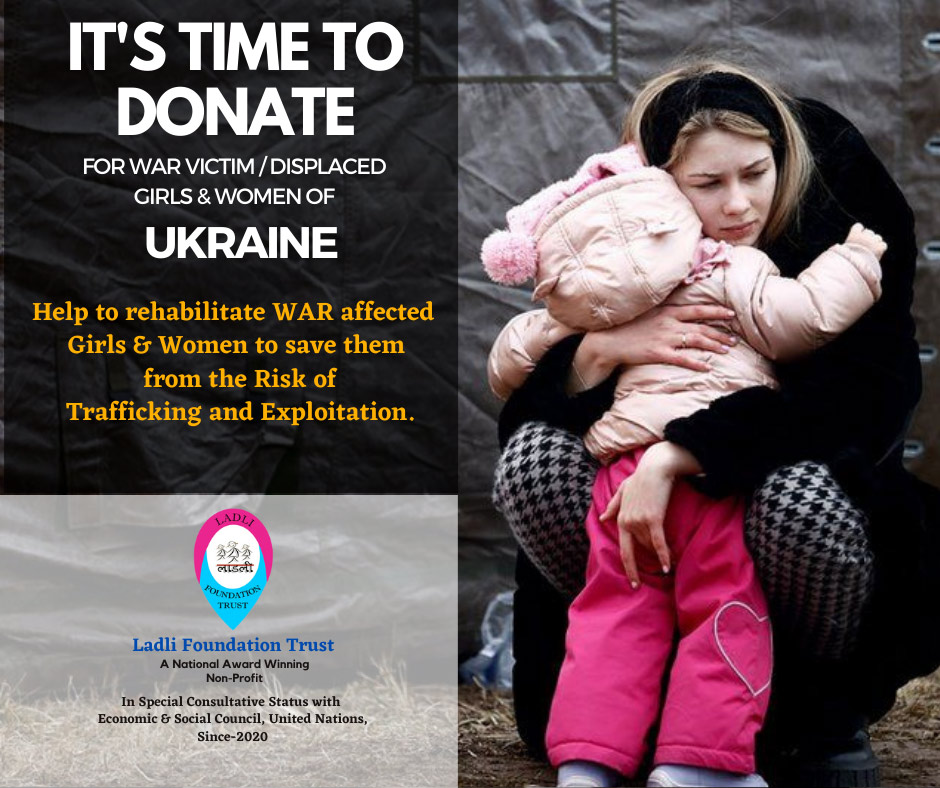 National: Amidst the Ukraine-Russia conflict, Indian non-profit NGO, Ladli Foundation, has come forward to help and rehabilitate war-affected Ukrainian young girls and women to save them from the risk of trafficking and sexual exploitation. The NGO has designed its interventions for helping women and children for their smooth rehabilitation in safe shelters and provide them with necessary relief materials, healthcare, and counselling on mental health to help them overcome form trauma that they are facing in everyday life. In addition to interventions, some daily needs items like hygiene kits and sanitary pads will also be made available to them.
"The year 2022 started with a severe threat of trafficking, sexual exploitation, and other dreadful consequences on Ukrainian girls and women due to ongoing Ukraine-Russia conflict. It is the time to think and work above the geopolitical scenario, and everyone should come forward to display their kind humanitarian acts to save humanity," said Devendra Kumar, Founder of Ladli Foundation.
Ladli Foundation has already started working with its volunteers making a concerted effort to identify and register the survivors. As per news sources, till February 28, 2022, around 500,000 people have fled Ukraine. Children have been orphaned, and women widowed with the displacement going on. This has put women and children at the risk of getting into the vicious trap of human trafficking and exploitation. As per the United Nations, an estimated 80,000 women will give birth in the next three months. Many of them are without access to critical maternal health care. Also, women have become widows with infants and small children; it has become a grim fight to find shelters, fill the stomach, and survive – leading to suffering, many social crimes, child labour, child trafficking.
Ladli Foundation has also started a fundraising campaign to help displaced women in this humanitarian crisis. Having special consultative status in Economic & Social Council of United Nations since 2020, Ladli Foundation and its international wing Ladli Foundation USA, with its key expertise, is reaching out to war victim girls
And women for their complete rehabilitation by providing them with social protection and reproductive health services in some of the hardest-to-reach areas with the support of the government and local stakeholders.