Bengaluru/New Delhi, September 27, 2018: To offer clean drinking water at an affordable price, Maruti Suzuki simultaneously operationalised 11 water ATMs across multiple villages in the area. The Company, which has a stockyard in Sompura from where it serves customers in South India, had recognised that clean drinking water was a critical need of local residents. With rapid industrialisation and growth in migrant population in the region, availability of clean drinking water at an affordable price was a major concern for the local communities. These 11 water ATMs, designed as a sustainable model, will serve over 4000 households in the region.
Maruti Suzuki India Limited partnered with WaterLife India to set up 11 Water ATMs, one each in Sompura, Bhartipura, Nidevanda, Karimanne, Yedahalli, Devaranahosahalli, Hallenahalli, Honnenahalli, Kuluvanahalli, Pemmanahalli, and Kengal Kempohallivillages in Nelamangala Taluk, Karnataka.
With these, Maruti Suzuki has established 26 Water ATMs across its adopted villages in Haryana, Gujarat and Karnataka.
Maruti Suzuki, as part of its Community Development programme under CSR, is committed to improve the quality of life of communities in its adopted villages. The Company undertakes water and sanitation projects which include construction of Water ATMS, individual household toilets, laying of sewer lines and solid and liquid waste segregation. Under its school education programme, the Company undertakes infrastructure development and learning level improvement projects. Apart from this, the Company is working on building overall awareness on sanitation among community members.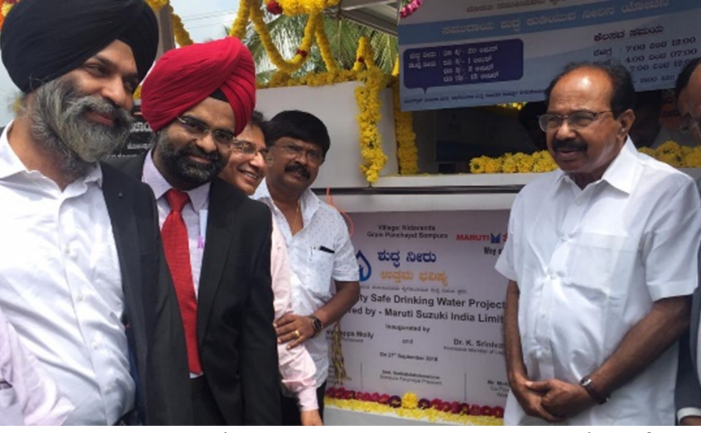 On the occasion A K Tomer, Executive Director, Corporate Planning, Maruti Suzuki India Limited said, "Lack of clean and safe drinking water is a common issue we have observed across our adopted villages. These villages being in vicinity of industrial setups have high migrant population that creates a burden on the existing water and sanitation systems. Our aim therefore is to implement a solution that is sustainable and affordable. We are thankful to WaterLife for partnering with us in this initiative and appreciate the support extended by the village panchayat. We hope people make the most of these facilities."
The Water ATMs are set up in a partnership mode, where Maruti Suzuki bears the initial cost; WaterLife India provides the technology and maintains the facility for a period of ten years, and the village panchayat will provide the required land and electricity.
The water ATMs uses a 10-stage UV filtration technology to remove all impurities, keep the TDS levels low and retain essential minerals. The technology also helps in minimal water rejection – only 25 percent compared to conventional water purification systems. Community members have to pay just 30 paise per litre of water. Built on a self-sustainable model, it is estimated that the Water ATMs will benefit around 300-400 households in each of the 11 villages.
Maruti Suzuki has been working in these villages for over three years now. Apart from the Water ATMs, the Company has constructed individual household toilets, offered scholarships to 60 students to enroll for a diploma course in Mechatronics at NTTF.