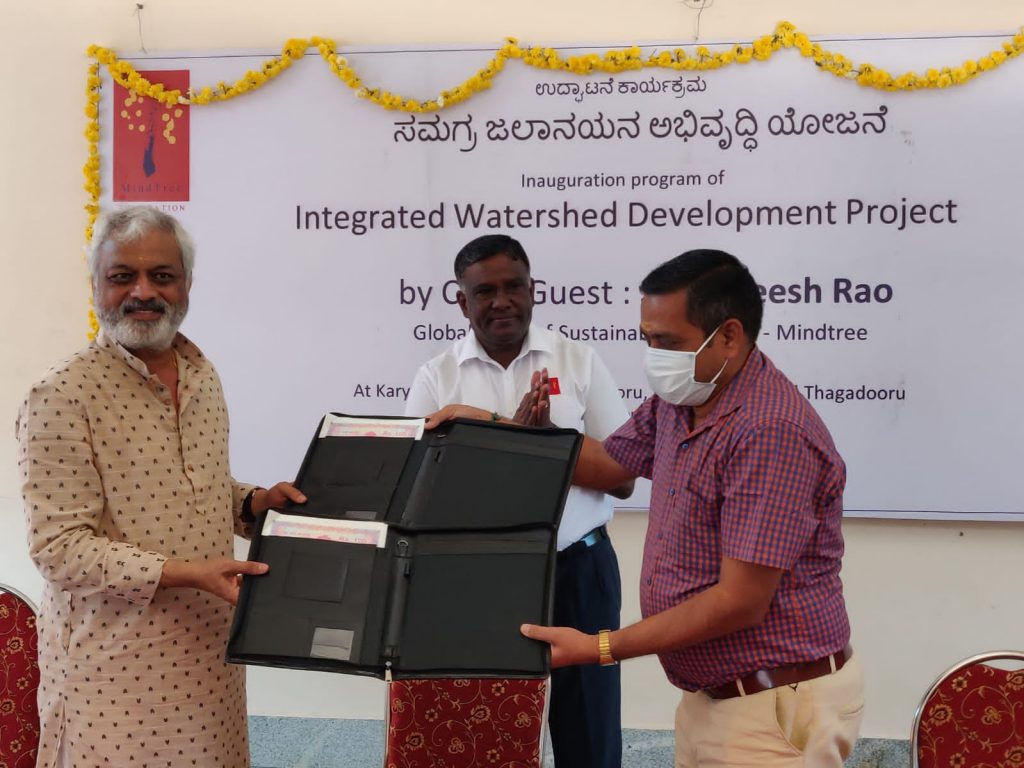 National: Leading technology and consulting company Mindtree, in partnership with National Agro Foundation (NAF), a Chennai-based NGO focused on sustainable rural development, launched an Integrated Watershed Community Development (IWCD) programme in Nanjangud Taluk of Mysuru district at an event attended by Paneesh Rao, Head of Sustainability at Mindtree and Dr S.V. Murugan, Director, NAF.
The programme is designed to educate, empower, build, and sustain communities, and will benefit six villages and more than 16,000 farmers. It will be delivered through various infrastructure and skilling initiatives such as de-silting and deepening waterbodies, constructing dams, installing rain gauges, developing horticulture and forest plantations, setting up smart classrooms in rural schools, and enabling dignified livelihood through Self-Help Groups (SHGs).
With focused awareness building and active community engagement, the programme seeks to encourage the use of water and renewable energy sources, enhance sub-surface water levels, promote rainwater harvesting, reduce soil erosion, improve agricultural produce, and promote allied activities for providing livelihoods to landless farmers. Through the various skilling initiatives, the program aims to improve literacy, promote employment opportunities, and enhance technology adoption, enabling the communities to become more self-reliant.
"The IWCD programme fulfils an important need of the water-deficient areas of Nanjangud taluk by not just facilitating more efficient use of water, but also creating better, more sustainable livelihoods," said Paneesh Rao of Mindtree. "Equitable and inclusive growth form a key part of our social commitment. We are pleased to have collaborated with NAF in creating a positive impact on the environment as well as the larger community in the region. We believe that programs like IWCD have the potential to become torchbearers of rural prosperity and well-being."