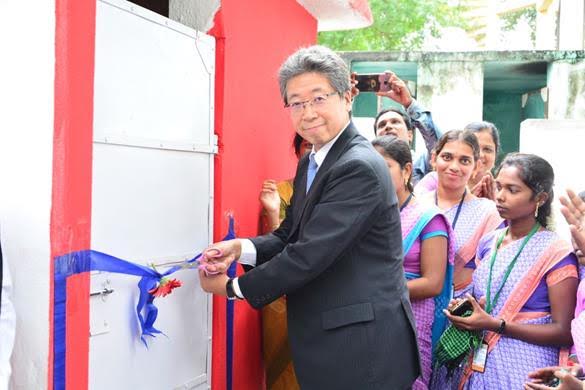 Chennai, October 31, 2017 – Mitsubishi UFJ Financial Group (MUFG)'s banking entity, The Bank of Tokyo-Mitsubishi UFJ, Ltd., in partnership with the Federation of Indian Chambers of Commerce & Industry's Socio Economic Development Foundation (FICCI-SEDF), today opened more than 100 new sanitation facilities across different schools for secondary school girls in the district of Chittoor, Andhra Pradesh.
The facilities were constructed under the government's Swachh Bharat-Swachh Vidyalaya programme. Two years ago, MUFG had pledged INR 105 million for the project with FICCI-SEDF, the bank's partner and administrator of the sanitation project.  To date, more than half, or 105 of the facilities, have already been constructed. The rest are expected to be completed by the end of the year. Part of the MUFG's donation will also be used to fund awareness programmes to inculcate the importance of having proper and safe sanitation for school-going children, especially girls.
The opening was marked at an event held in ZPHS Chinthalapatteda School at Nagari in Chittoor.
Mr. Sri P.S. Pradyumna, I.A.S, District Collector, Chittoor, Andhra Pradesh, Ms. Uma S. Seth, Director & Team Lead, Corporate Social Responsibility at FICCI and Mr. Ryoichi Shinke, Regional Executive of India for MUFG, graced the event.
Mr. Shinke said, "We are pleased to see this project come to fruition. Our commitment to support initiatives directed towards succeeding generations has been our priority. Improving children's health, school enrolment, attendance and retention, particularly among girls, pave the way for a new generation of healthy children in India."
Mr. Ryoichi Shinke, Regional Executive in India for The Bank of Tokyo-Mitsubishi UFJ, Ltd. member of MUFG group inaugurates the toilet facility at ZPHS Chinthalapatteda School in Nagari.
"FICCI Socio Economic Development Foundation (FICCI-SEDF) has collaborated with The Bank of Tokyo-Mitsubishi UFJ, Ltd. to implement their School Sanitation Project for Girls. Under the project, toilets are being built and maintained for girl students in 200 schools in Chittoor District of Andhra Pradesh. An elaborate behavioural change programme is also being conducted across the 200 schools under this project. The project aims to encourage girl students to continue their education in line with the national 'Swachh Bharat Swachh Vidyalaya' programme," said Ms Jyoti Vij, Deputy Secretary General, FICCI.
The key feature of the Swachh Bharat-Swachh Vidyalaya programme is to ensure that all schools in India have a set of functioning and well maintained water, sanitation and hygiene facilities. Through the project, schools will have access to drinking water and complete toilet facilities in the school compound for use by children and staff. The project also indirectly aims to improve the curriculum and teaching methods while promoting hygiene practices and community ownership of water and sanitation facilities within schools.
Other MUFG CSR Initiatives:
MUFG is very active in communities across India, especially in promoting the areas of education and improving water and sanitation facilities. In August this year, the bank opened the first high-tech centralised kitchen in Narsingi, Hyderabad as part of its INR 105.1 million support of the Akshaya Patra Foundation programme. This kitchen will provide mid-day meals to over 35,000 children in Telangana.
In April this year, the bank partnered with St. Jude India Child Care Centres (St. Judes) to help the voluntary organisation expand and enhance its pediatric cancer child care facilities. As a commitment to supporting initiatives focused on the next generation, the bank contributed INR 98.45 million towards the centre's expansion as well as other related community activities in the country.
In February 2017, as part of the bank's 20th anniversary of operations in Chennai and in partnership with the Government of Tamil Nadu, the bank contributed INR 5 million to construct an integrated water supply system at the Chennai Museum.