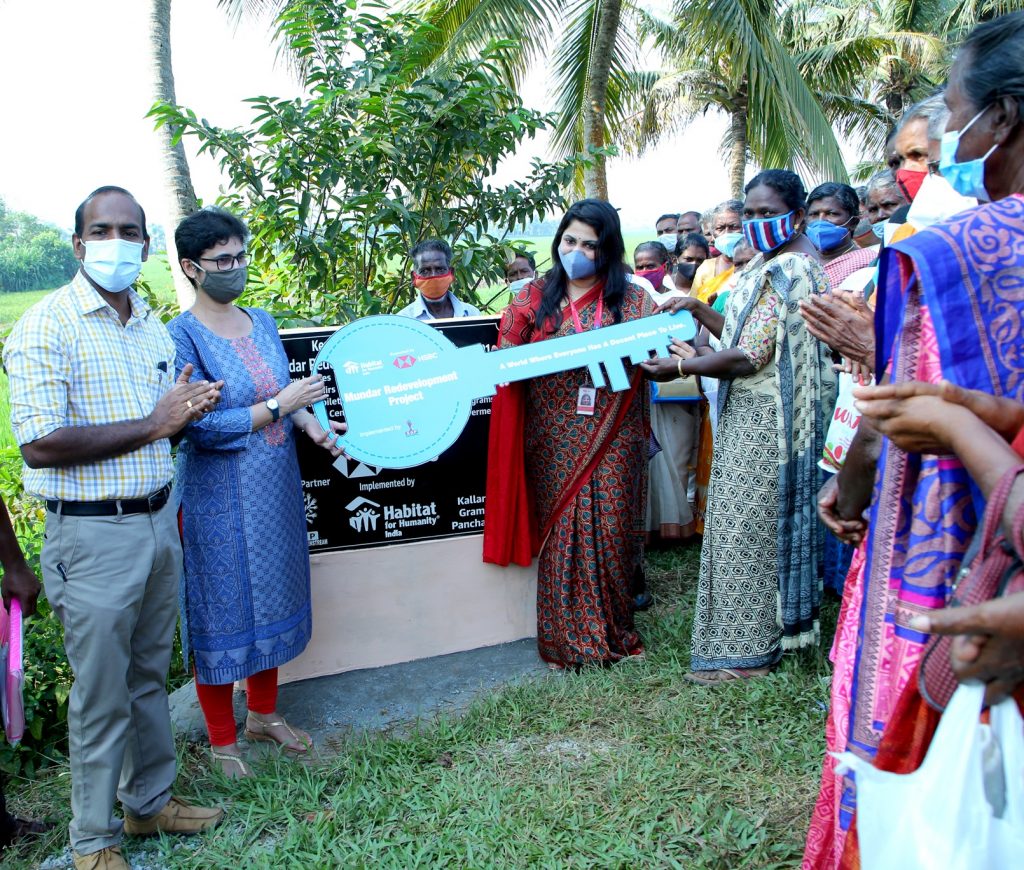 National: The Mundar Redevelopment Project initiated by Habitat for Humanity India in partnership with HSBC India and Swayam Shikshan Prayog has helped to bring normalcy in the lives of flood-affected families and put them on the path to rehabilitation. As part of its Pathways to Permanence strategy, Habitat India has aimed to foster the holistic growth of the village through the reconstruction of damaged houses and rebuilding the community infrastructure by building new houses and undertaking construction and repair of sanitation units.
The handover of the various infrastructure projects completed under the Mundar Redevelopment Project was held in the august presence of Dr Rajan Samuel, Managing Director, Habitat for Humanity India and dignitaries from HSBC India and Swayam Shikshan Prayog. CK Asha, MLA – Vaikom Constituency was the Chief Guest on the occasion. 
"Through community-centric infrastructure initiatives like the Mundar Redevelopment Project, we have managed to rehabilitate a majority of flood-affected families in the village. We are glad to be partnering with HSBC India and Swayam Shikshan Prayog in improving the quality of life of marginal populations and enabling them improved access to basic social amenities," stated Dr Rajan Samuel, Managing Director, Habitat for Humanity India.
Flood-affected families to whom houses have already been allotted were safe and secure during the monsoon this year. Rehabilitation measures under the redevelopment project include providing families access to solar energy through household lighting systems, distributing water purifiers, installing overhead water tanks and offering training in disaster response, health and hygiene. The emphasis has also been on rebuilding community infrastructure through the construction of an Anganwadi centre, repairing the main road and sanitation unit, construction of concrete foot overbridges and installation of solar street lights and RO water plants. The onus has also been laid on rebuilding lives and providing livelihood through support and training including masonry training for women, distribution of chicks, quails, goats cows to families, repair and construction of cowsheds and training for tailoring and summer crop. Training of women leaders was also undertaken along with the formation of Self-Help Groups (SHGs).
Individual Household Latrines (IHLs) have been provided to 64 families while 42 families were served through overhead water tanks. Solar lanterns were provided to 226 families while 362 individuals have trained in community-based disaster risk management and behaviour change communication. Hygiene and family essential kits were provided to 240 families. Repairs of community sanitation units were undertaken along with the building of new Anganwadis. The main road in the village was repaired along with the installation of 75 solar street lights, 2 RO water plants and the building of 10-foot overbridges (FOBs). Masonry training was provided to 27 women while livelihood support was extended to 200 families. 10 cattle sheds were built while 20 cattle sheds were repaired. Summer crop farming was provided to 143 individuals while 37 women were trained in tailoring. Leadership and entrepreneurship training was provided to 101 women and 12 SHGs were formed.
Mundar is an island in Kottayam district, Kerala. Spread over 10.12 square kilometres, it is surrounded and crisscrossed by backwaters. Almost all the houses are built along the waterways, with families using boats as the main means of transport. The centre of the island is mostly covered with rice fields.
Almost all of the 302 families work as daily wage workers with local farms of their own, or as construction workers, drivers and agriculture labourers. A majority of the families belong to tribal communities, depending on income from the government Mahatma Gandhi National Rural Employment Guarantee Act (MNREGA).
The village was one of the worst affected areas in the 2018 floods in Kerala. Over 100 families were severely affected, with many losing their livelihoods.