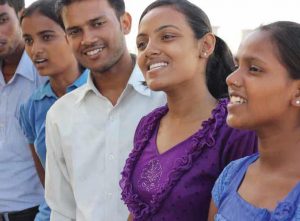 Currently, Skill India mission is one of the top development- related priorities of the Central Government. Supporting this, National Skill Development Corporation (NSDC) has generated Need Assessment Reports at the district level and Skill Gap Reports at the industry level. And keeping these reports as a base, standardised skilling courses have been developed and implemented by the government as well as private agencies.
With flimsy skilling history in India, these reports act as an optimum framework for designing and implementing skilling programmes. However, it is imperative to understand that the skill development sector is still at an infancy stage, and standardisation based on a bird's eye view is not appreciable, especially considering the complexity of the problem at hand. Therefore,  it  is  important  to  critically assess the current scenario before jumping towards having a blanket approach and replicating it all across the country.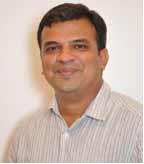 As of now, Agrasar has trained 5000 disadvantaged youth through skilling centres that are being run in partnership with Tech Mahindra Foundation, Concern India Foundation and Macquarie. While the sector at large is struggling with placements, Agrasar takes the liberty to boast of remarkable placements and more importantly, retention on jobs. More than 80 percent of the trainees have joined and retained their jobs for at least six months (follow- ups are terminated post six months, apart from certain exceptional cases). The credit for this goes to the skilling system that has undergone a significant evolution and refinement over a span of five years. Therefore, while dealing with the nuances of need assessment, it is important to understand the skill development scenario in an integrated and a holistic manner.
Agrasar's Skill Development System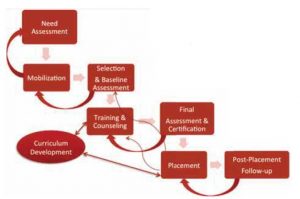 As depicted in the figure, assessment is done at every stage of the system. Feedback to the previous step is also generated and based on this feedback, changes are made in the process of each step. For example, if there are challenges faced in the selection process and eligible candidates are not applying for admission, then there is a need to reflect upon the mobilization strategy and tweak it as per requirement. Similarly, if the candidates are not getting placed, then there is a need to reflect on the selection process, training methodology and curriculum of the course. One of the reasons candidates are not getting placement could be their unwillingness  to  work,  which  implies that there is a problem with the selection criterion. Another reason could be rejection of the trainees in the interview, and in that case, the training process and its component need to be reflected upon.
Needs Assessment
Needs Assessment studies at the local level are a must before we go full throttle in scaling up the interventions based on the high level studies provided by NSDC and another stakeholders. Need of local industry, aptitude, interests and aspirations of youth, existing infrastructure, education levels and other socio-cultural dynamics are significant and have to be considered in order to design sustainable interventions. All our interventions begin with a comprehensive needs assessment survey in the community. The objective of the survey is to find a match between the needs of the industry and interests and aptitude of the youth. For instance, in Gurgaon, the migrant population is our target group and therefore the programmes are designed taking in to consideration the peculiarities of this group. This includes having  flexible   timings,   medium   of course delivery, aligning the mobilization efforts with the seasonality of the industries and so on. We have also set up a skilling centre in the industrial premises   itself,   in   which   unskilled workers come for training between working hours. This, and other fellow companies, have agreed to spare two hours of the workers' work timings while they get the much needed skilled workforce in return.
Some other important objectives that are kept in mind include ascertaining current employment context and entry-level manpower requirement, gathering information related to existing government and private infrastructure for skill development in and around the region and gauging the quantitative and the qualitative gap in training accessible to the youth in the region.
The study is structured to understand the skill requirement of the industry and aspirations of local youth and to firmly situate it in a pragmatic perspective so that it leads to a specific developmental action. Methodology for needs assessment generally involves the following steps:
Relevant studies on the subject, especially the 'District-wise Skill Gap Study for the State of Haryana/ Delhi' by NSDC were used to devise a framework for further research. National Skills Development Corporation (NSDC) has recently conducted a comprehensive district level skills gap survey for all the States. Workforce employment across sectors has been estimated by determining underlying demand drivers for the sector and converting it into workforce demand by  factoring  in the related employment norms. District-wise employment demand is obtained based on demand driver distribution across districts and employment distribution across skill levels.
The information derived is ascertained by interviewing concerned members from the local industrial and trade associations.
Needs Assessment studies at the local level are a must before we go full throttle in scaling up the interventions based on the high level studies provided by NSDC and other stakeholders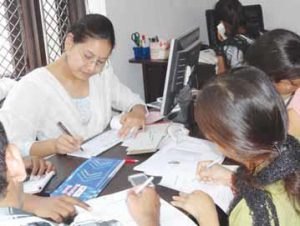 Fieldwork starts with mapping the area and locating the major roads, landmarks, colonies, bus stands and railway stations, etc.. Efforts were made to have a basic understanding of the region by doing a reconnaissance and interacting with the local public.
On the basis of the preliminary survey and area mapping, the area is divided into different socio-economic zones for further study.
Focussed group discussions are conducted with a heterogeneous sample of youths in the area. The sample includes males and females, in the age group of 18 to 25, with varied educational and socio- cultural background. Discussions are directed around areas such as age at which one should start earning, aptitude for job and self-entrepreneurship, willingness to take risks, salary expectations, willingness to travel, socio-economic background, hopes and aspirations, readiness for private-sector  jobs, eagerness in joining a job-oriented training, knowledge and perception pertaining to the available training infrastructure, factors affecting decision making (salary vs career, family, peers) and gender-based differences.
In- depth   interviews   are also conducted with a sample of youth, as selected  above, from diverse socio-economic strata, in each town. The interview schedule will be designed keeping into consideration the above points.
The interest level of youth in joining various trades is gauged using a 3-point Likert Scale, wherein '0' being the lowest and '3' being the highest level of interest.
All the potential trades (Sales, Data Entry, Field Job, Telecalling etc.) are mapped as depicted below. Trades which have high incremental entry-level HR requirement and are aspired by the potential candidates are identified. E.g. in the graph below, Trade 13 and 14 (in bright green) have the highest level of feasibility,  whereas  Trade  5  and  6 (in bright Red) have the lowest level of feasibility. Rest lies somwhere in between. Therefore, first preference shall be given to Trade 13 and 14. If there is any constraint in going ahead with these trades, then Trade 15,16 (with same youth inclination as Trade 13,14 but lower HR reqirement) or Trade 7,8 (with same HR requirement but lower youth inclination) shall be chosen. And, so on.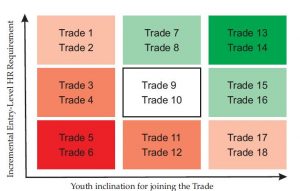 Adatabase of all the companies located in the region is developed with inputs from relevant industry associations such as FICCI (Federation of Indian Chambers of Commerce and Industry), CII (Confederation of Indian Industry), Assocham, Nasscom, Retailers Association of India, Society for Indian Automobile Association, the Indian Cellular Association as well as more such associations at national and state level, as required. 'Land Use Report of the districts prepared by Town & Country Planning Division is also considered in developing an overview of the industry trends.
Three companies from the suggested trades in each cluster are interviewed on areas such as job roles with high recruitment potential at entry level, education qualifications required in a role, competencies (knowledge, skills and attitudes) desired in a particular role and experience and/or willingness of the company to "tie-up" for recruitment with Vocational Training Centres.
Possibility of establishing linkages with existing institutions such as schools and colleges, ITI's, polytechnics, etc for running the skilling program is also explored and evaluated. Rather than focusing upon domain specific skills, Agrasar focuses upon basic  employability  competencies such as self-awareness, interpersonal skills, spoken English, digital and financial literacy, especially in the service sector. Interactions with  potential  employers  informed us that these basic employability skills are non-negotiable while the domain specific skills can be easily imbibed during on-job training. Having worked in training and placements field for the past five years, we have learned that employers spend enough resource in training the candidates with trade-specific skills. However, if a candidate is well equipped with the basic knowledge and skills and has the right kind of attitude for the job, then she has better chances of learning and turning productive, as desired. The employers will be able to save their time as they will not have to train the candidate and the candidate feels confident and comfortable working at the workplace with the acquired skills. When it comes to understanding the needs of women and designing interventions accordingly, the context becomes   even   more   complex.  For instance, there are two lakh women in Gurgaon who are not engaged in any income generating activity. One of the major factors that prevented them from working is lack of social support as they have to take care of their family single-handedly. Some of them have tried home-based work, but a large portion of the profit had to be given to the contractor/middleman leaving them dissatisfied and disillusioned. Keeping this in mind, we have launched a new initiative called "Societymaker" with the objective to transform some of these women into micro-entrepreneurs. For this, we have created a resource centre to train and facilitate women in setting up craft-based enterprises. Women have the flexibility of timing for training and work.                                                                                         The problem at hand is lack of employability and skilling may not always be the solution. We also need to understand institutional factors related to family response, childcare, affordable public transport, health and well-being as well as the labor demand factors like employers' attitude, nature of contract, wages, geographical distribution of jobs, shift patterns and social security. Currently, the need is to look at the problem more holistically and design impactful employability enhancing interventions rather than scaling up and standardization without much base and experiential learning.
Prerit Rana is a social entrepreneur and an experienced development sector consultant and mentor. He is the Co-founder and CEO of Agrasar – a social impact organization working in the field of Education and Employability. He is also an expert adviser to Safe in India.
Pallavi Gulati is a Psychology graduate from Delhi University and holds a Masters Degree in Social Work from TISS with an experience of working in mental health issues and skilling. Currently, Pallavi is working with Agrasar on Women Entrepreneurship programmes.