New Delhi: Nupur Recyclers, a pioneer in metal scrap processing and recycling, is creating a thriving work environment for rural women in India in a bid to organise the highly unorganised sector. The Company aims to enhance the livelihoods of the women who have, for a long time, contributed to the growth of this industry. Nupur Recyclers aims to provide these blue-collar women workers with a chance to build livelihoods, while at the same time preparing them for future work opportunities.
Nupur Recyclers has initiated a soft skills training programme that helps women feel more self-sufficient and independent. Women face a host of social barriers to work, including ingrained notions of what women can do. The industry is poised for a change as more women begin to enter this and other similar fields of work. 
As an organisation, Nupur Recyclers will work to create a positive industry and company culture for women wage earners by embracing gender equality across their workforce.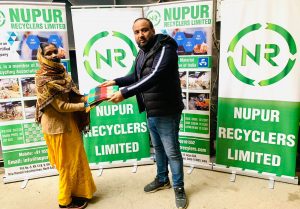 Speaking on Women Empowerment, Rajesh Gupta, Founder, Nupur Recyclers said, "Nupur Recyclers is doing everything it can to help women become economically self-sufficient. We are attempting to dispel the myth that only men are suitable for factory work. We hope that any woman who chooses to work in this industry sees these opportunities as having a long and fruitful career. So far, we have found that rural women need a strong push, and you will be amazed at the things they can accomplish. Nupur Recyclers is establishing itself as a woman-friendly company."
The Company conducted mandatory PoSH training sessions for employees as well so that they understand the consequences of sexual misconduct. This will help in creating a more secure and friendly environment for everyone at the workplace. It has successfully given out various sessions on a regular interval and is looking forward to enhancing the engagement rate and awareness of the company employees.