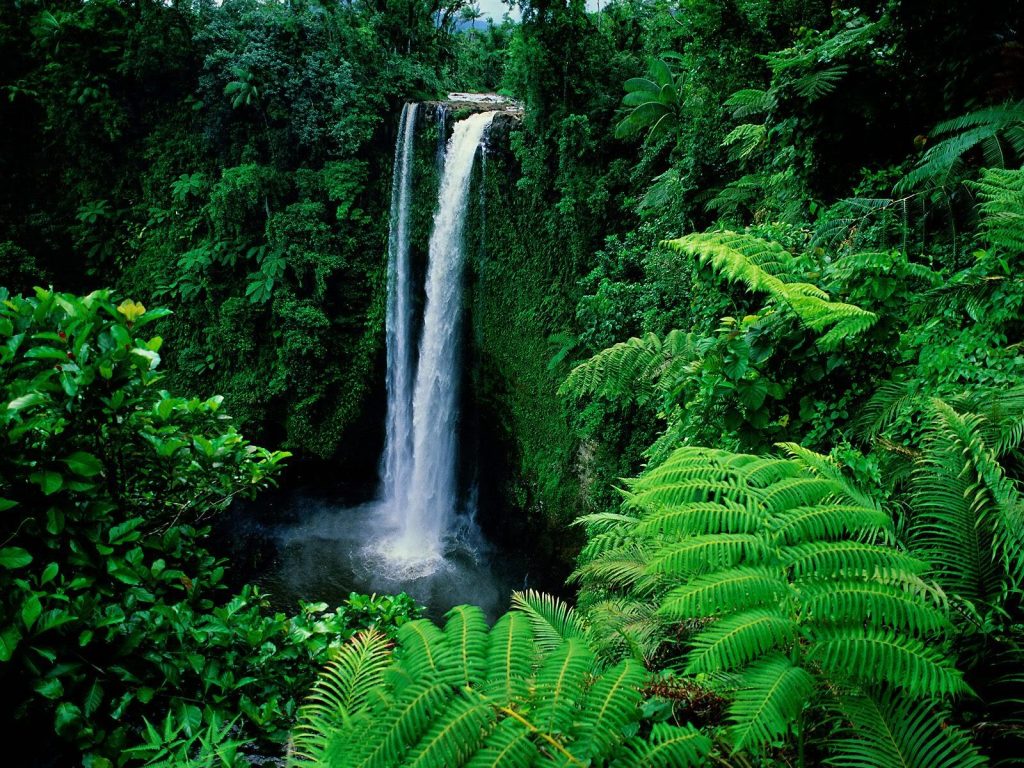 World Environment Day was established in 1972 by the United Nations at the Stockholm Conference on the Human Environment. The UN realised that there needs to be a coordinated global focus to begin to make environmental conservation and natural resources a priority. This year's observation calls for commitment to protect the ecosystems, which support the livelihood of millions of people globally. It is, therefore, important that this is taken upon seriously as we would all want to leave a better world filled with hope for our children and their children's children.  We take this opportunity to highlight more green initiatives from various companies as well as get to know the thoughts and plans industry leaders have to regenerate and restore our ecosystem.
Bisleri Launches India's First Clean Plastic Segregation and Collection Centre to Fight Plastic Pollution
India's plastic pollution is a formidable challenge. Consider this: The country generated 26,000 tons of plastic waste during 2019-2020, out of which only 60 per cent was recycled. The remaining 40 per cent ended up in landfills or as pollutants in streams or groundwater (Source: Central Pollution Control Board) only because plastic disposed in filthy condition does not get picked up for recycling and lies around as litter. This World Environment Day, Bisleri, industry leader and India's most trusted brand of bottled water, which has been actively working towards the cause of a cleaner and greener environment has launched India's first clean plastic segregation and collection center at Marol, Mumbai.
The Bisleri Showcase Centre is a part of the company's 'Bottles for Change' programme, initiated in 2017 and aimed at creating awareness among consumers about plastic pollution and proper methods of plastic waste disposal. Since its inception, Bisleri has been able to recycle more than 6,500 tons of plastic while working alongside local government bodies to create awareness as a part of 'Bottles for Change'.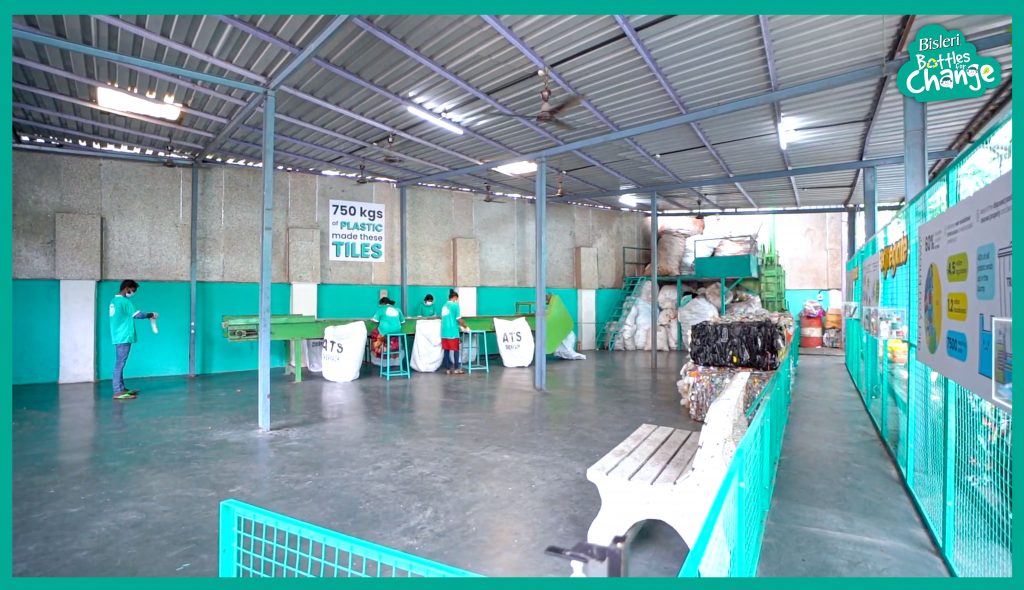 Taking a step forward to reaffirm its commitment to a cleaner environment, the Centre in Marol is conceptualised on the future of segregation. With a capacity to process 25 tons of used plastic per month, the plant is built across 2,400 square feet on a plot provided by MCGM's (Municipal Corporation of Greater Mumbai) K-East Ward. What sets this facility apart is that it showcases how the right method of segregating and disposing plastic can help tackle the pollution problem. The interiors have been created using 1,50,000 MLP (Multi-layer plastic) recycled bags (biscuits, chips and chocolate wrappers) as partitions. For 100 sq. ft. area, 100 kgs of recycled hard plastic blocks (hard plastic like juice containers, food containers, toys, shampoo, conditioner bottles, etc.) have been used to build the entrance ramp, which is strong enough to bear load equal to 30 tons of vehicles.
This revolutionary facility will also serve as a destination to educate citizens on the importance of plastic segregation and recycling. The Centre displays information about the habitual change, various recycling processes and also exhibits a range of products that can be made using recycled plastic. Aesthetics are not left behind here. The plant also houses a conveyor belt with a bailing machine for the processing of plastic before it is sent directly for recycling. Most importantly, it also ensures clean surroundings and hygienic working conditions for green plastic agents.
Speaking at the launch of the Bisleri Showcase Centre at Marol, Anjana Ghosh, Director Marketing and Our Social Responsibility, Bisleri International Private Limited said, "Bisleri has been working passionately towards the cause of plastic management since the last four years. Our aim is to recycle more than 10,000 MT in the next few years and go beyond. We have commenced various programmes across cities like Mumbai, Delhi and Chennai, where we work on creating awareness through education seminars in housing societies, corporates and schools. We are trying to break the widespread notion that plastic alone adds to environmental pollution. Our aim is to educate the public that plastic, by itself, is not harmful. It's the way of disposing that makes a difference. The Bisleri Showcase Centre is a landmark in our 'Bottles for Change' movement and is a major step towards educating citizens, especially our future generations, about segregation and recycling of plastic for its endless and unlimited potential."
The project aims to bring about habitual change in society to enable people to clean the plastic, segregate the plastic from their waste and send it for recycling. Bisleri believes that it is necessary for society to stop treating plastic as waste and find solutions to dispose it responsibly. Bisleri's multi-city awareness drive spans citizens, corporates and institutions. The company is actively working with Mumbai Municipal Corporation, South Delhi Municipal Corporation, East Delhi Municipal Corporation, North Delhi Municipal Corporation, Panvel Municipal Corporation, Thane Municipal Corporation, Navi Mumbai Municipal Corporation and Vasai Virar Municipal Corporation.
"This year as a part of the 'Swachha Sarvekshan Abhiyan', Delhi has adopted plastic recycling and waste management education through the various municipal corporations in South, East and North Delhi (SDMC, EDMC and NDMC) The authorities have been an active part of our 'Bottles for Change' initiative which is a testament to our efforts. We hope that this will encourage local authorities in other cities as well," observed Ms. Ghosh.
The municipal authorities in Mumbai, Thane and Navi Mumbai, who have been a part of 'Bottles for Change' for over two years now have observed positive changes and a gradual perception shift in terms of plastic segregation and disposal. Pankaj Ghonge, AE, Solid Waste Management Department, K-East Ward, MCGM, said, "We congratulate Bisleri for taking the effort towards clean plastic segregation at source. We have been associated with the company for more than two years now and this Centre is a result of ground-level awareness as a part of 'Bottles for Change'.  Source segregation of clean plastic and recycling is a solution to the current scenario related to plastic pollution."
Dr. Babasaheb Rajale, Deputy Municipal Commissioner, Solid Waste Management (SWM), Navi Mumbai Municipal, remarked, "Bisleri's 'Bottles for Change' has been implemented in Navi Mumbai for over two years now. It has helped spread awareness about used plastic management and proper methods of disposal. The response from citizens has been encouraging. In fact, this year we wrote to various housing societies urging them to implement this in their premises. Inculcating behaviour change is a difficult task and this team has been doing it successfully."
Manisha Madan Pradhan, Pollution Control Officer, Thane Municipal Corporation Thane, had this to say about the initiative, "The Thane Municipal Corporation has been working with Bisleri's 'Bottles for Change' for more than two years. This program has helped us tremendously in creating awareness among consumers. The key differentiator here is that citizens are instructed to segregate plastic at their end and then send for recycling. This has reduced the burden on our resources as we are able to work together with residents. Through this initiative, we have been able to send 200 tonnes of plastic for recycling, instead of it ending up in the landfills."
Dhairyasheel Jadhav Assistant Commissioner Panvel Municipal Corporation Solid Waste Management Department, said, "We recently permitted Bisleri to implement the 'Bottles for Change' programme under the aegis of Panvel Municipal Corporation. We want to work together to make this successful as this is in alignment with the 'Swaccha Bharat Mission'. We encourage every citizen to adopt small steps and start by cleaning and segregating plastic after use."
Through Bottles for Change, Bisleri has touched over 6 lakh individuals, 800 housing societies, 400 schools and colleges, 500 hotels and restaurants, 500 corporates, 600 awareness sessions. This programme has also created a channel and opportunity for plastic agents to collect used but clean plastic (hard as well as soft) through various stakeholders. With the objective to collect clean plastic for recycling, the programme also aims to drive social change and help empower the green plastic agents.
Bisleri has also worked with corporates such as Indian Oil, Western Railways, NSS Wing of Mumbai University, Bombay Stock Exchange, Godrej, JP Morgan, and Tata Consultancy Services amongst others. Currently in Chennai, Bisleri is working with Power Grid.
NetApp on World
NetApp's Global Centre of Excellence (GCE) in Bangalore is the first all-steel building in India, built with 7000 metric tons of nearly 100 per cent recyclable steel. We incorporated some of the finest green building features for which the campus was awarded IGBC Platinum certification by the Confederation of Indian Industry (CII) – the highest green building rating by the Indian Green Building Council.
Through energy conservation measures like efficient lighting, our electricity savings are at 3 million units/year. The solar plant installed at our campus generates 1,65,000 units of electricity/year. Through low-flow water fixtures and rainwater harvesting eco pond on campus, our water savings are at 10 million litres/year. 100 per cent of the wastewater generated is recycled and is used for landscaping and air conditioning.
Additionally, the company's global green team strive to recycle and reduce. Conscious efforts are taken to responsibly manage e-waste disposal.
LG – Observing World Environment Day With a Little Less Plastic
The United Nations created World Environment Day in 1972 in recognition of the need for there to be a coordinated global focus to begin to make conserving the environment and our natural resources a priority. While World Environment Day and Earth Day (April 22) may have similar goals and objectives, they have different origins and initiatives. To celebrate this year's World Environment Day, let us look at the role of plastic in today's world and what LG is doing to lessen its environmental impact.
Plastic is an intrinsic part of modern life, found in almost every consumer product that isn't crafted by hand. The issue with plastic is when it has outlived its usefulness; most of it ends up contributing to the increasing global problem of plastic pollution. In 2019 alone, more than 130 million metric tons of single-use plastics were discarded, with much of that thrown into landfills, burned or dumped into the world's waterways.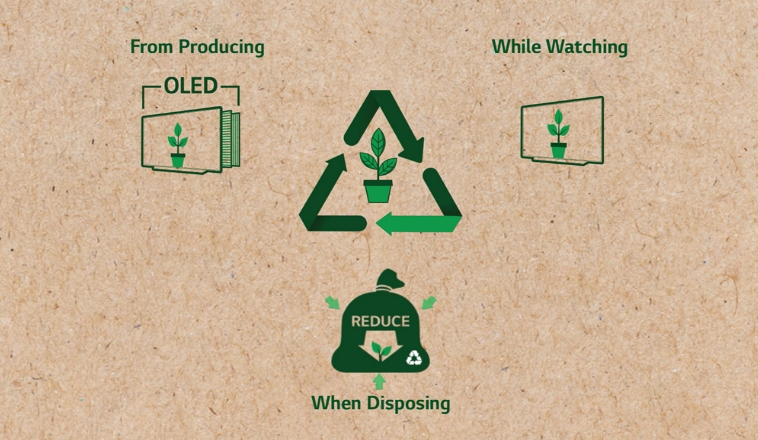 Produced primarily from fossil fuel-based chemicals, plastics can release harmful toxins throughout their lifecycle, damaging the environment and presenting a significant health risk at the same time. Without significant changes in production, consumption and waste management, the amount of plastic material entering the world's oceans each year will increase to almost 30 million metric tons by 2040.  System-wide changes in our relationship with plastic are long overdue. But for this to happen, governments, corporations and consumers will all have to play their part.
LG's 18 OLED TV models for 2021 require fewer components than conventional LCD TVs thanks to their unique backlight-less structure, meaning less plastic is required in the manufacturing process. For example, LG's 65-inch model 65G1 OLED TV requires just 30 percent of the plastic used in the same-size LCD TV (model 65UP75). With a lineup featuring more OLED than LCD models, LG expects to reduce its plastic usage by approximately 10,000 tons this year.
LG is also increasing its use of recycled and recyclable materials, such as more metal in the outer casings of 2021 OLED TV models. And unlike LCD, OLED panels do not require harmful materials such as cadmium and indium, making OLED the natural choice for environmentally-conscious customers. Even at the end of their lifecycle, LG OLED TVs offer excellent resource efficiency and a high recycling rate compared to LCD TVs, which are more complex and more resource-intensive to manufacture. What's more, LG is planning to expand the use of recycled plastics in certain models of 2021 LCD TVs such as QNED Mini LED, using up to 750 tons of recycled plastic this year alone.
The increased use of recycled materials extends to LG's 2021 soundbars as well. The exterior cases of all 2021 soundbar models are manufactured with attractive yet durable recycled plastics. By the end of the year the company expects to have reduced approximately 300 tons of plastic waste from landfills, repurposing them in LG soundbars. Certain soundbars will also incorporate Global Recycled Standard certified polyester jersey fabric made from recycled PET bottles, resulting in the removal of 1.5 million half-liter PET bottles from the trash this year alone. Furthermore, LG has adopted cleaner and greener packaging for its entire soundbar line-up by using recycled, moulded pulp and significantly reducing the use of EPS (polystyrene) foam and plastics. By designing soundbar boxes in the shape of the letter L, LG was able to create a smaller footprint when shipping, saving on fuel and reducing emissions. The unique packaging enables a typical delivery truck to accommodate 58 percent more boxes. And because the L-shape reduces the empty space between boxes, fewer fillers are required, meaning less trash in the owner's garbage bin. LG's OLED TV and soundbar are the first OLED TV and audio products to receive SGS Eco-Product recognition from SGS Société Générale de Surveillance SA of Switzerland.
By doing its part to help reduce the problem of plastic pollution, LG is honouring its commitment to the planet and consumers and helping to pave the way to a more sustainable future. 
NIVEA Naturally Good Shows Its Care Beyond Skin for a Greener Tomorrow
As consumers of Emerging India, we all are paying more and more attention to leading a responsible and sustainable lifestyle and taking care of nature in everything we do. As a truly caring brand that Cares for Skin and Cares Beyond Skin, NIVEA has introduced its latest skincare innovation – NIVEA Naturally Good, an all-new sustainable skincare range with naturally derived ingredients.
NIVEA Naturally Good range comprises of body lotions, deodorants and shower gels. It contains 95 per cent+ naturally-derived ingredients, no harmful chemicals and comes in eco-friendly packaging. Making it a truly natural range that cares for your skin and for nature too! Additionally, NIVEA India has curated an innovative 'Care Box' for this range which is available at most leading e-commerce portals. This ready-to-ship Care Box minimizes packaging material for deliveries and eliminates the use of plastics, resulting in a hassle-free and environmentally responsible experience for shoppers.
On this World Environment Day, NIVEA India has also taken a step further in Caring Beyond Skin by partnering with Sankalp Taru – a technology-enabled NGO focusing on reforestation. With this partnership, NIVEA India plans to plant more than 10,000 trees in the rural areas of Karnataka and Assam. The brand is running an interesting offer of 'Buy One Get One Tree' if you purchase the entire range from NIVEASHOP.in. The offer will enable consumers to virtually adopt a tree of their own on the purchase of every NIVEA Naturally Good combo. With this, NIVEA India aims to support the environment and help local farmers earn a sustainable livelihood.
Speaking on this launch, Neil George – Managing Director, NIVEA India said, "Emerging India's young consumers are actively looking for sustainable skincare choices that are kind to nature and give the best care to skin. The new NIVEA Naturally Good range makes it easier for them to incorporate environment friendliness in their daily skincare routines. The initiative to also plant 10,000+ trees with this range starting this World Environment Day is furthering our commitment to sustainability and Care Beyond Skin."
Godrej Interio's Sustainability Goals
Godrej & Boyce, the flagship company of the Godrej Group, announced that its business Godrej Interio, India's leading furniture brand in-home and institutional segments revealed its sustainability goals in areas of energy efficiency, water conservation, carbon neutrality, increasing renewable energy share. In alignment with Godrej & Boyce's EP100 commitment, Godrej Interio has also committed to doubling its energy productivity by 2030.
As part of its sustainability goals, Godrej Interio aims to have a third of its portfolio revenues comprising good and green products and services. In FY2020-21, 22 products were added to the Good & Green products offerings thus taking the cumulative count to 120. They plan to increase the number of Good & Green products from 120 to 130 in FY 21-22. While Godrej Interio has already achieved 45 per cent revenue share from Good & Green products in F.Y. 2020-21, it aims to continue to target 45 per cent revenue share from Good & Green for the foreseeable future.
Commenting on the sustainability goals, Anil Sain Mathur, COO, Godrej Interio, "At Godrej Interio, our sustainability strategy is aligned with Godrej & Boyce's 'Good & Green' initiative which underscores our deep and abiding belief that innovation and sustainability must go hand-in-hand. Combining the two will promote our journey to ensuring employability, energy efficiency, promotion of a circular economy and greater community development. We are proud to be part of a company that commits to global causes such as EP100 initiative and that as Godrej Interio, we can help further this commitment thus helping lead the way on smarter energy usage."
As a part of its sustainable manufacturing initiatives, Godrej Interio has adopted various technologies across all the manufacturing locations to reduce energy consumption. These technologies include the use of VFDs on pumps and blowers, use of waste recovery technologies such as heat pipes, use of heat pumps, installation of energy-efficient machines and energy-efficient lighting, etc.  As of FY2020-21, Godrej Interio has reduced its energy consumption by 49.5 per cent and water consumption by 43 per cent based on its Good & Green Vision baseline of FY2010-11. It also achieved a renewable energy share of 23 per cent in FY20-21. The company plans to invest Rs 60 million in the next three years in renewable energy projects.
Similarly, the recycling of water at Godrej Interio's plants is being done through Sewage Treatment Plants (STP) or Effluent treatment plants (ETP). The water recycled through ETP is made process ready for re-use in the manufacturing processes through advanced technologies such as reverse osmosis at Khalapur, Chennai and Bhagwanpur. In FY2020-21, around 40,440 Kiloliters of water was recycled and reused which is 31 per cent of the total freshwater usage across Interio's manufacturing plants. They plan on increasing this percentage to more substantial levels in the years to come.
VAHDAM® India – Purpose Beyond Profits, Relationship Beyond Ratios, Value Beyond Numbers
VAHDAM® India has always endeavoured to build and grow its business based on its core philosophy: Do Good by Doing Good. From sustainability to their social responsibility, it has strived to make a positive impact on the environment. As a young company that is committed to people and the planet, it has always strived to make its business progressively sustainable and responsible.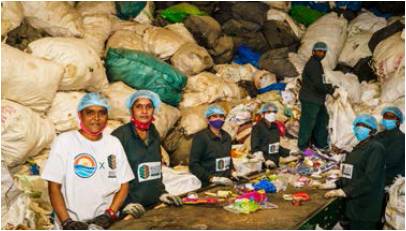 In 2020, the company became one of the first tea brands in Asia to get a Climate Neutral Certification in line with its long-term goal of aligning to UN SDGs by 2030. The same year, it worked with 'rePurpose Global', to measure and offset its plastic usage, and become one of the first tea brands to get the Plastic Neutral certification too. It also its first steps to measure its carbon footprint by measuring emissions under Scopes 1, 2, and 3 as per the Greenhouse Gas Protocol for the year 2019.
Scope 1 – Covers direct emissions from owned or controlled sources
Scope 2 – Covers indirect emissions from the generation of purchased electricity, steam, heating and cooling consumed by the company
Scope 3 – Includes all other indirect emissions that occur in a company's value chain
Post measurement and verification of its carbon footprints by ClimateNeutral USA, the brand shortlists projects for its carbon credits, from platforms verified by a global carbon-credit platform (such as The Gold Standard, Switzerland). In addition, it purchases carbon credits that are from vintage years that are maximum two years from its certification year.
The company offsets its carbon footprint to neutralise its emissions by purchasing credits in projects that work at reducing, removing, or avoiding emissions or carbon from traditional fossil fuels, and thus, helping control climate. It purchases an equivalent amount of carbon credits in projects that are based in India and are working on clean energy, renewable energy and reduction/replacement of fuel-based energy consumption.
The brand's carbon footprint for the year 2020 was 2,954 tCo2e under the 3 scopes mentioned above and was offset in the following projects:
– Biomass Power Project at Godawari Power and Ispat Limited, Chhattisgarh
Credits Purchased: 954
– Wind Power Project in Madhya Pradesh, India
Credits Purchased: 1100
– Improved Wood Stoves in Udaipur – Helping Women and Environment
Credits Purchased: 900
As part of its long-term commitment to climate change, they are focused on reducing their carbon footprint by progressively looking at doing more with less with our energy consumption such as reducing office electricity usage, switching to recycle materials, reducing carbon emissions in logistics and transport, etc. with set targets to achieve across sectors of operation with the company.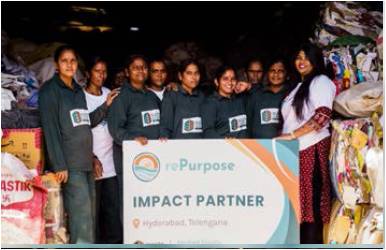 VAHDAM® India also made it a point to regularly measure its plastic footprint by carefully calculating the total amount of plastic that is used in its operations. This footprint is then neutralised by investments in various projects. By partnering with rePurpose Global, it is transforming Hyderabad's waste sector. This first-of-its-kind project entails the recovery and processing of low-value, single-use plastic waste such as multi-laminate plastic (MLP). The project involves creating a financial subsidy for the recovery, segregation, and processing of MLP.
Prominent initiatives:
–  16,673 kgs of plastic waste (April-December 2020) diverted from oceans and landfills (equivalent to 1,138,974 plastic bottles or 1,423,457 plastic pouches)
–  60 Waste workers & family members provided with additional income
–  10,510 kg of CO2 emissions avoided
Simultaneously, the brand is doing a bunch of things to reduce their plastic and carbon footprints in their operations through initiatives like reduced packaging, lesser plastic and use of sustainable packing materials wherever viable. The bare minimum quantity used as of now is for ensuring the safety and freshness and quality of its products.
Till the time the brand is completely plastic-free and carbon negative in their operations, their endeavour is to always offset the carbon footprint and emissions created.
AG&P Pratham Pledges to Restore and Rejuvenate the Environment Under its New Campaign 'One Tree for One PNG Connection'
AG&P Pratham, the City Gas Distribution (CGD) arm of Singapore-based downstream LNG and gas logistics company, AG&P Group, has redoubled its commitment to Swachh India, a Clean India for All. Today, AG&P is a leader in providing piped natural gas (PNG) connections to people's homes and businesses in multiple districts in South and Northwest India, where PNG is replacing traditional LPG bottles which are cumbersome, more expensive, and less clean.
As part of its effort, AG&P Pratham has launched its campaign, 'One Tree for One PNG Connection', to drive a sustainable environment direction in India. In line with the UN Decade on Ecosystem Restoration (2021-2030), AG&P, under this initiative, plans to plant a minimum of one million trees across five States including Tamil Nadu, Karnataka, Kerala, Andhra Pradesh and Rajasthan over this coming decade.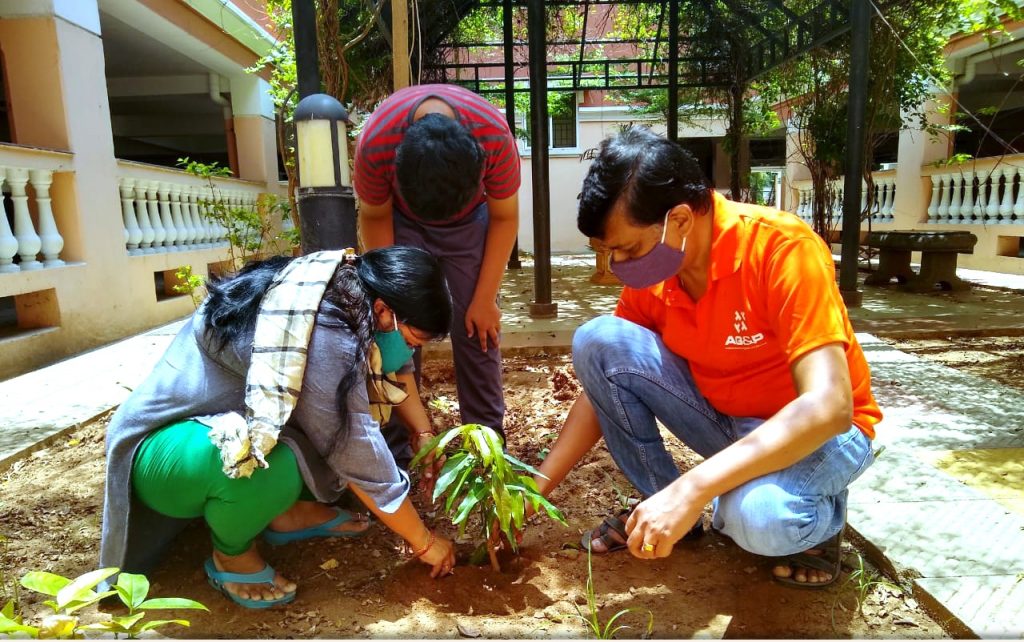 India's environment, like much of the world, faces intense pressure from a rising population's need for land and resources. Damage from deforestation, unsustainable agricultural practices, mining and excessive groundwater extraction can be reversed in part by tree planting, an act that our customers can contribute to by switching to PNG from AG&P Pratham.
Joseph Sigelman, CEO and Chairman of AG&P Group noted: "We are working hard to support the Government of India's noble vision to ensure a better environment for our children. A part of this wider effort is India's swift transition to an environmentally friendly economy where clean, safe natural gas replaces dirty fuels, for our vehicles, in our homes and in our businesses. We need to do more. AG&P Pratham has pledged to provide a sapling or seed to every new PNG customer and increase awareness and community participation for the restoration of our precious ecosystem, improving our health and the quality of our lives. AG&P Pratham is privileged to do its part."
In India, AG&P holds licenses to provide natural gas for everyday use in 31 districts in Tamil Nadu, Andhra Pradesh, Karnataka, Kerala, and Rajasthan. These rights cover the supply of natural gas for vehicles and to households, industrial and commercial customers. Being built day-by-day, AG&P Pratham's CGD networks is planned ultimately to cover 278,000 square kilometers, 17,000 inch-km of pipeline with over 1,500 new CNG stations and millions of PNG connections.
PepsiCo India and United Way Launches 'Tidy Trails' a Special Initiative on Plastic Waste Management  
Aligned with the Government of India's 'Swachhata Hi Seva' initiative, PepsiCo India in partnership with United Way Delhi is launching 'Tidy Trails' – a special initiative aimed at creating awareness for plastic waste management in Mathura- Vrindavan, Uttar Pradesh, on World Environment Day. As part of the initiative, a special mobile van will be deployed that will visit over 200 establishments across Mathura-Vrindavan to collect post-consumer plastic waste. The initiative aims to encourage people to keep their local environment clean and foster 'tidy'ness, thereby setting good examples and inspiring other communities to follow.
Through this initiative, PepsiCo India and United Way Delhi will engage with the shopkeeper community to bring about a behavioural change towards responsible disposal of plastic waste. To drive mass awareness, activities such as on-ground events, online educational workshops, distribution of informative material, will be organised for the shopkeeper community along with the general public around plastic waste management. Further, the post-consumer plastic waste collected will be segregated and some part of it will be recycled into products of utility like chairs and tables among others which will be later installed at various public places.
Speaking about the initiative, Sachin Golwalkar, CEO, United Way Delhi, said "United Way Delhi is committed to contributing to the Swachh Bharat Mission and Tidy Trails initiative, with support from corporate partner PepsiCo India, aligns with Sustainability Development Goal (SDG) 11 to make sustainable cities and communities. While the campaign focuses on efficient management of plastic on one hand, it also aims at building ambassadors and leaders within the local community for a longer and sustained impact. We are thankful to PepsiCo India for this partnership."
Elaborating on PepsiCo India's commitment towards sustainable management of plastic, Ahmed ElSheikh, President, PepsiCo India, said, "To address the challenge of Plastic Waste Management it's important to foster partnerships and create awareness which leads to behavioural change.  On World Environment Day and aligned with the Government of India's 'Swachhata Hi Seva' initiative, we are delighted to launch Tidy Trails, a unique initiative in partnership with United Way Delhi in Uttar Pradesh. At PepsiCo India, we are striving to build a world where plastics need not become waste and initiatives such as these will go a long way in creating a sustainable ecosystem on plastic waste disposal."
Ahmed further added, "PepsiCo India understands the significance of educating children on recycling and effective plastic waste management. The "Tidy Trials" initiative will also focus on engaging with local schools and students through online competitions to share creative ideas to reuse and upcycle plastic waste generated both at home and within the communities."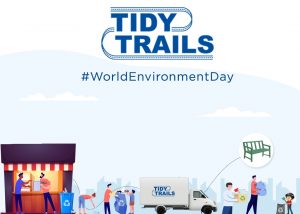 Tidy Trails implies collectively driving change in the community by adopting responsible methods to manage and dispose plastic. As part of the initiative, mass awareness drives will also be conducted through public events, online workshops, and competitions for communities, during the year.
PepsiCo India has been actively working across multiple States to collect, segregate and sustainably manage the equivalent of 100 percent of its plastic packaging by 2021. Working towards the same goal, PepsiCo India is activating Tidy Trails from Mathura- Vrindavan and would soon take it to other States.
The United Nations has declared the years 2021 through 2030 the UN Decade on Ecosystem Restoration. Using the hashtag #GenerationRestoration, the UN Decade is galvanising a global movement, in which everyone can contribute to the mission. There has never been a more urgent need to revive damaged ecosystems than now. Preventing, halting and reversing the degradation of ecosystems worldwide.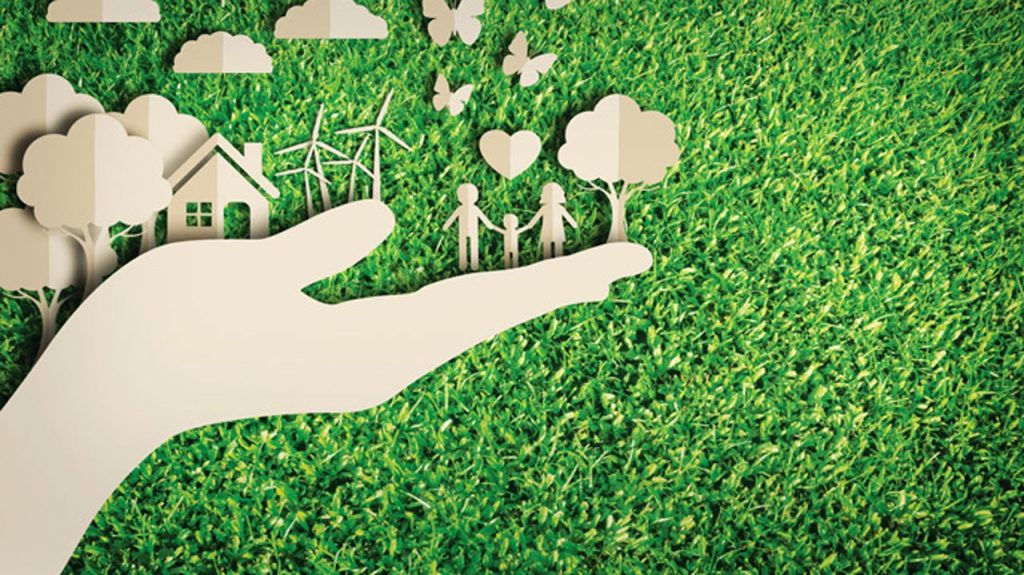 Inputs from Companies Leading the Cause of Sustainability and Restoration of the Ecosystem
Alka Talwar
Chief – CSR & Sustainability, Tata Chemicals 
"The World Environment Day 2021 marks the beginning of a hope-filled Decade on Ecosystem Restoration declared by the United Nations. The larger idea here is to adopt an all hands on the deck approach to healing and strengthening our planet after facing decades of environmental degradation largely caused by how we produce and consumer products and services.
The principle of circular economy is one of the most powerful tools we have today to combat the ill effects of indiscriminate use of resources. It provides us a tangible and outcome-driven approach to restoring balance in our environment. It can be applied in every conceivable industry of any size located anywhere in the world. The economic benefits flowing from it make it a compelling and sustainable solution to our environmental challenges.
The goals we hope to achieve during the UN Decade on Ecosystem Restoration will be far closer to our grasp if we can quickly scale up the global circular economy."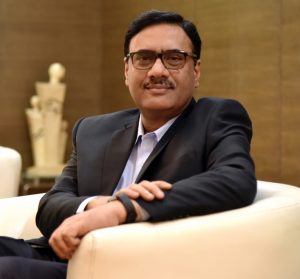 Neeraj Akhoury
CEO India LafargeHolcim, Managing Director & CEO of Ambuja Cements Ltd
"Both Ambuja Cement and ACC are aligned with their global parent LafargeHolcim Net Zero plan and sustainability strategy. Sustainability is one of the strategic priorities for both companies.  ACC and Ambuja's Sustainable Development Plan 2030 has a sharp focus on climate and energy, building a circular economy, conserving resources and nature, and driving meaningful change in the lives of communities. Both the companies aim to reduce their CO2 footprint, reuse waste and be many times water positive.
We have been implementing a whole range of initiatives such as building a circular economy which includes setting up waste heat recovery systems and recycling plastic waste into new energy sources to partly replace fossil fuel. Both companies are today water positive through our sustained efforts over the years.
We have also pioneered the use of bio-fuel in our captive cement transporting ships, which successfully completed the trial runs earlier this year. Our Geocycle brand provides safe waste management solutions by co-processing alternative fuels and raw materials in the cement manufacturing process, thereby conserving traditional fuels and raw materials. ACC and Ambuja Cements are well-positioned in terms of access to technology, knowledge/skills, leadership and capital that will be needed to create a more sustainable future in terms of products, processes and their impact on the environment as a whole. Our aim is to become the most environment-friendly and sustainable building solutions providers in India."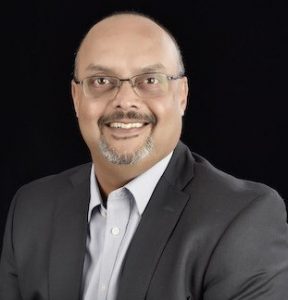 Ramesh Kalanje
Vice President, Centre of Excellence, Commvault
"The pandemic has been a wake-up call for us to examine our actions with the lens of sustainability and mindfulness. While we are making great strides in digital advancements, we also need to be conscious of our efforts in the reduction of greenhouse gases and overall carbon footprint.
At Commvault, we recognise that responsible production and consumption extend beyond physical realms, into the digital world. We are working with our partners and customers to increase the responsible management of data and reduce the environmental impact from data storage, mobility to the use of data. With initiatives such as, South Pole Energy Challenge (SPEC) and United Nation's Business Avengers, we also continue to establish, foster, and evangelise best practices in data management, helping companies use data to think 'green'.
This Environment Day, let's reinforce our commitment to responsibly manage the social, environmental and economic effects of our business. Businesses must embrace sustainability not just as a regulatory requirement, but as a business driver for a healthier and greener future for all."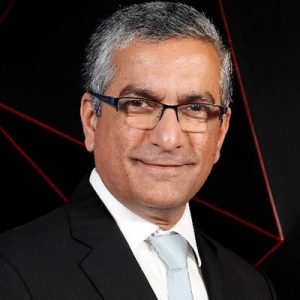 Ramesh Ramadurai
Managing Director, 3M India
"June 5th is World Environment Day, which also marks the official launch of the UN Decade on Ecosystem Restoration, a 10-year push to halt or reverse the decline of our environment. While years of degradation cannot be undone, we can take action to ensure we do not leave nature behind as we progress. This year World Environment Day calls for action to restore our ecosystems like farmlands, lakes, rivers, forests, which are all crucial to our society, providing life-sustaining resources like water and food.
3M's recent environmental goals around carbon neutrality, water use, water quality and plastic use are significant commitments our company is making to help prevent devastating climate change. You can read more about 3M's sustainability progress in the 2021 Sustainability report which was launched in May.
The pandemic has also brought greater attention to sustainability issues, with a focus on making more sustainable lifestyle choices. There is a lot one can do in our daily lives to bend the curve of environmental degradation. Nature needs our attention. This World Environment Day, commit to making more room for nature to thrive."
Agendra Kumar
Managing Director, Esri India
"We are already experiencing the effects of climate change, urbanisation and loss of biodiversity in forms of increased and large scale events like cyclones, floods, draughts and forest fires. We are living in a highly interconnected world. Spatial thinking is essential for us to understand the causes and magnitude of these challenges, act to recover, and preserve the delicate balance of our natural & man-made environments for sustainable existence. GIS (Geographic Information System) has been the core technology behind many programs focused on river rejuvenation, forest management, ocean conservation and more. GIS knowledge and geospatial infrastructure provide valuable insights for better understanding, collaboration and timely decisions for restoration of our ecosystem and sustainable future."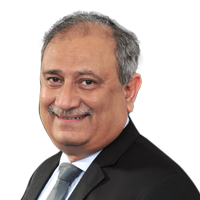 Sanjiv Paul
Vice President, Safety, Health and Sustainability, Tata Steel
"The magnitude of the environmental challenges we are facing globally is going to need an all-hands-on-the-deck approach to create a more sustainable future. Every stakeholder in this conversation has an important role, including national, state, and local governments, academia, NGOs, businesses, media, and most importantly communities, who are the most important part of this large social fabric. This also has to be understood as a challenge that is not restricted by sovereign borders or our political and social differences. Once we understand this, we will be naturally driven to seek a collaborative approach towards bequeathing a better planet for our children. It is in this light that we must see the UN Environment Programme's campaign – Reimagine, Recreate, Restore – that hopes to reverse the degradation of our ecosystems as a new and enduring idea that sees the status quo as the only impediment that stands between us and a sustainable future."
World Environment UNEP Recognises Shri Ram Chandra Mission (Heartfulness Institute) for its Contribution to the Climate Action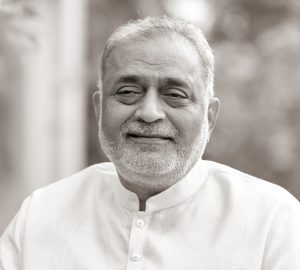 United Nations Environment Program (UNEP), under its Faith for Earth and United Religions Initiative (URI), has recognised the Shri Ram Chandra Mission (Heartfulness Institute) for being champions of sustainability and environment conservation. President of Shri Ram Chandra Mission and Founder of Heartfulness, Kamlesh D Patel (Daaji), was felicitated as Faith for Earth Councilor for Climate Action – Ecosystem Restoration, for the year 2021-2022. Shri Ram Chandra Mission (Heartfulness Institute) was recognised for its ambitious initiative Forests by Heartfulness, an extensive outreach program towards afforestation, biodiversity and ecosystem restoration.
Each year, the UNEP Faith for Earth Initiative recognises significant contributions towards the cause of sustainability and environment conservation in areas such as clean water, climate action, ecosystem restoration, sanitation, responsible production and consumption etc. Through this initiative, UNEP aims to encourage and engage with faith-based organisations as partners, to achieve the sustainable development goals (SDGs) by 2030.
The Forests by Heartfulness initiative is a massive pan India green movement to revive and propagate India's Mega biodiversity by planting 30 million native and endemic species across India by 2030. Shri Ram Chandra Mission (Heartfulness Institute) has also established nurseries in 18 cities across India for this cause. Through its environmental wing and 30 years of forestry experience under its belt, Heartfulness curated a team of experts to analyse forestry models, irrigation practices, water treatment practices, and models to regenerate degraded lands, to ensure truly sustainable methods for this drive. The long-term vision for the Forests by Heartfulness initiative is to partner with citizens, NGOs, youth organisations and farmers to create a green movement across India.
Addressing the audience at the UNEP felicitation ceremony, Daaji said, "The core of Heartfulness is built on sustainability, balance and simple living for the betterment of humanity. As we bring sustainability into our environments, it's important to note that Inner pollution of the psyche defined as vrittis in Sanskrit by Sage Patanjali is the root cause of all pollutions. Along with the SDGs by UNEP, I recommend adding zero thought pollution as a crucial goal for 2030 to achieve harmony and peace in the world."
To celebrate World Environment Day 2021, Shri Ram Chandra Mission (Heartfulness Institute) has initiated a movement called 'It's Forward into Nature' to raise awareness on environment conservation among the youth. Shri Ram Chandra Mission (Heartfulness Institute) celebrated a virtual green awareness week which included nature art competitions, featured balcony gardens, shared home composting stories, nature storytelling activities, and a virtual forest walkthrough. The awareness week celebrates those who took their first steps to bring nature into their homes. Gardening and spending time with nature has been a welcome respite for many during the pandemic and lockdown situation.
The Heartfulness Green movement envisions model spaces, where humankind and nature can co-exist in harmony, where humankind is able to learn from nature, integral to its balanced evolution. In 2017, Heartfulness established the Green Kanha Movement, at their spiritual retreat centre at Kanha Shantivanam in Hyderabad. Heartfulness restored a dry barren land into a lush green space, that is the world's largest meditation centre today. The organization is actively championing and working towards the UN sustainability goals for 2030, across all its global centres, in 160+ countries. 
FedEx Express Donates to Environmental NGOs Chosen by Team Members
As part of the FedEx Priority Earth Global Grant Program, thousands of FedEx team members selected 12 nonprofits from across the six international regions in which FedEx operates. Each is awarded a $50,000 USD grant, for a total FedEx investment of $600,000 USD toward green solutions:
"FedEx has set ambitious goals to reduce our footprint where we have the greatest environmental impact. Working alongside nonprofits and investing in their efforts is a critical part of the company's strategy to drive the action and innovation needed to make a difference in our world," said Jack Muhs, Regional President for the Middle East, Indian subcontinent and Africa.
United Way Mumbai supports multiple environmental sustainability projects, including urban afforestation, protecting mangroves, and watershed development. Their programmes support the efforts of local civic bodies and involve community members in environmental protection.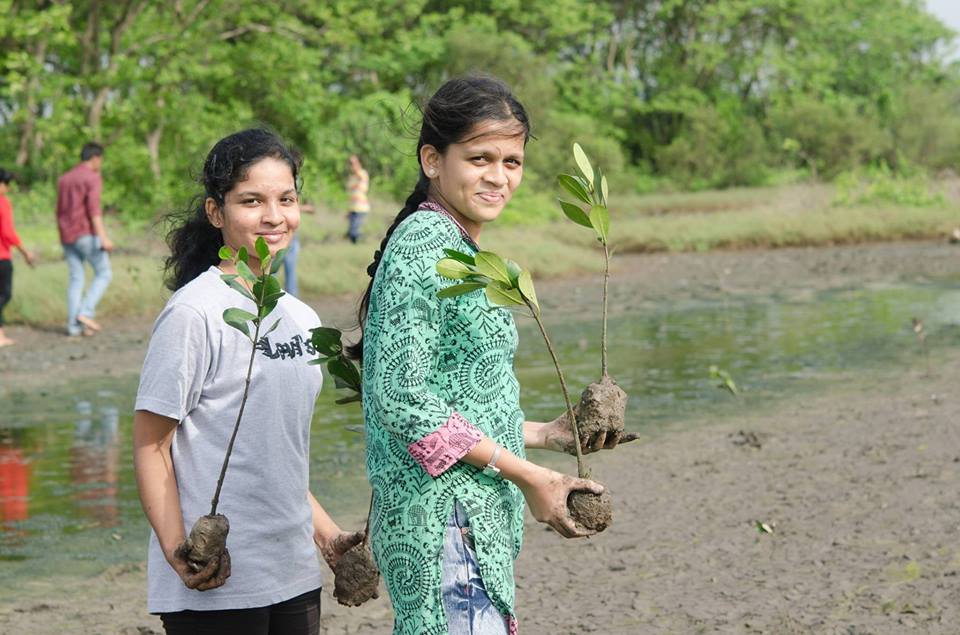 "The support from FedEx will help United Way Mumbai plant and maintain mangrove saplings in degraded wetlands in Mumbai. It will also support efforts to clean and maintain our beaches and reduce marine pollution. We are grateful for this support and know that it will contribute to lasting change in our communities," said George Aikara, CEO, United Way Mumbai.
Solar Sister supports the environment through the creation of green energy and women-driven businesses that provide power in areas that still do not have electricity. Funding will provide a comprehensive package of support, training, and services to create a larger network of women to bring clean energy technology to remote communities in rural Africa.
"We are so grateful to FedEx for sharing our values and our vision to create a lasting impact toward a sustainable future. Investing in women's enterprise in off-grid communities is a key part of the solution to the clean energy challenge. The support from FedEx will help to scale our model to more communities in sub-Saharan Africa, multiplying the impact that we have on women entrepreneurs, their families, and their communities," said Katherine Lucey, Founder and CEO of Solar Sister, Inc.
This new investment as part of the Priority Earth Global Grant Program aligns with ongoing collaboration between FedEx and organizations that are leading the development of innovative solutions to address climate change. It follows the commitment FedEx made earlier this year to achieve carbon-neutral operations globally by 2040.
To learn more about FedEx Cares, visit fedexcares.com.
Tata Chemicals Kicks Off Sustainability Month With Plantation Activities
World Environment Day is observed each year on 5th June to engage businesses, governments and citizens to address environmental challenges. Tata Chemicals with its long-standing commitment to environmental protection and ecological conservation celebrated World Environment Day with a series of plantation activities in Mithapur.
In line with this year's theme of 'Ecosystem Restoration', Tata Chemicals has initiated a dry deciduous forest development project which will be spread over 25 acres. As the Company has always prioritised employee wellbeing and safety throughout the pandemic, this project got off to a symbolic start with a total of 21 saplings of local species being planted, the remaining areas would be covered in a phased manner.
The month of June is celebrated as Sustainability Month across the Tata Group and as part of this initiative; Tata Chemicals will be conducting several programmes such as quizzes, contests, webinars, and pledges by employees and other stakeholders to protect the environment.
The Company has taken up several plantation initiatives for the development of open scrub forest, for coastal sand dunes stabilisation through the reintroduction of indigenous flora species, and grassland development. As part of this initiative, mangrove plantation for rehabilitation of tidal mudflats will also be the focus with plantation of 50,000 seedlings of Avicennia marina species during the current year. A total of around 10,000 trees saplings of dry deciduous forest species will be grown at Mithapur over the next two years.
A study of the dry deciduous forest species to be found growing at the two wildlife sanctuaries in the region – i.e. the Barda Sanctuary and the Gir Sanctuary was conducted. It highlighted the species that can survive the climatic conditions at Mithapur. Basis the study these species were considered for the plantation drive.
Some of the tree species that were propagated included Khakhar (Butea monosperma), Umro (Ficus racemosa), Vad (Ficus bengalensis), Jambun (Syzygium cumini), Karanj (Pongamia pinnata), Pangaro (Erythrina variegata), Kotha (Feronia elephantum), Tamarind (Tamarindus indica), Ber (Zizyphus mauritiana), Gundi (Cordia monoica), Ragat Rohido (Tecomella undulata), Savan (Gmelina arborea), Ingoriya (Balanites roxburghii), Bili (Crateva marmelos), Garmalo (Cassia fistula), Piloo (Salvadora persica), Neem (Azadirachta indica), Rayan (Manilkara hexandra), Goras amli (Mimosa dulcis), and Timru (Diospyros melanoxylon). 
Alka Talwar, Head – CSR & Sustainability, Tata Chemicals said, "We have been strongly advocating zero harm to the environment, and ensuring ecological restoration and protection as one of the key pillars of our corporate focus. As part of our sustainability initiatives, we run multiple biodiversity conservation programmes like recovery of coral reef, the whale shark project, mangrove plantation, rejuvenating indigenous flora and fauna, and environmental education sessions. We dedicate the month of June as the Sustainability month across the Company locations and all our employees take active participation in the activities planned. We aim to continue our momentum to create a positive impact on the environment."
Tata Chemicals' Whale Shark project focuses on its habitat study and research on migratory pattern and breeding biology. Since its inception in 2004, the project has successfully rescued and released 813 whale sharks till date.
Its coral reef restoration project, which began in 2008 is focused on mapping the biodiversity and the boundary of the Mithapur coral reef. The project has been instrumental in the creation of 3,149.6 sq. m of additional hard surface area in the form of artificial reef structures. The restoration of Mithapur reef will aid in strengthening habitats and in the enrichment of marine species, thus helping the sustenance of biodiversity of the marine sanctuary protected area.
Tata Chemicals will continue its focus on biodiversity conservation and will accelerate its initiatives to recharge and restore the ecosystem. 
Chalet Hotels Ltd. – Hospitality Industry's Role in Reducing Environmental Impact Through Sustainable Energy Practices
As Benjamin Franklin once said, "When the well's dry, we know the worth of water." No business ecosystem is more crucial than the elements of nature itself. World Environment Day marks the annual celebration created to raise awareness and actions to safeguard the environment. As per the United Nations, the theme for the day this year is ecosystem restoration that aims to spread awareness and encourage citizens to develop a sustainable ecosystem through greener cities and conscious consumption habits amongst each individual and the organization to resettle the relationship with nature.
The tourism sector is a broader ecosystem that encompasses businesses such as hotels, airlines, restaurants, transportation, entertainment, and several other industries engaged in supporting travel, lodging and food service. As per UNWTO, tourist transportation accounts for an estimated 75 per cent of total tourism emissions, accounting for 5 per cent of all manufactured emissions and more than 20 per cent of all transport-related emissions. The COVID-19 pandemic has compelled the tourism industry to refocus on resiliency, sustainability, and interconnectivity among varied stakeholders. As a result, worldwide trends such as clean energy, green architecture, and sustainable waste management reflect today's environmentally conscious travellers' consumption patterns. In 2021, it is crucial to promote the hotel industry's significant role in lowering the carbon footprint. It includes adapting to practices and values that encourage waste removal, increasing reusable energy, and discarding hazardous products.
Smart and optimised energy consumption: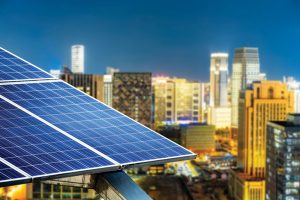 The "new normal" has made it vital for hotel operators to review costs and explore innovative solutions not only to reduce energy & water consumption but also to work towards sustainable development. Hotels are introducing innovative tools like predictive guest room technology, smart lighting technology, AI and data-driven solutions, and green infrastructure to reduce energy consumption, thereby enabling them to lower operating costs considerably.  At Chalet Hotels, we have taken several steps towards lowering our energy consumption, and we source the bulk of our power from renewable sources. Several initiatives have been launched to reduce our energy consumption; our HVAC plant rooms have incorporated additional measures like high-efficiency chillers, inline pumps, and low approach cooling towers with variable frequency drives with plant room optimizers for lower energy consumption. As a result, consumption of HVAC plant rooms reduces by more than 15 to 18 per cent. Notably, 51 per cent of our electricity was sourced from non-fossil fuel-based sources in FY 2021.
Effective waste management and water management systems:
As part of our commitment to achieve our overall sustainable goals, we focus on alternative solutions and breakthrough innovations to reduce single-use plastic consumption. Our team is working hard to reduce the carbon footprint through more green practices, which can still be effective in most business aspects even during the challenges resulting from the global virus outbreak.
Prioritising lowering water consumption at hotels has become a norm. Some of the initiatives that our hotels have undertaken are limiting water consumption and reducing wastage through aerators in taps, custom-designed shower heads in guest bathrooms, installing waterless urinals, sensor-based washbasin taps and drip-irrigation systems. Chalet Hotels follows a zero-discharge policy, and the wastewater is recycled through the STP plant and further treated with Ultra Filtration plants. This process enables us to use the treated water for horticulture and flushing systems and chiller plants. Rainwater harvesting and recharging groundwater is a standard practice followed in Chalet hotels.
Engaging guests and employees: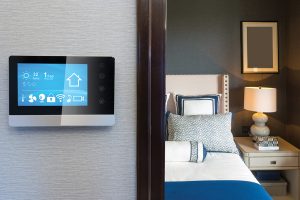 Hotels need to engage their guests through messaging and integrated service platforms about the initiatives undertaken for environmental causes and contribute to this cause during their stay. From an operational perspective, significant measures to train and educate staff about best practices. At Chalet Hotels, we continuously train and educate our staff on the need to conserve energy and the importance of working towards a sustainable future. We realise that effective communication and engagement with our guests and staff are important, and everyone needs to participate if we want to build a sustainable future.
Some straightforward policies implemented across our hotels encourage guests to opt-out of daily bed and bath linen change and replace individual one-time-use plastic water bottles with water dispensers during banquet events. We are also exploring installing water bottling plants at our hotels, which will use reusable glass water bottles and enable us to reduce consumption of single-use plastics further.
Sustainable Development is one of the core values at Chalet Hotels Ltd., and we focus on growth tempered with respect towards the environment and the local communities. I truly believe that the hospitality industry realizes the value and need for protecting the environment and needs to be a trendsetter in sustainable development. 
CSMIA's Environment Initiatives Paves Way for a Greener Tomorrow
Motivated by the sustainable growth achieved through creating a positive impact on Social, Environmental and Economic aspects of society, Chhatrapati Shivaji Maharaj International Airport (CSMIA) has focused on launching numerous initiatives in areas of education, health, environment and women empowerment amongst others. This World Environment Day, CSMIA enjoys the success of its environmental initiatives including the treatment of organic waste generated at the airport to organic compost, becoming a single-use plastic-free facility, afforestation projects, conservation of water and optimal use of resources.
With a focus on minimising the impact of its operations on the environment, Chhatrapati Shivaji Maharaj International Airport (CSMIA) has recycled the waste generated at the airport and converted organic waste into compost. At CSMIA, environmental responsibility is an intrinsic concept, and the airport puts all its efforts into a greener and better tomorrow. Since the introduction of CSMIA's Organic Waste Converter (OWC) unit in February 2016, the airport has treated over 1172.4 MT of food waste and generated approximately 662.2 MT of compost as of April 2021. Furthermore, on October 2, 2019, CSMIA became the first airport in India to achieve a 360-degree ban on single-use plastic within its premises with the support of its stakeholders. Looking to further its environmental goal, the airport has also explored the installation of PET bottle recycling machines at its terminals to promote the recycling of plastic waste.
Keeping Environment Management & Compliance on high priority, CSMIA is committed to its goals of operating a sustainable and best-in-class facility worldwide. In sync with the global vision of increasing green cover, CSMIA has adopted 3 acres of degraded forest land in Rabale, Maharashtra, and has been conducting tree plantation drives to revive the forest. The tree plantation activity by CSMIA was first conducted in 2016-17 and has achieved, through employee participation, the plantation of around 1560 saplings in the 3 acres to convert the land into a much-needed green lungs for the city. Furthermore, to ensure that the planted saplings are taken care of, CSMIA partnered with a local NGO to maintain and nurture the plants regularly. With CSMIA's continuous monitoring of the activity, it has witnessed over a 90 per cent survival rate of the planted saplings. CSMIA is proactively involved in taking concerted efforts towards sustainable development through various programmes for a greener future.
As a crusader to promote a green and sustainable environment, CSMIA has undertaken numerous pioneering and impacting measures. The airport has always focused on carbon-neutral growth, energy savings, and emission reductions as part of integrating climate action within its operational agenda. CSMIA keeps up its commitment of being a Carbon Neutral Airport through various proactive initiatives such as achieving ACA Level 3+ 'Neutrality', the highest level of accreditation prior to December 2020, which is valid up to May 16, 2022. Recognising the climate change impacts, CSMIA is also working towards aligning its operations with IPCC 1.5℃ to 2℃ pathways, ultimately aiming to be a Net Zero airport in the near future.
Over the years, the airport has introduced various significant measures towards energy consumption such as replacement of machinery like motors, pumps and fans to name a few with energy-efficient equipment, conversion of conventional lamps to LEDs, incorporation of new designs in infrastructure and technology amongst many others. Furthermore, CSMIA has also delved into initiatives in optimizing the use of renewable energy. Being a space-constrained airport, CSMIA has strategically installed solar panels on its rooftops that generate about 5 per cent of the airport's total energy consumption. Overall, the airport's existing initiatives have led to a 44 per cent increase in the generation of renewable energy so far and CSMIA continues to explore further avenues to expand its reliance on green energy.
CSMIA has also made numerous overtures to reduce its consumption of freshwater including the continuous recycling and reuse of treated wastewater, rainwater harvesting, and drip irrigation to name a few. CSMIA also implemented measures such as the installation of waterless urinals at the airport to conserve water and reduce wastewater generation. The airport was recognized by Airports Council International (ACI) at the esteemed ACI Asia-Pacific Green Recognitions 2019 for its sustainable water management approach and continuous commitment to explore and promote opportunities towards environmental-friendly practices.
Being situated in the heart of one of the busiest metro cities in the country, CSMIA has always undertaken efforts to minimize its impact on air quality levels due to operational activities by adopting various initiatives. The airport has installed 2 Continuous Ambient Air Quality Monitoring Stations (CAAQMS) to monitor the air quality at all times. CSMIA is also working with its stakeholders and provides support in the exploration of methods to reduce the adverse impact on the ambient air quality. CSMIA is also working on setting up an airport noise zone to provide airport-specific noise standards to be maintained by all aviation stakeholders to reduce its impact on areas surrounding the airport.
The efficient green practices adopted by CSMIA make it one of the most sustainable airports globally, providing the best for its passengers today while striving for a sustainable tomorrow. Furthermore, the airport has also worked towards the implementation of its measures through the optimal use of its existing resources. CSMIA conforms to the highest safety and security standards through its efficient and easy-to-use facilities exceeding customer expectations while simultaneously creating value for its stakeholders.
Vedanta Rolls Out Vedanta Cares Green Cover Initiative
Vedanta, one of the world's leading Oil & Gas and Metals companies, will launch a mega green cover initiative to commemorate World Environment Day.
As part of the Vedanta Cares Green Cover initiative, which will be virtually inaugurated by Vedanta Chairman Anil Agarwal, the company's employees and business partners will be able to register on its microsite – the Vedanta Cares Plantation portal – to plant a sapling to celebrate their dear ones who have recovered from COVID-19.
More than one million trees will be planted through the Vedanta Cares Green Cover initiative, which will be rolled out across the company's business locations. The plantation drive is an expression of gratitude for the countless gifts we receive from Mother Earth. The company had planted around 1.2 lakh trees in 2020-21.
Vedanta Group CEO and Chief Safety Officer Sunil Duggal said: "Vedanta Cares Green Cover initiative is a significant step towards our larger goal of `Zero Harm, Zero Waste and Zero Discharge' across all its operations. In the days ahead, Vedanta will continue to drive inclusive growth, focus on responsible mining and develop robust ESG risk mitigation plans. We have adopted carbon reduction goals in line with the Government of India's Nationally Determined Contributions (NDC) and are fully committed to building an Atmanirbhar Bharat in an environmentally responsible manner."
Vedanta has been at the forefront of sustainable practices and is leveraging new technologies to safeguard the environment and communities. Guided by the philosophy of `Zero Harm, Zero Waste, Zero Discharge', Environmental, Social and Governance (ESG) practices are at the heart of Vedanta's operations which are focused on delivering sustainable and responsible growth thereby creating value for all stakeholders.
Vedanta is committed to substantially decarbonise its operations by 2050, after voluntarily pledging to move towards carbon-neutrality earlier this year. Vedanta has re-constituted the 'Carbon Forum' – the company's apex body on climate strategy – to help steer the group towards a less carbon-intensive way of operating.
Vedanta is also focused on effective water management and has saved 7.5 million cubic metres of water over the past three years.
The company plans to substantially reduce waste generation with a total waste recycling at 94 per cent. Each facility plans to incorporate Biodiversity Management Plans (BMPs) into development processes to address and monitor biodiversity impacts.  Fly ash management will be a strong focus for the company as they initiate a detailed assessment of the environmental risks.
Vedanta is aligned with the recommendations made by the Task Force on Climate-related Financial Disclosures (TCFD) and is collaborating with the TCFD to develop good practices and standards for transparency. The company has released its maiden TCFD report this year, which is the first by an Indian mining and metals company.
The company is recognised globally for its sustainability initiatives. The company's Dow Jones Sustainability Indices (DJSI) ranking in the metals and mining sector globally has risen to #12 this year, as against #21 in 2019. Hindustan Zinc and Vedanta have topped the DJSI rankings in the Asia Pacific region this year.
Embassy Group Leads Sustainability Vision, Data Shows Impact of Green Initiatives Undertaken
Embassy Group, one of India's leading real estate conglomerates, on the occasion of World Environment Day, has shared its best practices that are helping the company reduce carbon emissions. Embassy Services, the facility management arm of the Embassy Group, shared data on the impact of sustainable steps taken by the company. Initiatives such as Ecogram, EcoShakti, Urban Green, and Green Riders are creating the benchmark for eco-friendly operations.
The data shared by the company reveals that, since 2017, the Embassy Group has reused over 16,20,800 KL of treated water for flushing, gardening and ancillary purposes, resulting in an approximately 45 per cent reduction in raw water consumption.
Apart from water conservation, the company is equally inclined towards systemic waste management. The company recycles over 100 tons of wet waste that is generated every month and converted to over 30 tons of compost through vermicomposting and OWCs. Recently, Embassy Group funded a dry and wet waste collection centre in North Bengaluru that benefits over 18 villages under its Ecogram Initiative. For this project, the group has invested Rs 2.25 Cr. over the last four years. The initiative is also bolstered by the 'Ecogram Shakti Program' which empowers over 50 women from these villages to drive environmental sustainability in their communities.
Thoughtful of the need to keep the surroundings green and clean, Embassy Group has introduced a unique model of engaging employees in developing a sustainable ecosystem.  Under its Urban Green initiative, the company is promoting farming at the workplace. The company has over 1200 dedicated plots of land which can be adopted for a period of six months to grow organic vegetables. A team of experts provides necessary training and support to the employees to foster their zeal to learn sustainable farming. The Urban Green initiative yields up to 6,000 kg of vegetables annually.
Taking a step further into green practices and generating green energy, Embassy Group set up a solar power plant in Bellary that supplies close to 100MW to their three business parks across Bangalore.
Additionally, Embassy Group understands its responsibility towards its community and actively promotes carpooling to reduce traffic, noise and pollution generated from vehicles on roads. The carpooling initiative, Green Rider promotes business park users to carpool to the workplace. Through this initiative, the company has managed to reduce 544 tonnes of CO2 emissions with 22,00,000 km carpooled.
In line with this, Aditya Virwani, Chief Operating Officer, Embassy Group said- "Our aim is to create an eco-friendly environment that is driven by innovation and is the foundation to our business. While we work towards developing the country, we believe that our focus should continue on reducing carbon emissions and improving sustainability. At Embassy Group, we have always believed in creating environmentally friendly buildings. Most of our buildings hold Platinum certifications from LEED, British Safety Council, IGBC, etc. We are poised at continuing our endeavors to reduce carbon footprints and embrace greener communities."
Talking about the implementation of green practices at facilities, Pradeep Lala, MD & CEO, Embassy Services said, "As custodians of facilities since 1995, we bring forth deep technical expertise to implement sustainable measures for facilities and their assets. We support and execute the operations required to maintain environmentally certified and energy-efficient facilities. Compliance to these standards helps us further our goals and implement scientific practices that build sustainable ecosystems."