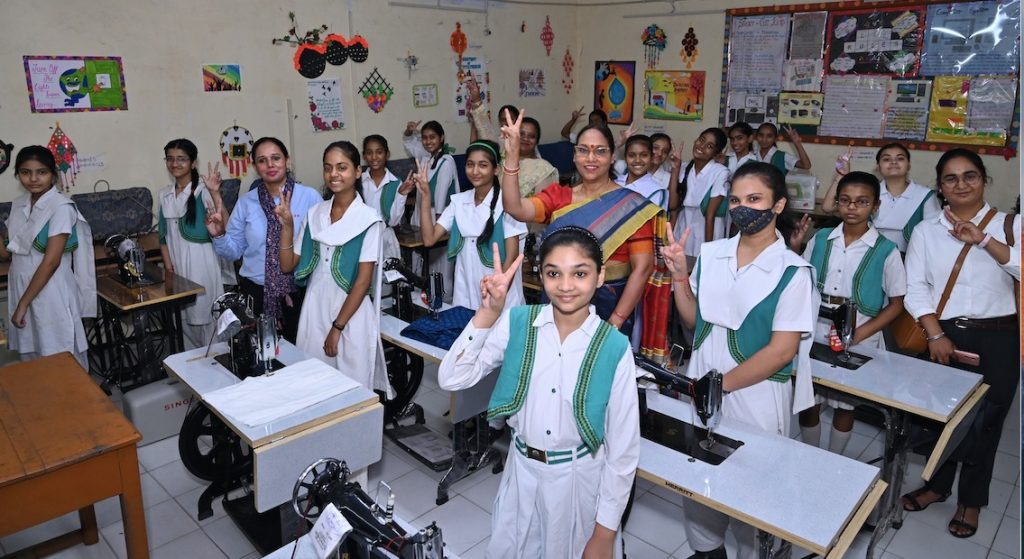 New Delhi: Omaxe Foundation and the Rotary Club of Delhi Lutyens took a significant step towards empowering students by distributing 25 sewing machines to Indraprastha Hindu Girls Sr. Sec School, Chandni Chowk (near Jama Masjid). The initiative aimed to enhance skill development and provide livelihood opportunities to students there. Many dignitaries and intellectuals, including Sushma Rohtas Goel, Chairperson of Omaxe Foundation, were present in the programme.
Sushma Rohtas Goel, Chairperson of Omaxe Foundation, expressed her enthusiasm about this empowering initiative and said, "Today it is a matter of pride for Omaxe Foundation that we are starting Singer Vocational Training for young girls in collaboration with Rotary Club of Delhi, Lutyens. We see this opportunity as a beginning because through this, these students will not only get perfection in new art, but their future will also be bright. Our aim is to encourage these girls to move forward at every step. Omaxe Foundation will be ready to contribute to all the students in future also."
While speaking during the event, Sushma Rohtas Goel announced that as soon as these students will be perfect in their craft, the Foundation will organise a competition at Omaxe Chowk, Chandni Chowk, and the winning student will be given a cash prize of Rs 10,000. She thanked all the guests who were the part of the event and encouraged the students in this new beginning."
The sewing machines were distributed in a special ceremony at the school premises. The event was graced by prominent personalities from the Omaxe Foundation, the Rotary Club of Delhi Lutyens, the school administration, and local dignitaries. The sewing machines will be a valuable asset for students, providing practical skills that can be utilised for personal use and potential entrepreneurial endeavours. This initiative aligns with Omaxe Foundation's mission to uplift and transform lives by promoting education, skill development, and socio-economic empowerment.