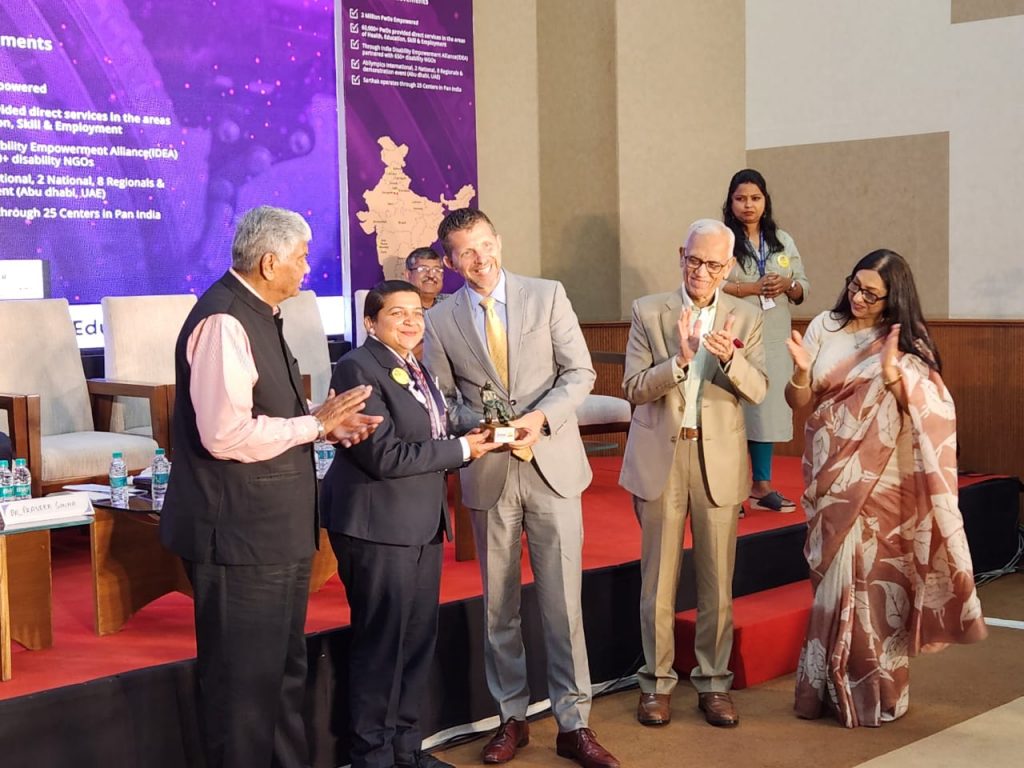 Mumbai: Sarthak Educational Trust, committed to empowering persons with disabilities, for the last 15 years, celebrated its 15th Annual Day in Mumbai on July 7, at the World Trade Centre, Mumbai. Based on the theme, 'Innovations for Disability Inclusive Development (InDID)', a day-long convention was hosted in Mumbai to create awareness on digital solutions, and innovations towards inclusive development of PwDs. As per Disability Statistics in India, there are 26.8 million Persons with Disabilities (Census, 2011).
The event was graced by Mike Hankey, U.S. Consul General, Mumbai, Dr. Praveer Sinha – CEO and MD of Tata Power Company Limited, Dr. Vijay Kalantri, Chairman World Trade Centre, Rupa Naik – Executive Director – World Trade Centre, Dr. Jitender Aggarwal – Founder and CEO, Sarthak Educational Trust, Krishan Kalra – President, NAAI and Former President, AIMA, Lov Verma – National Advisory Board Member, and Siddhartha Rastogi, Managing Director – Ambit Investment Advisors Pvt. Ltd.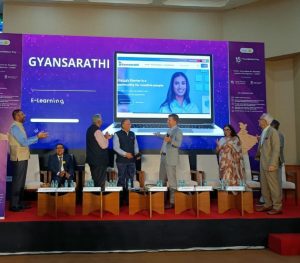 The highlight of the event was the launch of Gyan Sarathi, a pioneering, game-changing Ed-Tech platform for Persons with Disabilities. The eLearning platform for Persons with Disabilities aims to empower them to grow professionally and personally. The comprehensive digital platform, Gyan Sarathi comprises of curriculum which will be easy to use and learn for PwDs. Divided in five sections like Early Intervention, Skill Development, Inclusive Education, Employment and Changemakers. The online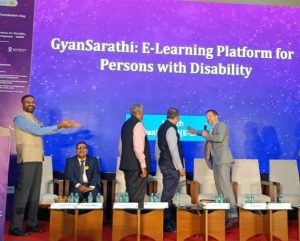 platform is fully WSCG accessibility guidelines compliant and will be highly beneficial to reach rural and peri-Urban PwDs as well as urban PwDs to ensure their trainings and enhancing possibilities of employment with corporate hiring partners and self-employment having specific sections for learners and trainers.
Dr. Jitender Aggarwal, Founder and CEO of Sarthak Educational Trust shares, "We started with the mission of inclusion and empowerment of PwDs. The ground-breaking Ed-Tech platform Gyan Sarathi aims to revolutionise the education system for the PwD population in the country with the teaching ecosystem it offers. This is a first-of-its-kind learning management solution for the PwDs across the globe. This Edtech solution will benefit not just the PwD populace in the country but also benefits  PwDs from developing countries, neighbouring countries as well."
Since its inception, Sarthak has reached out to more than two million people with disabilities and successfully placed 55,000+ PwD candidates in various sectors through its free-of-cost services and programmes.
"Our Vision 2027 includes empowerment of 10 million PwDs across India, sustainable employment and entrepreneurship for 0.2 million skilled youth with disabilities, expanding the CSO partner network under IDEA with 1000 partners; supporting organisations in 50 developing countries; state-of-the-art global resource centre in Gurugram and hosting the 11th International Abilympics in India in 2027," he added.
Mike Hankey US Consul General, said, "It is a great honour for me to be part of the 15th Anniversary Celebration of Sarthak Educational Trust. Thirty-three years ago, USA introduced the American Disability Act which has proved a positive first step in inclusivity. India is also gearing up to uphold the primary rights for PwDs, women and marginalised groups. In the coming 15 years, we look forward to normalise the provisions and conditions for Divyangjans in both US and India."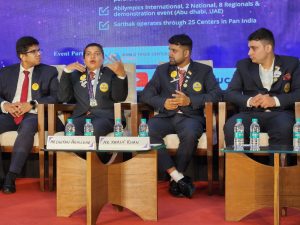 The Convention comprised of multiple panel discussions talking about previous achievements of the disability sector and the future roadmap for the next 25 years. Promoting talent through Abilympics, innovations for disability inclusive development: corporate and digital solutions for disability, reducing inequality through CSR, media and global initiatives were the key panel components.
Dr. Praveer Sinha, MD, Tata Power, shared, "The association between Tata Power and Sarthak Educational Trust goes a long way. At Tata Power, we believe that a sustainable business model is integral in our transformation journey, and with Sarthak, we are happy to have a partner with the right vision to execute our interventions for an inclusive society."
"Inclusion is a journey; it will keep growing each day.  Sensitisation of all the employees, job mapping, accessible tools, sign language and inclusion training every quarter are some of the measures taken to make an inclusive workplace," said Manisha Patil, Diversity Equity & Inclusion & Community Engagement Leader, Amazon, during the panel session – Reducing Inequality through CSR. The panel also addressed WFH opportunities for the disabled, job mapping, sensitisation of parents and more.
This year, India won seven medals in the 10th International Abilympics at Mets, France, in vocational skills competitions which are designed for persons with disabilities to showcase their talent. The event saw the winners being felicitated. Gold medalist Chetan Pashilkar, shared, "Don't hide your potential and your talent. Work hard, explore your potential and come forward."
Key milestones which Sarthak Educational Trust has achieved over the last 15 years of working in the disability sector in India include 50+ funding partners and 650+ partner NGOs. Sarthak is a pioneer in providing employment opportunities to Persons with Disabilities in India. Sarthak started from a single dental clinic of Dr. Aggarwal in Delhi, and today has a presence in 20 States with 25 centres pan India. It's Early Intervention and Inclusive Education programmes have rehabilitated 3400+ and 425+ children with special needs respectively, to mainstream schools. Since inception, it has been providing skill training and sustainable employment to PwDs through its Job Entrepreneurship and Empowerment Training programme.