Mumbai:  With an intent to include and embrace the passion and resilience of children and adults with special needs, leading business school, Bharatiya Vidya Bhavan's SPJIMR recently organised a unique online sports and cultural fest – 'Aasra', which witnessed a participation of nearly 150 people across different age groups.
Aasra, an annual sports and cultural fest organised by the Centre for Development of Corporate Citizenship (C-DoCC) of SPJIMR includes participants with autism; Downs Syndrome and people with disabilities (PwDs).
Development of Corporate Citizenship (DoCC) is a SPJIMR initiative conceived 25 years ago, that aims at engaging with social sector initiatives across India.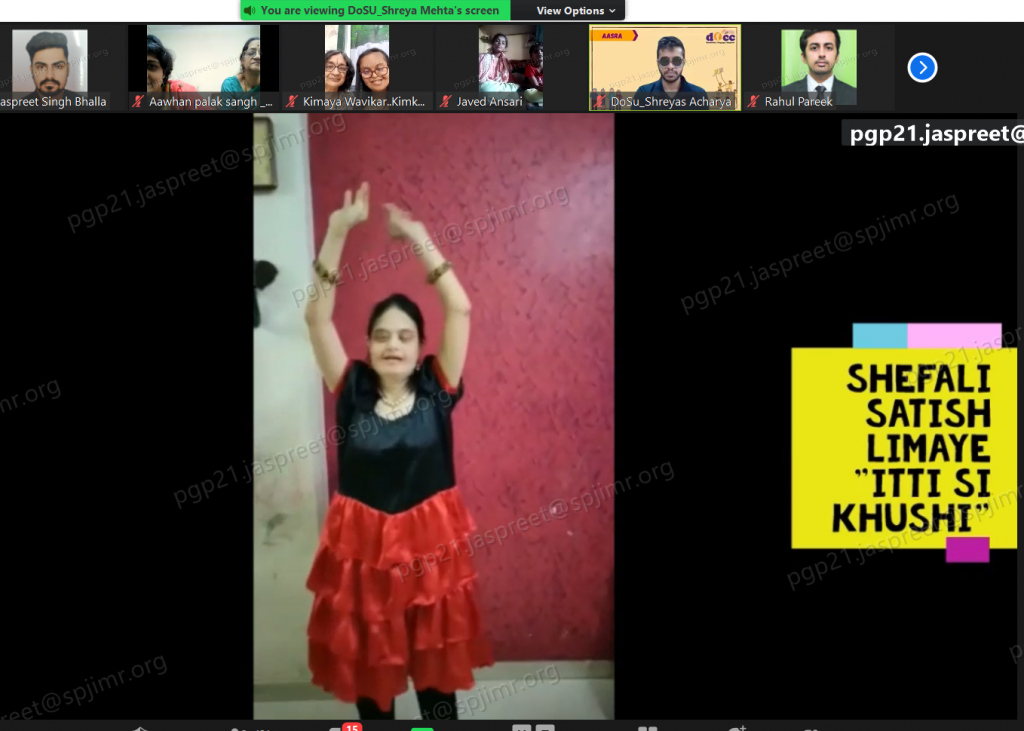 Over 150 participants from 11 non-profit organisations and schools from across Mumbai came together to celebrate life through sports and cultural activities with staff, faculty and students at SPJIMR. These included three organisations working with the elderly.
As a business school, SPJIMR holds a sports and cultural fest 'Sprint' every year where participants from other business schools participate. 'Aasra' is an endeavour to include, celebrate and embrace the passion and resilience of children and adults with special needs.
"Thinking through the pedagogy is an important component of the event. The organisers and schools brainstorm with the experts in the domain to work out the sports and cultural activities best suited for different abilities. Given the different mental age and skillsets of the participant's cultural activities are devised in conjunction with schools, experts and parents of the children," said, Dr Chandrika Parmar, faculty In-charge of Development of Corporate Citizenship (DoCC) at SPJIMR.
In the process, she said the DoCC team hoped to create a broader institutional and societal sensitivity and sensibility to designing and thinking about inclusivity in cultural and sports activities.
"It is a search for a different kind of dialogue between stakeholders and for a different understanding of innovation and its relation to responsibility," Dr Parmar added.
This year saw performances from participants from all age categories and games catering both to young children and senior citizens. One of the notable games involved the children showing off their acting abilities while the senior citizens had to try and guess the movie and the actor. The performance by the participants from Help Age India on 'Living in times of Corona' evoked a lot of response in chats and emoticons.
Throughout the event there were impromptu dance performances from all the kids led by SPJIMR's very own Rahul bhaiya- an MBA student of PGDM. The level of the entire event this was uplifted by the enthusiastic involvement of SPJIMR's partner NGOs – namely Punarvas, PNR Society, SNEH Foundation, Aawhan Palak Sangha, Help Age India, Nuzhat's Creations, Jeevan Sandhya Manglya Sansthan, KIMKAN, Parents of Down's Syndrome, C Sharp Special School and Community Aid and Sponsorship Programme.
The evening was interspersed by a plethora of fun games that lifted everyone's mood. The event concluded with a DJ performance.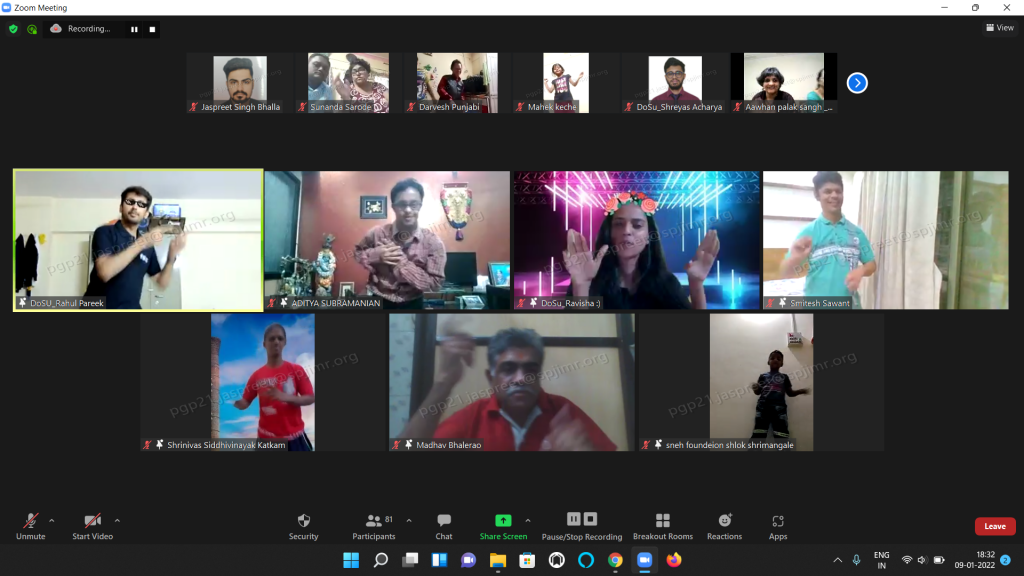 Sharing her views on the event, Dr Chandrika Parmar of DoCC also said, "The event planning, the socialization in run-up to the event, and the execution involves a wide variety of stakeholders. It involves, staff, students and faculty at SPJIMR; it also includes schools and NGOs working with special needs individuals;  family members and caregivers and professionals who work on inclusion. It also involves some CSR wings of corporates working with individuals with disabilities. The event creates a larger ecology of conversation and engagement on inclusion. This project, hence, looks at the silences of innovation in a different way."
She further said, "We are looking at the margins and exploring ways to make them part of the mainstream conversation. The event is about dignity, celebrating diversity, resilience and social sensitisation. It is also about building partnerships with organisations and individuals working in the space to make a difference. It is a transformative ritual, valued by both participants and organisers." 
Expressing his views, Shubhendu Tewary from the organizing committee said, "It was a wholesome experience to organise an event for such talented kids. I am glad to be a member of a committee and a student of a college that believes in inclusion and takes initiatives for the same."
Echoing similar sentiment Nikhil Vobbilisetty, PGDM Student at SPJIMR said, "It was extremely rewarding to watch kids with special needs and senior citizens get a smile on their faces due to the work our committee put. Felt like we're a part of something bigger."