Uttrakhand: Digital development enabler and facilitator to children's education in the rural areas of North India, Tarini Kapur, tied up with another government school and Panchayat Ghar in Naukuchital, District Nainital, for students' better access to modern education.
Tarini Kapur, under her landmark initiatives – Star in Me and It Takes a Village, will equip both the facilities with books, stationery, educational toys, STEM kits in Hindi and content developed under the Star In Me programme. Besides, as Tarini always envisions education as a wholesome learning experience that emphasises grooming skills that one receives as a cultural legacy, she will also conduct craft workshops under the Cone of Vision programme.
In the last two years, Tarini has equipped and revamped four public facilities with holistic educational resources and a wholesome learning environment. While briefing about the past and future activities, Tarini Kapur, said, "We have remodelled the four public set-ups into modern education facilities so far – two last year and two this year. We are planning to start two more centres soon – a government school and a Panchayat Bhawan of Noal Gaon. In addition, we are also having discussions with the authorities of a community cultural centre as a potential resource centre for local kids."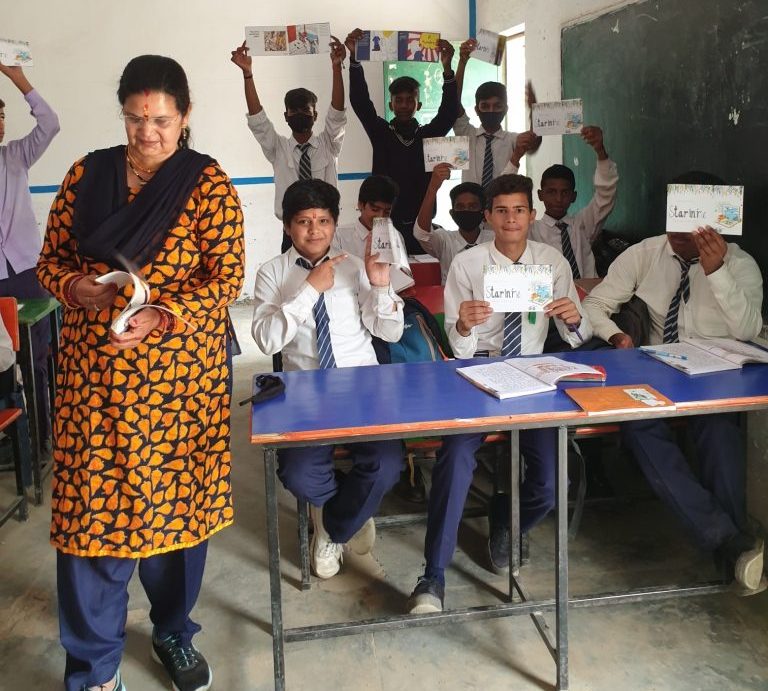 Tarini started helping underprivileged schoolgoing children in rural India through 'Star in Me' (YouTube Digital Library and App) to address the issue of the digital divide. This learning resource uses audio-visual learning modalities. Tarini has done over 1200 hand-drawn illustrations and used the vernacular Hindi narrative to teach children.  The App has been channelised through teachers of seven villages and over 40 NGOs have been contacted using the App with the students they are working with. Tarini's second educational-cum-social initiative is "It Takes a Village." In this project, Tarini mobilised local support and voluntary donations to set up the 'Panchayat Ghar' (facility for meetings of the village administration) as a Resource Centre in the village, equipped with furniture, books, a printer and copier facility, an electricity connection, smart tablets, etc.
Tarini has also supported village students through skill enhancement and craft-based programmes. Cone of Vision, a project she initiated, is based on skill development and self-sufficiency for students from Grade III to Grade XII. An innovative application of the indigenous AIPAN craft was envisaged on the locally abundant pine cones to develop urban-chic products with a great souvenir. To date, students have sold nearly 750 products, priced between Rs 200 to Rs 1800 at various tourist hotspots and hotels.