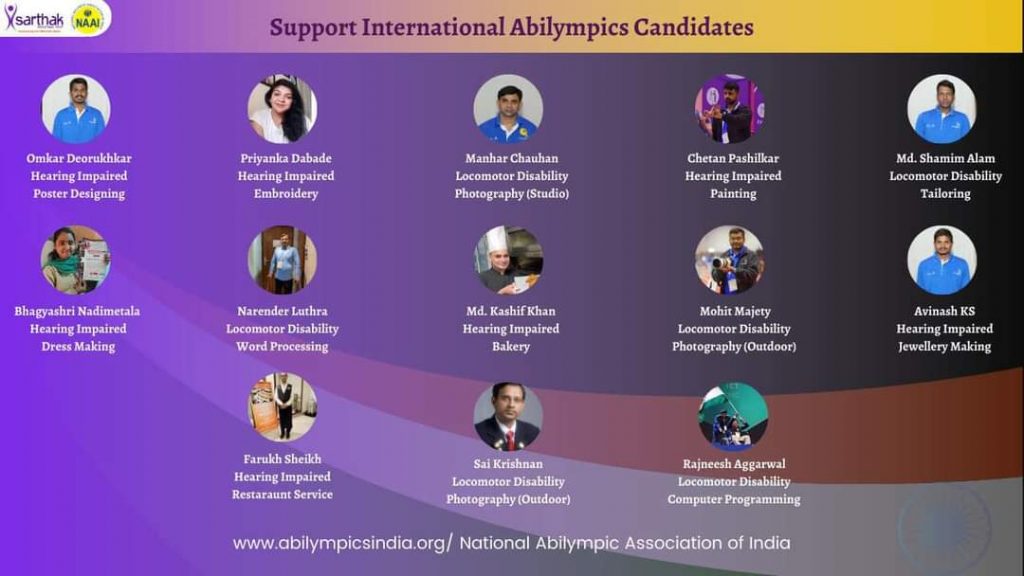 Delhi: Thirteen nationally selected persons with disabilities from India will participate at the 10th International Abilympics, the global skills competition for persons with disabilities in Metz, France scheduled from March 23-26, 2023. Representing India in the 12 Skill Categories, the contingent has entered the last leg of their practice sessions with multiple boot camps being held across the country. The team hailing from across the country will participate in select trades from overall 45 Competitive skill categories, under ICT, Crafts, Hospitality, Services, and Industry. The event aims to create public awareness and nurture the productive talent of persons with disabilities by providing them with opportunities to acquire and enhance their vocational skills to achieve economic independence.
Organised by the Abilympics France association in partnership with WorldSkills France, this major event will meet nearly 1500 participants from across the globe. Abilympics (Olympics of Abilities): a movement of 'Excellence in Skilling' comprises of vocational skills competitions, specifically designed for Persons with Disabilities (PwD), to screen and showcase the best talent in vocational skill categories like IT, Arts & Crafts, Hospitality and Services. The first Abilympics competition was held in Tokyo in 1981 to commemorate the United Nations' International Year of Disabled Persons (IYDP). Abilympics France is a non-profit association established in 2014. Its main role is to promote the participation of people with disabilities in skills competition in France and at the international level. The Abilympics skill competitions are held in skill trades, what the Olympic and Paralympic Games represent in sports.
Dr. Jitendra Aggarwal, Founder CEO Sarthak Educational Trust & Secretary General NAAI shares, "We are poised to promote Abilympics in the country and provide exposure and equal opportunities for disabled persons to advanced technologies in various vocational, leisure and living skills thus boosting their confidence as the Abilympics demonstrate the professional excellence of persons with disabilities in a competitive situation". Since 2016, National Abilympic Association of India (NAAI) and Sarthak Educational Trust have been jointly paving the way for more inclusive approach towards the cause of disability inclusivity by working closely with Government Agencies, Corporate Bodies, Civil Societies, and PwDs from rural and urban India.
The boot camps and training sessions are conducted across the country and several organisations and corporate have joined hands to train the participants. Painting, Embroidery training is been conducted at Lady Irwin College, Tailoring & Dress Making is held at ATDC, Gurugram, Poster Designing at SGT University, Gurugram, Bakery at St. Regis Hotel, Mumbai, Restaurant Service in Efcee Sarovar, Bhavnagar and more.
Hailing from Surat, Mumbai, Jabalpur, Vijaywada, Chennai, Pune, Mysore, Bhavnagar, Gaya and Chandigarh the nationally selected 13 talented PwDs are now gearing up to participate in the upcoming International Abilympics, scheduled in Mets, France in March 2023.  
In the past our glorious PwD achievers have brought laurels to our country, Rajneesh Agarwal from Jabalpur is one of them. Being wheelchair-bound didn't deter him from participating in Abilympics and his immense talent led him to win a silver medal for the country in the Web Development event in Bordeaux, France (2016), a special prize in Computer Programming in South Korea (2011). He also represented India in Computer Programming, in Shisuoka, JAPAN (2007).
Another multi-talented candidate, P. Sai Krishnan from Chennai, despite his locomotor disability, has made our country proud by winning a silver medal in Japan International Abilympics (2007) and followed it up by winning a Certificate of Appreciation (4th position) in the next International Abilympics (France, 2016), in the Photography skill category.
Participant Profiles, Category of Participation, Disability Details:
Manhar Chauhan from Surat, Gujarat is representing India in the category of Skill- Photography (Studio). Manhar Chauhan has 75 per cent locomotor disability. Manhar, after completing schooling in Surat, got motivated by his elder brother who is a professional photographer to take up Photography as a profession. And soon he realised his growing interest and passion in the field.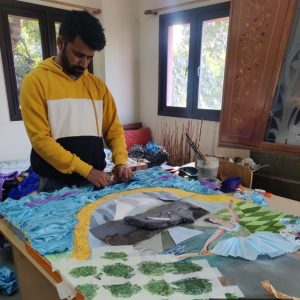 Chetan Pashilkar from Mumbai, Maharashtra is representing India in Skill Category – Painting & Decoration and his disability is hearing impaired. Chetan Pashilkar was born with complete hearing loss. During his special schooling in his early childhood, he had a knack to make sketches. He soon realised that it is more than just a hobby and he is gifted with the talent of arts. To learn more in the field and polish his skills, he completed his Masters in Fine Arts.
Priyanka Dabade from Mumbai, Maharashtra is representing India in the Skill Category – Embroidery. Her disability is hearing impaired. Priyanka Dabade's story is about a little girl who had to grow up quicker than many. When Priyanka was five years old, she lost her father. But with immense support from her mother, she developed amazing drawing and painting skills. And now, at the age of 22, she has completed a diploma in fashion design and even a degree in embroidery.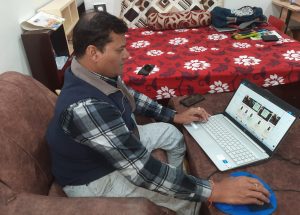 Rajneesh Aggarwal from Jabalpur (Madhya Pradesh) is representing India in the Skill Category – Web Designing and his disability is locomotor disability. Rajneesh Aggarwal is a man with a mission. Despite having a 90 per cent locomotor disability, he is pursuing his dreams. He completed his Bachelor and Masters in Computer Tech and Applications from SRIT, RGPV, Madhya Pradesh, and went on to become a web designer and coder.
Mohit Majety from Vijaywada, Andhra Pradesh is representing India in the Skill Category – Photography (Outdoor) and his disability is also locomotor disability. Having a Locomotor disability of 45 per cent, Mohit is a living example of not giving up during testing times. After completing his schooling, Mohit decided to pursue B.Tech from IIT, Kharagpur, where he realized his love for outdoor photography.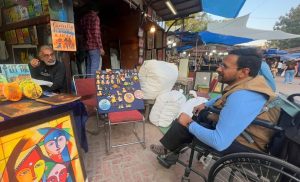 Sai Krishnan hailing from Chennai, Tamil Nadu is participating in the Skill Category – Photography (Outdoor) and his disability is also locomotor disability. P. Sai Krishnan has 80 per cent locomotor disability but right from childhood, his strong determination, and eagerness to learn and explore helped him pursue his dreams. Photography has always fascinated him as his father's younger brother was a photographer. While pursuing B.Sc in Physics and MCPS engineering, he started to work on his photography skills. 
Bhagyashri Nadimetala from Pune, Maharashtra is representing India in the Skill Category – Dress Making (Basic), and her disability is hearing impairment. Born as a healthy baby, Bhagyashri suddenly lost her hearing power due to an accident on her second birthday. As she grew up, she developed her interest and talent in art & embroidery. When she was in 10th Standard, she started learning at a local tailor and later did a professional course in the same. She pursued her Master's in Fine Arts with the support of her family.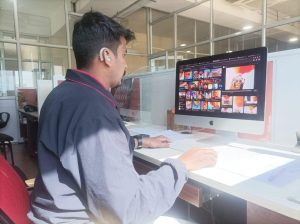 Omkar Deorukhar from Pune, Maharashtra is representing India in the Skill Category – Poster Designing. His disability is hearing impairment. Omkar was born with 100 per cent Hearing impairment but he never let it become his weakness. The supportive attitude of his family and friends from the beginning helped him to complete his schooling. While pursuing his Bachelor's degree in Fine Arts from Pune, he started learning to use various software and created and designed posters which was also a part of his professional requirement. 
Avinash KS from Mysore, Karnataka is representing India in the Skill Category – Jewellery Making at the International Abilympics. Avinash, a young man from Mysuru, India, was born with a hearing impairment. He has been using his hearing aid since childhood and has always been fascinated by the glittering windows of Jewellery stores. After school, he joined a jewellery design and technology course at JSS College in Mysuru and completed his diploma.
Farukh Shiekh from Bhavnagar, Gujarat is representing India in the Skill Category – Restaurant Service and his disability is hearing impairment. Due to poor financial conditions, he started his career as a Steward to stand on his own feet after passing 10th Standard. He was well supported by his managers and the training department of the hotel from the time he joined.
Kashif Khan from Mumbai (Maharashtra) is representing India in the Skill Category – Patisserie and Confectionery. Kashif has 99 per cent hearing impairment since birth. His family ensured that he completed his schooling despite limited resources. After completing schooling, he wanted to become independent and support his family. His determination made him realise his passion for baking. He started working in the bakery department of St. Regis Hotel, Mumbai and despite facing many problems since childhood he handled every situation like a fighter and achieved great success.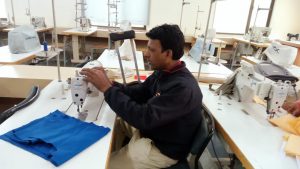 Md. Shamim Alam from Gaya, Bihar is representing India in the Skill Category – Tailoring. Shamim was born with locomotor disability, affecting 48 per cent of his legs. Despite this, his father guided and supported him through his studies. He completed schooling until 10th grade but had to drop out due to poor financial conditions. He then started helping his father with tailoring work at home.
Narendra Luthra from Chandigarh is representing India in the Skill Category – Word Processing. Narinder has locomotor disability of 80 per cent, but that has not stopped him from living his best life. His family has always been supportive, and this has allowed him to pursue his education at Punjab University and is now working successfully in the same university.