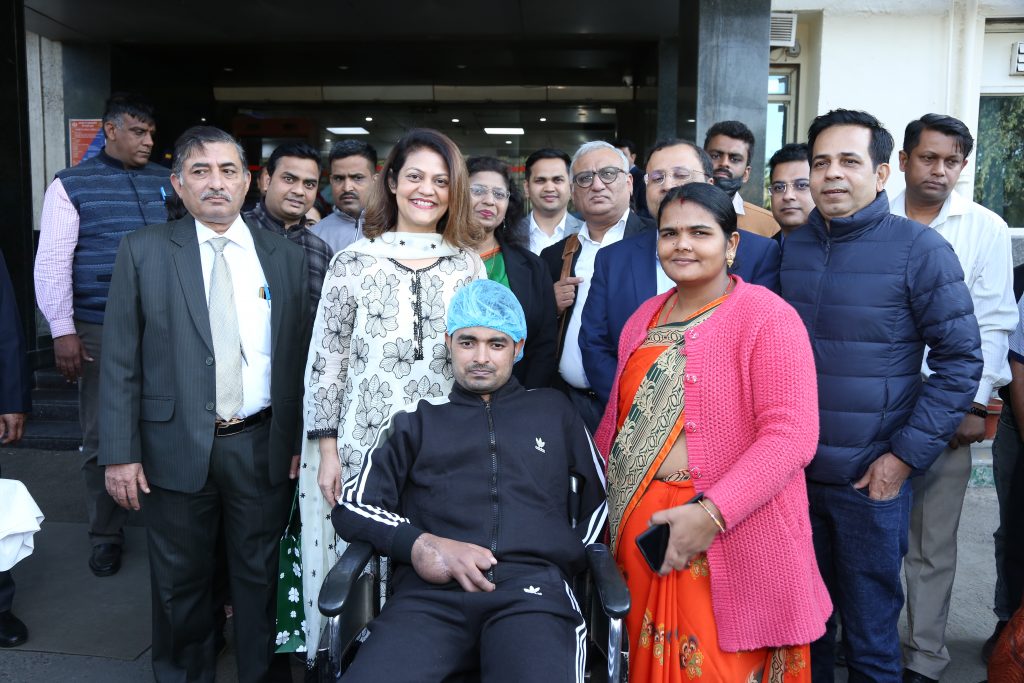 New Delhi: Religare Care Foundation, a charitable organisation formed by Religare Enterprises Ltd (REL). along with Sir Ganga Ram Hospital (SGRH) has given a new lease of life to Vinod Gupta, a daily wage worker from Sultanpur who lost one of his arms and legs in a potentially life-threatening and incapacitating accident.
Vinod was working as a daily wage worker in Sultanpur while supporting his six-member family which included his elderly parents, wife, and two young daughters. While working at a factory one day, he received severe burn injuries due to high-voltage electrocution. As a result, doctors had to amputate both his legs and one arm. The other arm was also badly injured and almost rendered non-functional as it was left with only two fingers and a thumb. A significant portion of his skull was also damaged. Following elementary care after the amputation, he was subsequently discharged from the hospital. However, this was just the beginning of his ordeal. Severe septicaemia developed in his amputated limbs, causing excruciating pain. It was a life-threatening condition.
The Foundation took full charge of rehabilitating Vinod and admitted him to Sir Ganga Ram Hospital. There he underwent multiple first-of-its-kind surgeries to restore his mobility in the right arm, to repair his skull and to heal his amputated limbs that developed severe septicaemia. Now recovered, Religare Care Foundation organised a send-off ceremony for Vinod in the presence of Dr Murali Manohar Joshi, Indian Politician & Former National President of Bhartiya Janta Party, Padma Shri Yogeshwar Dutt, Indian Wrestler and Olympian, Dr Ajay Swaroop, Chairman Board of Management, Sir Ganga Ram Hospital, Dr Rashmi Saluja, Executive Chairperson, Religare Enterprises Ltd and Dr Mahesh Mangal, Senior Consultant, Plastic & Cosmetic Surgeon, at Sir Ganga Ram Hospital recently.
Speaking at the ceremony, Dr Rashmi Saluja, Executive Chairperson, Religare Enterprises Ltd., said, "It is a momentous event for the Religare Care Foundation. It has supported the doctors at the hospital in achieving what seemed impossible till a few months ago. Vinod is now walking back home; a feat that was unthinkable when the Foundation admitted him here with severed limbs and a broken spirit. Seeing the smile on Vinod and his family members fills our hearts with pride. We, at the Foundation, are determined to see Vinod back on his feet, taking care of his family, and becoming 'aatmanirbhar' to fulfil the dreams of his daughters. We also appreciate the untiring efforts of the doctors and the hospital's support staff."
According to Dr Ajay Swaroop, Chairman of Board of Management, Sir Ganga Ram Hospital, "Our hospital has always been at the forefront for rehabilitation of the weaker section of society. Vinod Gupta is another example of our hospital putting its best efforts into this noble cause. Besides Mr Gupta, our hospital has admitted 9760 patients from economically weaker sections of society and treated them free of cost. An approximate amount of Rs 50 Crores has been spent in the last year on various charitable activities of our hospital. The motto of SGRH is to treat all with cutting edge expertise irrespective of cast creed or financial status."
Dr Mahesh Mangal, Senior Plastic & Cosmetic Surgeon, Sir Ganga Ram Hospital, who performed the surgery on Vinod, mentioned on the occasion, "It was a challenge to us firstly, in controlling the infections at various places, and secondly, the reconstruction of his right hand to make it a useful and functional hand. Despite the challenges, we achieved stable stumps and healthy wounds and successfully performed the microvascular surgery over the right upper limb which lasted for eight hours. Special credit to Dr Rashmi Saluja and The Religare Foundation, they whole-heartedly supported us in our endeavours. Dr Saluja personally took this upon herself to ensure that Vinod's mobility is restored and place him in a position where he can lead a normal life.  I would also like to thank my team who have relentlessly worked towards rehabilitating Vinod."
Yogeshwar Dutt, the Padma Shri awarded ace wrestler, and REL's brand ambassador, praised the Foundation's timely intervention, "Under Dr Saluja's guidance, the Foundation has been consistently providing timely and life-saving medical and financial interventions to help people in dire situations. I am proud to be associated with REL and wish the company more successful in their endeavour to bring succour to the needy."
The Religare Care Foundation further facilitated his post-surgical rehabilitation, which will continue after his discharge from the hospital. Vinod will start learning to walk with prosthetic legs and use a prosthetic arm.