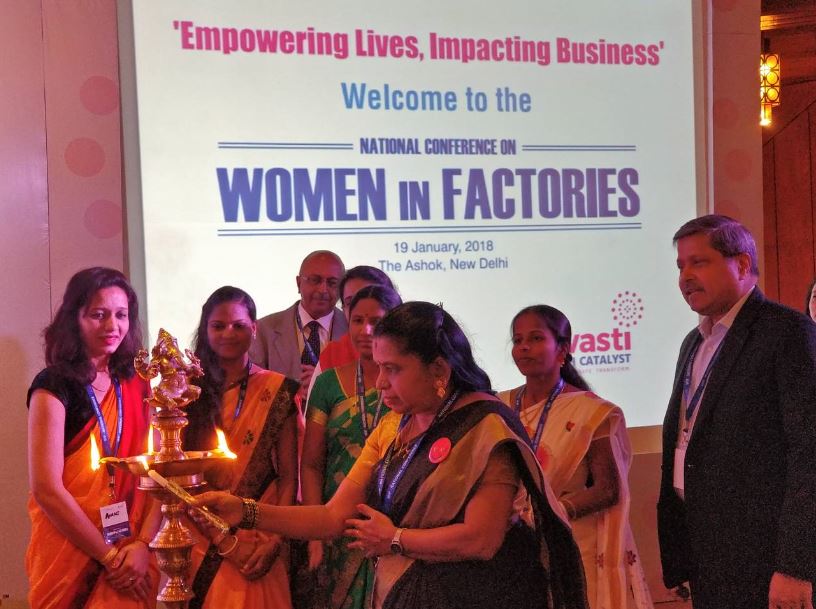 New Delhi, 19 January 2018: The Walmart Foundation and Swasti Health Catalyst announced over 26,000 (21,885 women and 4,137 men) workers in 34 factories in four States – Karnataka, Tamil Nadu, Gujarat, Punjab and the Union Territory of Daman – have been trained since the Women in Factories (WiF) programme was launched in 2011.
The announcement was made at the National Conference on 'Women in Factories' held in New Delhi. The training programme in India, which was launched by Swasti with funding from the Walmart Foundation, imparted critical life skills related to communication, balancing work and life, self-awareness, hygiene, reproductive health, occupational health and safety, identifying personal strengths, gender sensitivity and leadership skills.
Swasti also announced its intentions to develop and test approaches to scale up the training in life and work skills, working with facilities and brands, and to bring the training and results to more women and more factories. This work to support the embedment of training is made possible by a grant from the Walmart Foundation.
India is one of the countries covered by the global Women in Factories programme which exceeded its goal to train 60,000 women in 150 factories by training more than 128,000 women in 181 factories in India, Bangladesh, China, El Salvador and Honduras by the end of 2017. Women factory workers have been trained in the types of skills needed to be successful in the workplace, at home and in their communities. In addition, Women in Factories curriculum, developed by CARE, with funding from the Walmart Foundation, is being made available by CARE to any factory or organisation interested in providing job readiness and life skills training to its workers. By making this curriculum available at no cost, the training will enable greater impact by reaching more workers throughout the global supply chain.
The Tufts University Labor Lab that conducted an impact evaluation of the WiF programme found that the training has resulted in:
Reduction in absenteeism (reduced from the baseline of 0.97 days per month to 0.69 days per month)
Reduction in late coming (reduced from the baseline of 0.44 days to 0.10 days per month)
Increase in overall productivity (increased by 5 percent)
Tangible impact on the health and work relationship for the trainees
And, significantly, reduction in the gender pay gap by USD 1.35
Speaking at the Conference, Joseph Julian, Director, Swasti Health Catalyst, said, "The Walmart Foundation's commitment to economically empower women through a collaborative approach is noteworthy and we appreciate the support provided to Swasti by Walmart Foundation to successfully implement this programme in India. At Swasti, we believe that we can contribute to larger development goals through an empowerment approach and particularly by empowerment of women to help them to make right choices and to lead healthy lives. This programme is helping to contribute to our mission and we are extremely grateful to be part of this global effort by the Walmart Foundation."