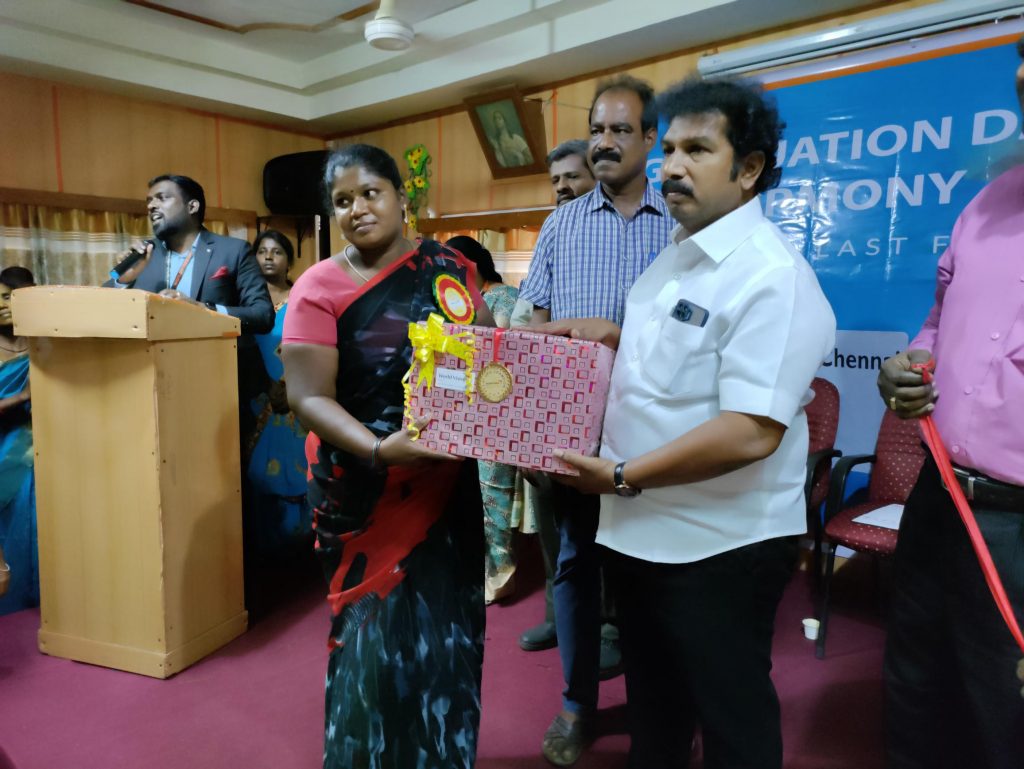 Chennai: Following the onset of the COVID-19 crisis and recognising the likelihood of diminished income and the associated risk of food insecurity among ultra-poor households, World Vision India, a grassroots humanitarian organisation implemented an 18-month comprehensive livelihood project called the Graduation Livelihood Programme. The "Graduation Approach" is a multifaceted livelihood programme that has been providing ultra-poor and women-headed households with a productive asset, training, mentoring, access to savings, and consumption support to help them graduate from extreme poverty. Recently, in an event, 150 select Graduation Champions from North Chennai, who have moved out of extreme poverty leading to sustainable livelihoods, were honoured and felicitated. The livelihood model has helped to increase the average income to Rs 12,000 from their baseline income of Rs 6000 and at the same time livelihood assets have increased by 25 per cent.
Inaugurating the event, J. John Ebenezer, MLA of R K Nagar Constituency commended the Graduation Model as it has helped many families to improve their quality of life. He shared that his government will work with World Vision India to support 11 urban locations for development works in RK Nagar.
Neil Devasahayam, Technical Head – Programme Quality, World Vision India, congratulated the Ultra Poor Graduates and said, "Moving people out of extreme poverty is challenging since the poorest households face disadvantages across multiple dimensions. As part of World Vision India's COVID-19 livelihood recovery response, the most vulnerable communities were assisted to rebuild their lives by helping families engage in a productive and resilient livelihood. As ultra-poor families begin to move out of poverty, their children's lives improve."
Devi (52) was one among the 150 Ultra Poor Champions, who received her Certificate of Graduation. She held her head high as she stood in front of her community as a proud, respectable member, where she feels her decisions are valued and her voice is now heard. Devi supports her destitute daughter and her 10-year-old son. Her meagre income as a domestic worker could only provide a meal, but not the hope of anything more. The pandemic added more woes to the family's economy and she had to take loans to feed the family. She was identified under World Vision India's Graduation Livelihood Programme and she started her own fast food and juice shop. Today, Devi continues to run her shop and is slowly able to amass enough income to feed her family every day and save for adequate provisions to face the future without fear. She had cleared all the loans and her grandson happily attends a local school.
The Graduation Livelihood Model of World Vision India is a multi-sectoral approach to addressing issues related to economic, health, education and social development. An 18-month programme combines four distinct elements – social protection, food security, livelihood development and financial inclusion – to help vulnerable households come out of extreme poverty and attain sustainable livelihoods. Going forward, the beneficiaries will be further linked to various government schemes.  Since 2021, 25,300 households across Assam, West Bengal, Jharkhand, Uttar Pradesh, Bihar, Karnataka, Maharashtra, Tamil Nadu and Andhra Pradesh had been impacted under this Graduation Livelihood Model.