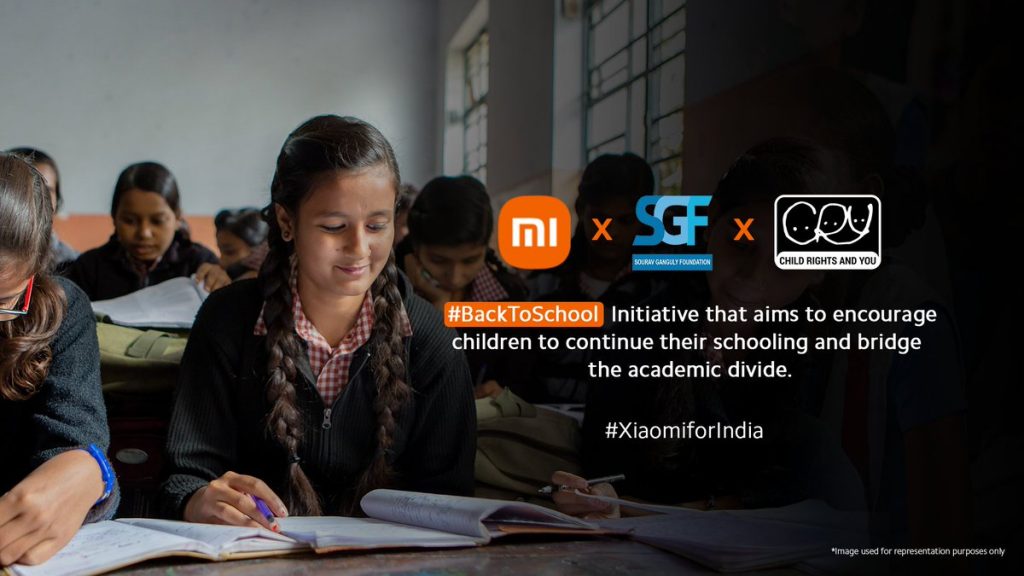 Bangalore: Xiaomi, India's leading Smartphone and Smart TV brand, announced its #BackToSchool citizenship initiative in partnership with Sourav Ganguly Foundation (SGF), and CRY. The initiative aims to provide focused support to 1600 underprivileged children in higher secondary classes motivating them to continue their education in school. Through this partnership, the company aims to empower these children with academic support, provide them with inclusive learning opportunities and reduce early school drop-out chances.
Under the initiative, Xiaomi India, SGF, and CRY have set up designated centres in schools in Jammu and Kashmir, Maharashtra, West Bengal, and Andhra Pradesh. The children will be mentored for three months in areas related to their studies and life skill sessions that boost their self-confidence. The identified children from Grades IX to XII will be enrolled in the centre, and the teachers will conduct peer group studies, doubt-clearing sessions, career guidance, and counselling sessions that will prepare the children for education, higher studies, and career.
Commenting on the partnership, Muralikrishnan B, President, Xiaomi India, said, "With our #BackToSchool initiative, we are reiterating our commitment to India by empowering youth with the right education support. Sourav Ganguly Foundation and CRY are making impactful attempts to improve the quality of life for India's younger generation, and with this partnership, we hope to create an environment that can impact the lives of these children in a constructive manner. The programme will improve their learning abilities and create opportunities for them that motivate them to pursue their education and dreams."
Sourav Ganguly, President, Sourav Ganguly Foundation, "Taking forward our long-standing partnership with Xiaomi India, we are delighted to launch the #BackToSchool initiative. We are confident that this programme will not only provide children with a good start to the coaching required but also be able to cope with further studies."
Soha Moitra, Regional Director, Child Rights and You, North, "We are thankful to Xiaomi India for coming forward to support the education goals for India's youth. With this partnership, we are committed to enhancing the quality of life for these children and assisting them with timely support to nurture their education and dreams."
The #BackToSchool initiative will provide additional support to the students along with their regular schooling. The teachers and trainers will identify the specific subjects wherein the students need supplementary support to excel and will provide inputs. At Xiaomi India, the constant focus is on empowering the future generation through initiatives in areas like education and skill empowerment.