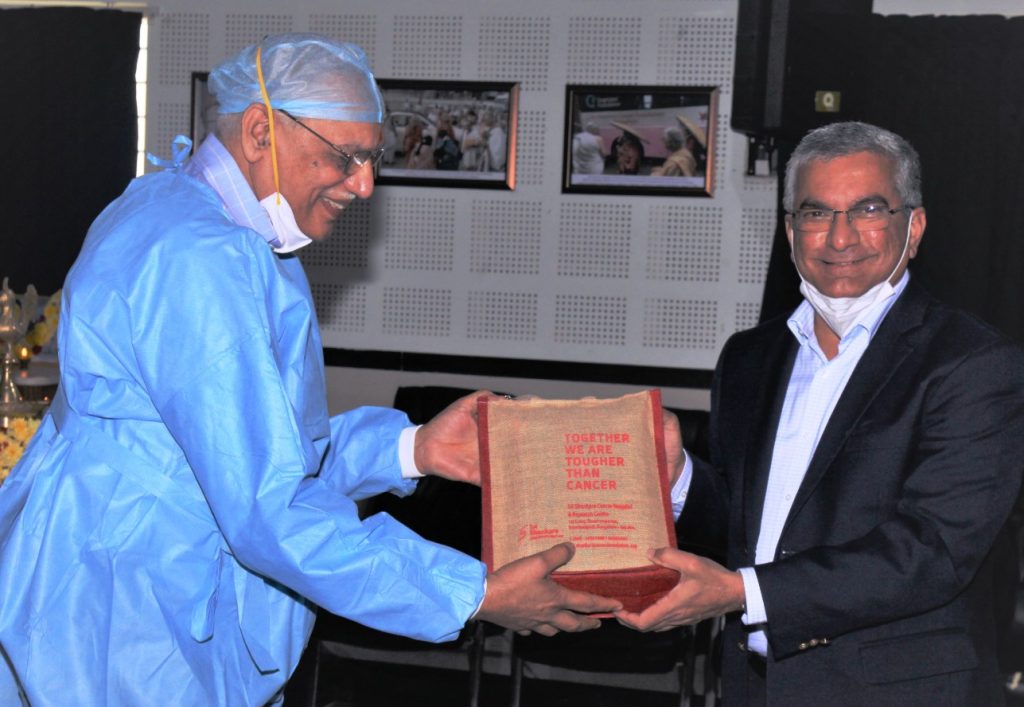 Bangalore: 3M India has deepened its engagement with the Sri Shankara Cancer Hospital and Research Centre (SSCHRC) by donating critical equipment for research and treatment at the newly installed Bone Marrow Transplantation centre. The hospital has recently added this state-of-the-art 8-bed centre, with the objective of providing life-saving treatment as well as advancing cancer research. The centre was unveiled on November 25, in Bengaluru in the presence of Dr B.S. Srinath and trustees of Sri Shankara Foundation, Ramesh Ramadurai, Managing Director of 3M India limited along with the CSR team, and Rajesh Krishnan and A. Swarna Das, from United Way of Bengaluru, the NGO partner on the project.
The BMT centre's primary aim would be to reduce the cost of bone marrow transplant treatment to approximately 40 to 50 per cent lower than the prevailing cost. This expensive treatment was hitherto difficult to access due to high costs. The centre is also in the process of collaborating with the Bone Marrow transplant centre at Stanford University to help train the clinical staff and standardize practices as per international standards.
Speaking on the occasion, Ramesh Ramadurai, Managing Director, 3M India said, "Access to affordable healthcare is a basic human right. Through our deep association with SSHRC, and an able partnership with United Way of Bengaluru, 3M stands true to its commitment to have a positive impact on lives, in this case by facilitating research and treatments at the Bone Marrow Transplantation Centre which will be accessible to a wider demographic of the communities we serve."
By complying with the Foundation for the Accreditation of Cellular Therapy (FACT) Guidelines, the BMT Centre will be a one-of-a-kind medical facility where people of all economic statures can receive treatment. Being a growing facility, the hospital is committed to continuing its responsibility towards the expansion of multiple hospital beds and medical care. 
Dr B.S. Srinath, Head of Surgical Oncology and Managing Trustee of Sri Shankara Foundation, said, "Sri Shankara Cancer Foundation is a proud beneficiary of 3M India&UWBe. 3M has provided support for establishing the laboratory of the bone marrow transplant which has enabled us to purify, store and transfuse the stem cells in bone marrow transplant patients. 3M has also generously given us support in equipping the Pediatric Oncology Department. The Trustees at SSCF cherish the relationship."
Rajesh Krishnan, Executive Director of United Way Bengaluru, added, "We work towards strengthening health care facilities to make them stronger, resilient and inclusive.  We are grateful to 3M India for supporting us in this important cause, towards the treatment of cancer patients who require bone marrow transplantation (BMT).  Unfortunately, due to the cost of the treatment, many patients cannot afford it, but institutions like Sri Shankara Hospital are at the forefront of providing comprehensive and subsidised cancer treatment to those in need. Together with 3M, we feel gratified to be able to support Sri Shankara Cancer Hospital by providing state-of-art BMT equipment."