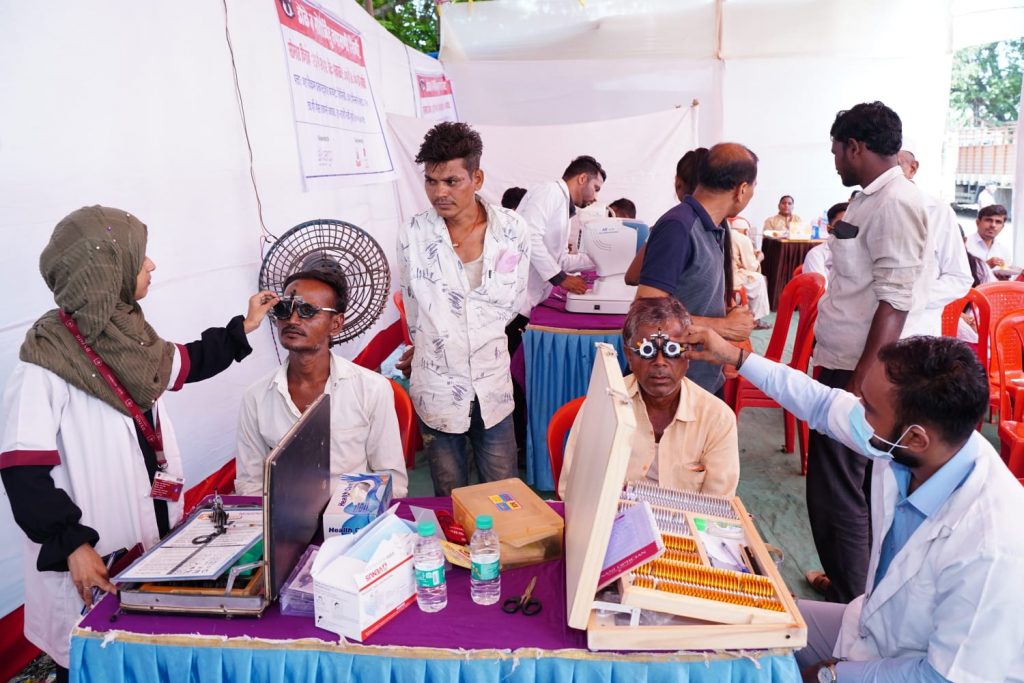 Mumbai: Allcargo Logistics, India's largest integrated, end-to-end logistics solutions provider, organised a free eye check-up camp for truckers on May 23, 2022, at Sanpada in Navi Mumbai. Inaugurated by Dr Nilratan Shende, GM CSR, Allcargo Logistics, the eye camp held at Yash Terminal is the first of the series of 15 eye camps lined up around Mumbai to build awareness of the importance of good vision in road safety and offer eye treatment consultations and facilities to address preventable visual impairments.
The series of eye camps planned and organised by Avashya Foundation, the CSR arm of Allcargo Logistics in association with Saad Foundation aims to make eye care interventions accessible to the truckers' community so that they can drive with safety and efficiency, thus reducing the instances of road mishaps due to vision problems. The eye camps aim to benefit more than 6,000 truckers, senior citizens and needy people in the community in Mumbai with eye check-up services, refractive error identification, cataract identification, referral services, distribution of spectacles, and investigation support and cataract operation facilities.
The team of ophthalmologists and optometricians from DY Patil Hospital, community volunteers and the representatives of Saad Foundation offered eye care facilities and treatments to more than 400 truckers at the Sanpada Eye Camp. All the truckers who visited the camp were pleased to have been able to access free eye care services with utmost convenience.
Allcargo Logistics has plans to organise another eye care camp in Sanpada before spreading the initiative to other truck terminals where truckers in general and those working for logistics companies assemble.
Commenting on the initiative, Arathi Shetty, Non-Executive Director, Allcargo Logistics said, "According to Ministry of Road Transport and Highways, road transport makes up almost 60 per cent of freight traffic and that makes the role of the countries more than 10-million strong truckers' community extremely critical in transporting goods with the required level of safety and efficiency. They are one of the key pillars of our express logistics arm, Gati and by the virtue of our association with them, we value their role in helping us maintain consistent service delivery standards. The series of eye check-up camps in Mumbai is in line with Avashya Foundation's mission to empower communities and facilitate inclusive development by impacting lives. This initiative has made eye care accessible to the city's truckers' community that is always pressed for time to seek eye care consultations. Our eye care camps will go a long way towards developing a deeper understanding of the importance of maintaining good vision to make correct judgements on the road – the key to safe driving. We are committed to supporting them so that they can continue to earn a living to support their families. We have received encouraging responses at the Sanpada eye camp and are looking forward to reaching out to more truckers in the upcoming eye care camps."
Avaya Foundation has been undertaking development initiatives across its focus areas such as environment, skill development, education, disaster relief, healthcare, sports and women empowerment. It aims to bridge the socio-economic imbalances in society and develop a sustainable future for generations to come. In line with the United Nations' Sustainable Development Goals and government initiatives like Swachch Bharat, Digital India and Skill India, Avashya Foundation is actively working in areas such as education, environment, health, women empowerment, and disaster relief and sports. Guided by the mission to implement people-centric development, it has so far touched more than 500,000 lives.