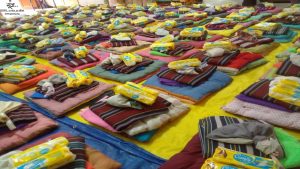 Chennai: Amrutanjan Healthcare, a 128-year-old company with a rich legacy and one of the pioneers of India's healthcare industry has extended its support to Goonj for those affected by the Chennai floods. The company is providing 10,000 packages of Comfy Sanitary Napkins in the flood-affected regions of Chennai.
As Chennai battled yet another wave of floods, help was poured from various sources to procure basic necessities for their survival. Amrutanjan Healthcare partnered with Goonj to contribute to the Chennai flood relief by channelizing sanitary napkins from its women's hygiene brand 'Comfy'.
Comfy Snug Fit, a menstrual hygiene brand from Amrutanjan Healthcare Ltd, promises 80 per cent better absorption than other leading brands in India and is made from imported pulp from North America.
The Comfy sanitary napkin packages contributed by Amrutanjan will be channelised by Goonj to the flood-affected regions of Chennai to menstruating individuals to ensure the adoption of systematic menstrual hygiene even amidst a disaster.
Sambhu Prasad, Chairman & Managing Director, Amrutanjan Healthcare Ltd. shared, "With this small contribution, Amrutanjan Healthcare would like to assert the importance of health and hygiene practices in the society, especially during a disaster. We are honoured to be able to make an impact and encourage menstrual hygiene amidst the victims of the Chennai floods. We hope to extend our support to the flood-affected regions of Chennai and ensure that health and hygiene standards are met at all costs."
Amrutanjan has been proactively contributing to causes such as animal welfare, women empowerment, education, environment, and health and hygiene to build socio-economic development of the nation and ensure environmental sustainability.