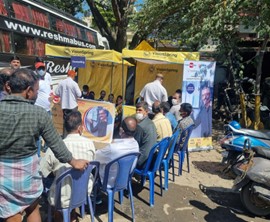 National: redBus, India's largest online bus ticketing platform, has screened 4000 bus drivers across India, for vision and other health problems associated with the onset of diabetes, as part of its CSR initiative. The programme was conducted in partnership with MakeMyTrip Foundation and VisionSpring Foundation, to promote road safety and ensure the well-being of bus drivers and bus operator staff.
The screenings were conducted in collaboration with qualified professionals from VisionSpring, guaranteeing high safety standards and hygiene, at 70 different camps held at convenient locations across Bangalore, Hyderabad, Mumbai and Pune. During the screenings, the patients diagnosed with vision impairment were provided with free eyeglasses, and for cases requiring hospital intervention, Vision Spring's backward integration with various hospitals enabled patients to be redirected to hospitals for treatment at subsidised rates.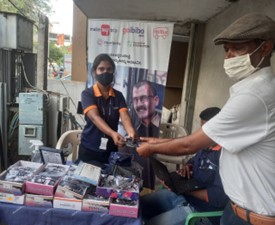 "Bus drivers spend long hours on the road, and their health and well-being are of utmost importance," said Manoj Agarwala – Chief Business Officer of redBus. "Through Mission Vision, we aim to provide drivers with access to free eye tests and diabetes screenings, which can help them identify potential health issues early on and prevent long-term damage. We are grateful to VisionSpring for partnering with us on this initiative and helping us ensure the well-being of our partner bus operator's workforce."
Diabetes and vision care are important health parameters that are often overlooked. Due to their frequent travels and erratic schedules, bus drivers rarely have enough time to get themselves tested. About 4000 bus drivers and other staff members undertook the screening and 2277 free eyeglasses were provided free of cost, 96 per cent of whom were first time wearers. redBus observed an overwhelming response to the tests as the participants visited in large numbers.
"We are delighted to partner with redBus and Makemytrip Foundation on this initiative and provide drivers with access to free eye and diabetes screenings," said Anshu Taneja, Managing Director of VisionSpring India. "At VisionSpring, we believe that everyone deserves access to quality eyewear, and this initiative aligns with our mission to create a world where everyone can see clearly. We hope this initiative will raise awareness about the importance of regular health screenings and encourage more people to take charge of their health."