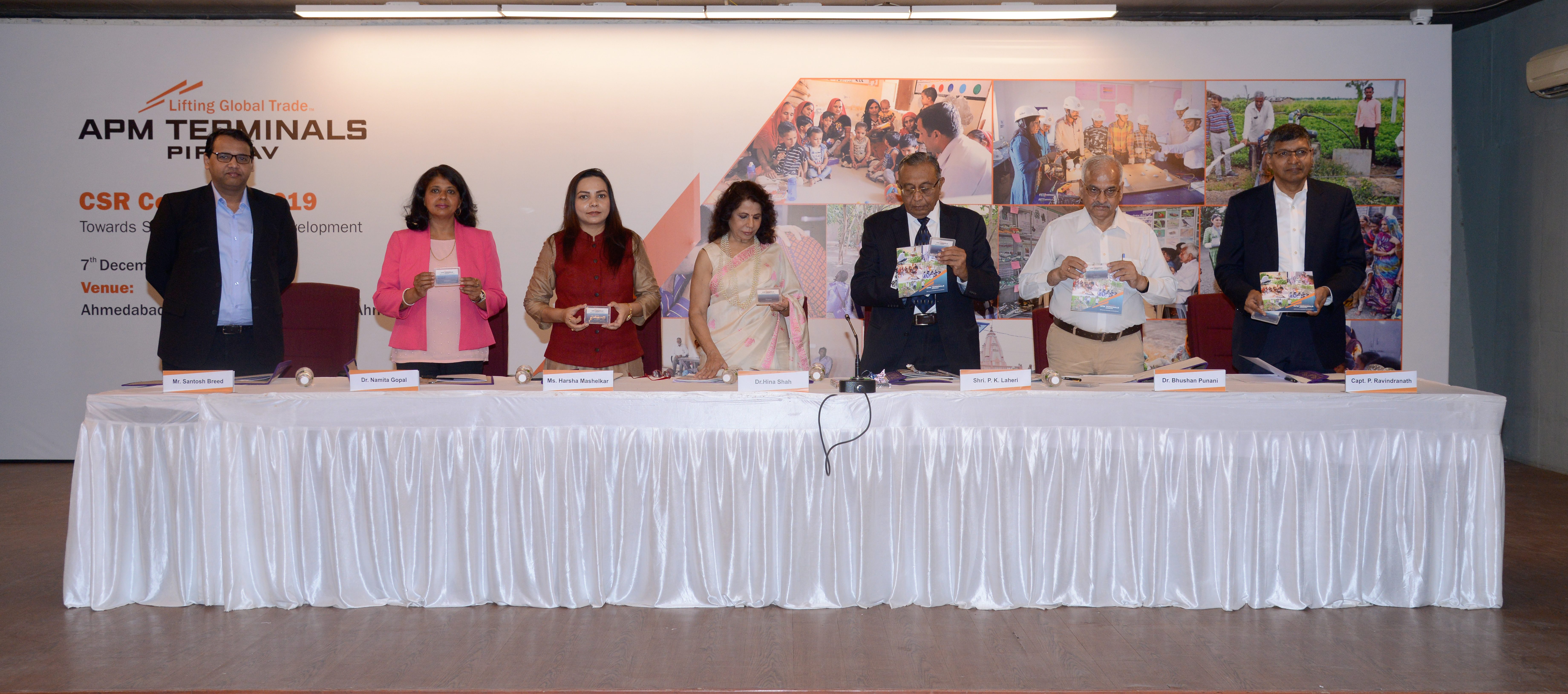 Ahmedabad, December 12, 2019: APM Terminals Pipavav, (Gujarat Pipavav Port Limited), organised its maiden "CSR Conclave 2019" at Ahmedabad on December 7, 2019. The objective of the conclave was to showcase our CSR initiatives and to discuss the future plans with eminent CSR professionals and educationalist to ensure we continue sustainable CSR projects and create a positive impact on the community around the port.
Inaugurating the conclave, Dr HinaShah, Chairperson, CSR Committee, APM Terminals, Pipavav welcomed the guests. PK Laheri, the Director-on-board of APM Terminals Pipavav spoke about the need of the community and how we are bridging the gap via CSR projects.  Harsha Mashelkar shared an overview of APM Terminals Pipavav's various CSR initiatives in areas like public health, women empowerment, socio-economic development, natural resources management, health, livestock development and education.
The event saw prominent academicians, social workers & researchers like Dr Bhushan Punani, Secretary, BPA [Blind Peoples' Association] sharing insights on CSR opportunities and challenges. Dr Namita Gopal, eminent CSR Professional and author talked about Innovative Strategies to Sustainable Development through CSR.  Prof. Bhavna Mehta, M S University, Vadodara reflected on Sustainable Rural Development through Women Empowerment while Dr Prerna Mohite, M S University, Vadodara talked about Child Rights and Education for a Sustainable Society.
The Conclave was marked by panel discussions on the theme: "Challenges faced by Corporates & NGOs under CSR", wherein the speakers Harsha Mashelkar, Harsh Vardhan, Kalyan Dangar, Prof. Bhavna Mehta discussed various challenges faced in implementing CSR projects and how collectively the corporates and NGOs can resolve it.
Around 200 participants from the community, village heads, NGO heads, educationalist, CSR professional across organizations and sectors participated in the conclave. The participants were enriched with knowledge on effective implementation of CSR projects and inputs on developing a network with industry experts and other stakeholders. The Conclave provided a distinctive opportunity for leaders across industries with instrumental insights to leadership, vision, strategy and changing Corporate Social Responsibility needs.