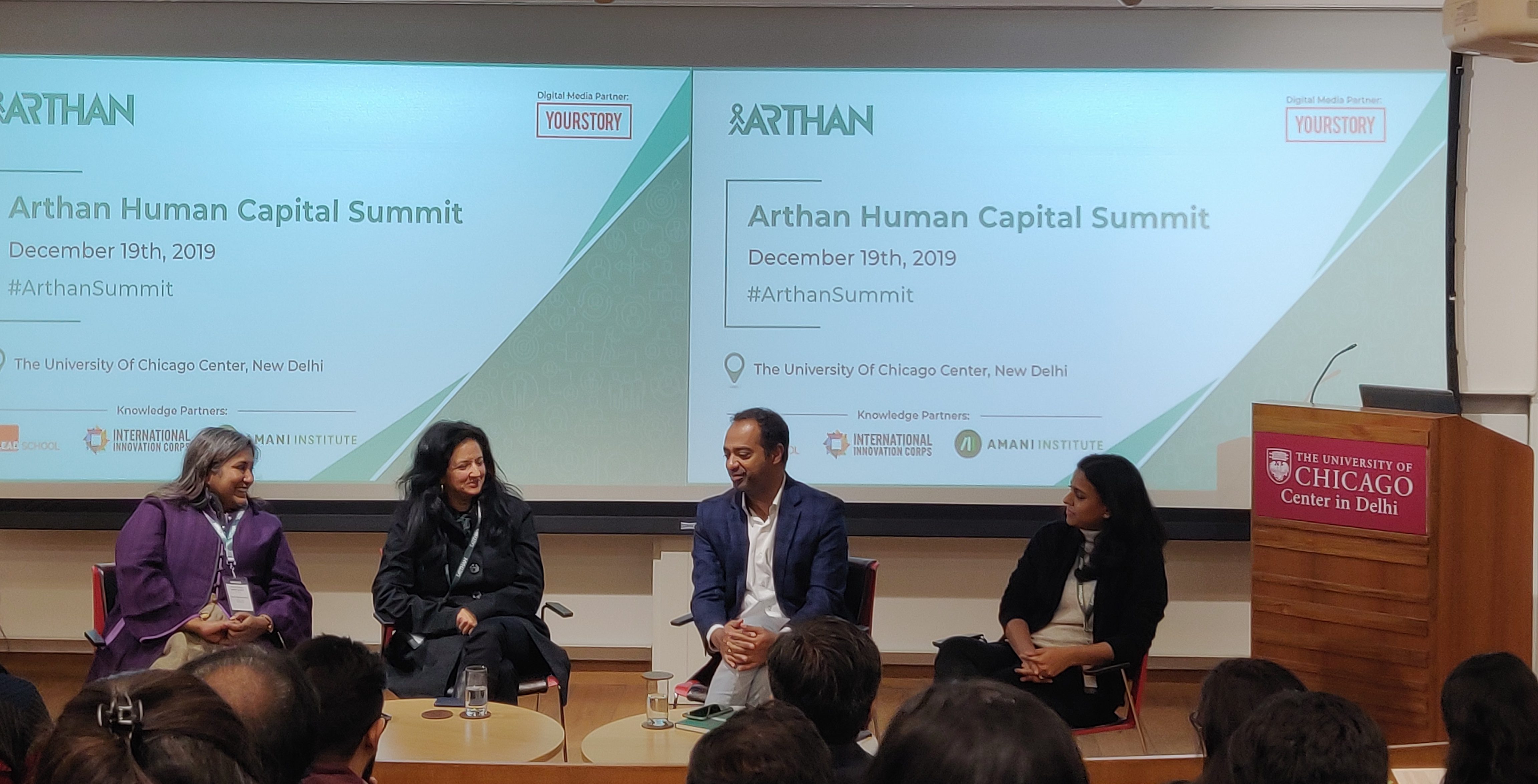 New Delhi, December 24, 2019: In order to have the maximum impact, the social impact sector in India needs to address its human capital challenges in a systematic manner. This is exactly what the Second Edition of the Annual Human Capital Summit, hosted by Arthan at the University of the Chicago Center, New Delhi attempted to do, as they unfolded the day. Bringing in experts from the sector, employers, job seekers and the talent pool interested in the social sector- all in a single platform, the gracious event highlighted challenges and discussed solutions along with facilitating job search and creating avenues for collaborations.
Attendees included leaders and entrepreneurs from the sector, representatives from NGOs, Government, CSR officials, impact investors and members of foundations.
Inaugurating the conference, Satyam Vyas, Founder, Arthan, explained the idea that took shape of this summit. In his words, "There is an art and a science to recruitment, and you have to marry both to find the best match."
In his keynote address, Pradeep Nair, Regional Director, Ford Foundation said, "The Social Impact Sector needs a lot of empathy, which goes way beyond caring. It is required to design solutions and is one of the most important skills to have." He further added, "The infrastructure and the ecosystem have to change for solutions to become sustainable."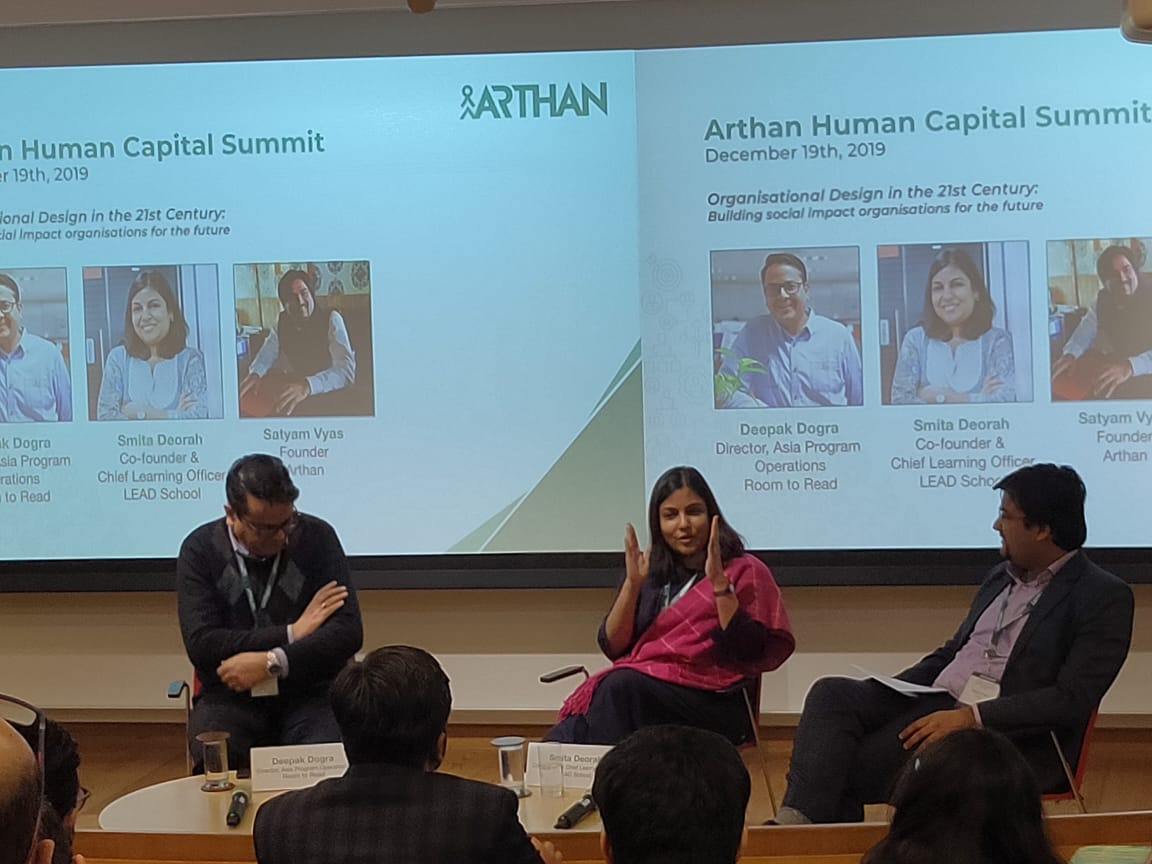 A series of curated discussions followed thereafter. In the panel on Gender, Inclusivity, and the Social Impact Sector, speakers Sohini Bhattacharya, President & CEO, Breakthrough, Ruchi Sarin Sharma, HR Leader, CSF, ex-Dasra, Shriya Sethi, Director, International Innovation Corps discussed in detail the inherent biases existing in the society and within the sector, and how things can improve. Citing an example, Ruchi suggested, "To recognise the gender biases – sending CVs without a name can be an interesting experiment."
Exploring the issue of Navigating the Transition: From Corporate to Social, the panel of Priya Ajmera, CEO, AIC N/Core; Sanjay Kadaveru, Founder & President, Action for India; Shehzia Lilani, Country Director, Amani Institute; Sucharita Kamath, India Chapter Manager, ANDE; Tarun Sharma, Co-founder Nagrika shared personal experiences, to explain challenges and the learnings from them.
The next panel on Organisational Design in the 21st Century followed a long conversation format where the speakers – Deepak Dogra, Director, Asia Program Operations, Room to Read; Smita Deorah, Co-founder & Chief Learning Officer, LEAD School; Satyam Vyas, Founder, Arthan, took turns to interview each other.
The final panel saw Manas Rath, Senior Advisor, BORDA, Ruchi Sarin Sharma, HR Leader, CSF, ex-Dasra, Rahul Balakrishnan, Vice President, Arthan discussing about coaching and mentorship being different from trainings and how this can be used to help discover biases and barriers to success.
Founded in 2016, Arthan has been successfully delivering solutions to bridge human gaps in the social impact sector. Offering strategic hiring support, skill development within the organisation, capacity-building initiatives, knowledge-sharing empowerment, it has so far served 600+ companies through HR consultation and online tech solution; engaged with over 60,000+ jobseekers; and has conducted various initiatives. Among the events they host from time to time, the second edition of the Annual Human Capital Summit in 2019 saw an overwhelming response. Taking this plan further, they are planning such seminars every quarter in various cities so their voice reaches to relevant audience and helps in building the momentum.