Mumbai, 20thFebruary 2017: Castrol India, supported by United Way Mumbai, has launched a special community impact initiative – United for Road Safety (URS), to educate and sensitise youth about road safety across the country. Besides the Two Wheels One Life programme, the URS campaign also includes safe riding skill training for youth and a train the trainer programme for two-wheeler riding trainers. Till date, over 5,000 youths have been positively impacted through these programmes. The Two Wheels One Life campaign designed to actively engage and educate college youth in responsible and safe riding practices was run with the strong support of National Service Scheme (NSS) Cell of Mumbai University.
Over 250 students participated in the inter-collegiate competition held under the Two Wheels One Life campaign. The competition included four key competitive activities including Street Plays, Poster Making, Short Film Making and Pledge Wall Making.
The grand finale of this Two Wheels One Life competition was held at Guru Nanak Khalsa College of Arts, Science and Commerce (Matunga) and was witnessed by eminent luminaries like Mr. Milind Bharambe (IPS), Jt. Commissioner of Police (Traffic), Mumbai; Mr. Satish Sahastrabudhe, Additional Transport Commissioner, Govt. of Maharashtra, Mr. Arvind Doshi, Chairman – National Safety Council – Maharashtra Chapter, Prof. B. S. Bidwe, Programme Coordinator – NSS Cell, University of Mumbai, Ms. Rashmi Joshi, Chief Financial Officer and Whole Time Director, Castrol India Limited and Mrs. Jayanti Shukla, CEO, United Way Mumbai.
Commenting on the event and Castrol India's association with road safety, Ms. Rashmi Joshi, CFO and Whole Time Director, Castrol India said: "Safety is a core value at Castrol India and our goal is to ensure that everyone who works for and with Castrol India, goes home safe every day. Through these kinds of programmes, we are sharing our learnings with the wider society and by training youth, our aim is to contribute to safer roads. Through programmes like Two Wheels One Life, Castrol India's endeavour is to inculcate safe driving behaviours from an early age. As part of our efforts to drive road safety, we plan to have several other road safety programmes across various sections of society."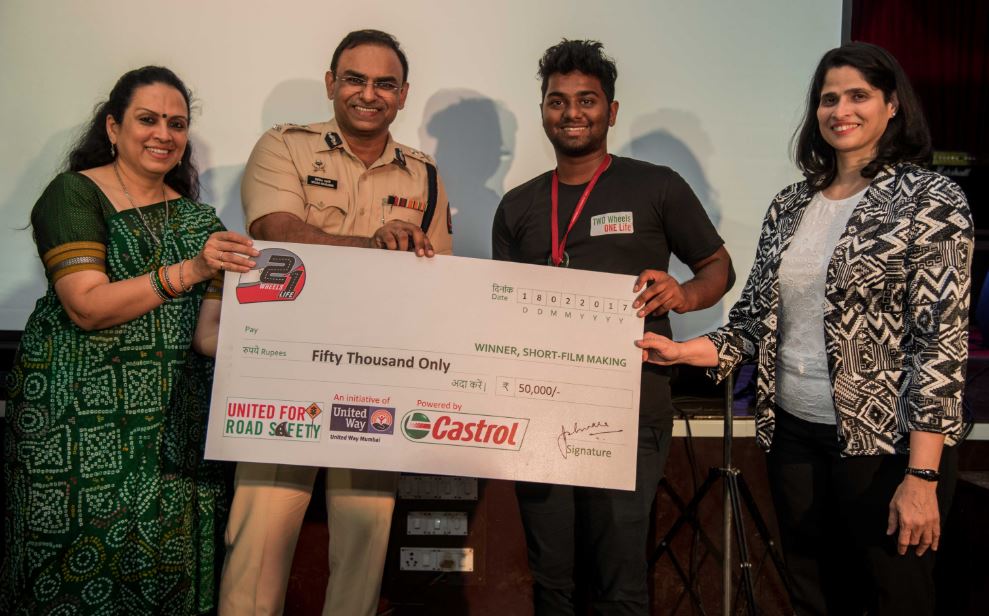 Giving away the prizes, Mr. Milind Bharambe (IPS), Jt. Commissioner of Police (Traffic), Mumbai exhorted the youth to be careful whilst riding bikes. He said, "Someone cares for your life more than you do and those are your loved ones at home. When an accident happens, it impacts not just the person in the accident but entire families. So do not let the accident reach your home. Be cautious and be safe."
On winning the top prize, Akshay Kamble from Dr. Babasaheb Ambedkar College of Commerce and Economics College said, "It is indeed a great feeling winning this competition. The guidance and training we received under Castrol's road safety programme has been amazing. Road safety is the need of the hour and one should be really cautious while riding or driving. I would like to thank United Way Mumbai, Castrol India and the mentorship provided by the teachers and Principal of our college for organising such an educative campaign."
Whilst Akshay received a cash prize of Rs.50,000/- for his short film winning entry, several other attractive Prizes like riding gears and accessories, iPod, tablet, Go Pro camera and wrist watches were also given away across various categories.
Two Wheels One Life campaign was launched on February 6, 2017. Over the course of the last few weeks, the team set up Road Safety kiosks and conducted edutainment activities in 14 colleges across Mumbai, sensitising over 3500 youths. Innovative edutainment activities were carried out at the kiosks, engaging and educating students about the need for safe riding practices and sharing information about the same. The activities included demonstration by professional bikers on safe riding skills, use of alcohol impairment goggles to demonstrate how it feels to ride under the influence of alcohol, customised snake & ladder games on the theme of road safety, etc. The campaign extended to traffic junctions in the college neighbourhood where volunteers interacted and sensitised bikers on the importance of safe riding. This activity was done under the guidance of the local traffic police and RTO officials.
List of Winners
Street Play
1st Prize
Thakur College of Science & Commerce, Kandivali
2nd Prize
Dr. Babasaheb Ambedkar College of Commerce & Economics, Wadala
3rd Prize
Maharshi Dayanad College of Arts, Science & Commerce, Parel
Consolation
Vivek College of Commerce, Goregaon (W)
Short Film Making
1st Prize
Akshay Kamble, Dr. Babasaheb Ambedkar College of Commerce and Economics, Wadala
2nd Prize
Prathamesh Pawar, Maharshi Dayanad College of Arts, Science & Commerce, Parel
3rd Prize
Satyam Singh, Thakur College of Science & Commerce, Kandivali
Consolation
Vicky Yadav, Vidyalankar Institute of Technology
Poster Making
1st Prize:
Nikhil Ghode, D G Ruparel College of Arts, Commerce & Science, Matunga (W)
2nd Prize:
Sandhya Chaurasia, SIWS College, Wadala
3rd Prize
Lopita Das, K C College, Churchgate
Pledge Wall
Winner

Vidyalankar Institute of Technology