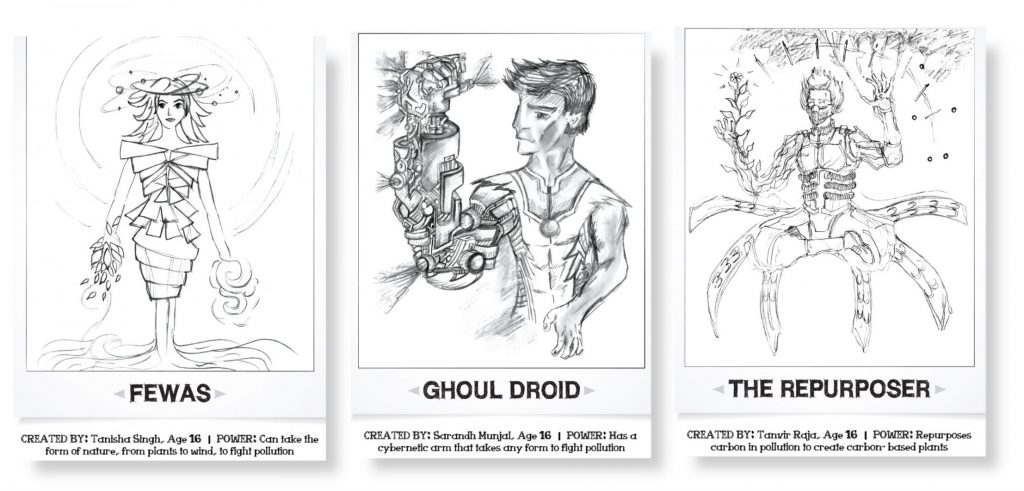 New Delhi: Children of Delhi-NCR unleashed their creativity and sketched their version of superheroes who can fight air pollution using special pencils called 'Pollution Capture Pencils'. Over 400 children participated in the event which was held at the Delhi chapter of Comic-Con India. Selected art pieces have been converted into one of its kind NFTs which are available for sale at www.actionstobreathecleaner.com. Proceeds from the sale of these NFTs will help in installing air purifiers in more schools and thus help in creating a virtuous cycle. The entire activity was organised under Otrivin's "Actions to Breathe Cleaner" initiative, which promotes simple actions that everyone can take to breathe cleaner air. The conversion to NFT was done by GuardianLink.
Through this activity, children have demonstrated that they are taking matters in their own hands now. It is also a subtle appeal to all adults to do their bit so that future generations can breathe cleaner air. Children have used their imagination to create some interesting new superheroes like Fewas, Ghoul Droid, and the Repurposer. Fewas is an elegant female superhero who can take the form of natural elements like plants and wind to fight pollution. Ghoul Droid – a muscular man – has a cybernetic arm that can take any shape to fight pollution. The Repurposer – an eight-limbed man –creates carbon-based plants by repurposing the carbon in the air. There are many more superheroes created by children which can be accessed at www.actionstobreathecleaner.com
Speaking about this initiative, Bineet Jain, Pain & Respiratory Health Lead, India Subcontinent, Haleon said, "We believe that children are the least contributor to air pollution, but perhaps they get impacted the most. Using the 'Pollution Capture Pencils' as instruments of change, the children expressed themselves and created unique superheroes who can fight air pollution. Otrivin's brand purpose is to enable people to breathe their best and through this campaign, we are enabling children with a platform so that their appeal reaches to masses and a movement for cleaner air gets created. These unique NFTs will not only serve as a reminder of this appeal but also the proceeds will help in the installation of more air purifiers across many more schools."
The 'Pollution Capture Pencils' used to create these superheroes were created by harvesting pollution residue collected by 22 sustainable and self-cleaning air purifiers that were installed by Otrivin in schools.